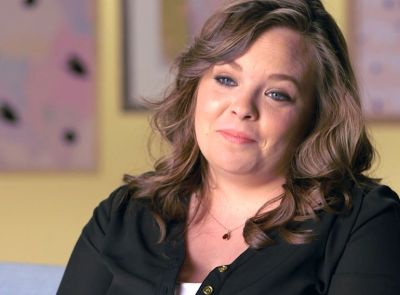 UPDATE: Although it was initially reported by In Touch that Catelynn had confirmed that she was heading to a rehab facility, it appears that is not the case. On Wednesday night, Catelynn tweeted that she was "not in rehab." The following story has been amended. 
Breaking Teen Mom OG news: Catelynn Lowell is heading to an Arizona treatment facility to get help with her depression and anxiety issues.
The 24-year-old reality star has been open about her struggles with anxiety and depression, even discussing it during on-camera therapy sessions that were shown last season. However, it appears that Catelynn is in need of more extensive treatment for her mental health problems. On Wednesday, she confirmed to In Touch Weekly that she is heading to an Arizona facility to get treatment.
"Just let [fans] know that I'm just seeking help for my anxiety and depression at the moment," Catelynn told the magazine in a statement.
Earlier today, Catelynn posted a photo to her Instagram account that was taken from inside of an airplane, along with the caption, "Arizona here I come… I can't wait to be back to my normal self… this is for me and my family.. Novalee and Tyler I love you both very much!"
In a statement issued to MTV News, Catelynn stressed that she was being for mental health issues and not drug dependency.
"I'm seeking help for myself and my family," she told the site.
This comes just one day after Catelynn and her husband, Tyler Baltierra, posted some cryptic tweets that caused some fans to become alarmed.
"For everyone that thinks I'm so 'strong' I'm really not… one day you will know why. I also can be very weak," Catelynn wrote. "You guys have NO CLUE on how much you lift me up sometimes…"
"Please just pray for my wife," Tyler tweeted. "For better or for worse…through sickness & in health…I will NEVER stop fighting for my wife. Keep her in your prayers…thank you."
It is not yet known if any event prompted Catelynn's trip.
The 'Teen Mom OG' girls are currently filming for the show's next season. However, it is not yet known whether MTV cameras will follow Catelynn to rehab. Other 'Teen Mom' franchise stars, such as Amber Portwood and Jenelle Evans have allowed the show's camera crew to film them while they received rehab treatment, but The Ashley has not found solid proof that Catelynn's treatment will be filmed.
In 2015, Teen Mom 2 star Leah Messer also sought treatment for her anxiety and depression, but did not allow her treatment to be filmed. She, too, went to Arizona, where she spent time at the Sierra Tuscon facility. It is not known if that's where Catelynn is heading, but that center reportedly specializes in "complex mental issues."
Either way, it appears that Catelynn has a lot of love and support behind her. Her father-in-law, Butch Baltierra, showed his love for Cate in a tweeted response to a fan.
"She's doing OK," Butch wrote of Catelynn. "She [is] going to go and get better… love her so much."
According to In Touch, Catelynn said that she wasn't sure how long she will be at the treatment center.
The Ashley will update this story when more information is available.
(Photo: MTV)