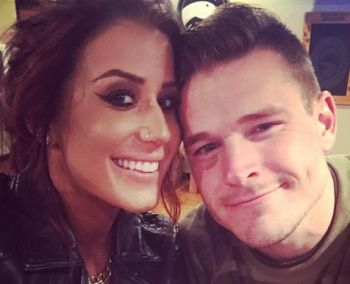 In January, The Ashley broke the news that Teen Mom 2 star Chelsea Houska will not be allowing MTV cameras to film her October wedding to Cole DeBoer. While the news disappointed many of the show's devoted fans, Chelsea has stuck to her guns and continues to maintain that her nuptials will not be filmed.
In an exclusive interview with WetPaint this week, Chelsea explained her decision to keep her wedding small and private.
"Our wedding is just something so personal and we're having a small intimate wedding and it just didn't feel right just for us to have it aired to millions of people," she told the site.
In January, one of The Ashley's show sources discussed Chelsea's reluctance to have her special day filmed.
"Chelsea wants her wedding to be very private and low-key," one of The Ashley's show sources told her. "MTV is begging her to let them film it but Chelsea refuses. She usually stands firm on stuff like this, so it's unlikely that she'll change her mind. Besides, Cole has never really been comfortable doing things on-camera."
While we won't get to see Chelsea walk down the aisle to Cole, Chelsea said that she did allow MTV to film "parts of" Cole's marriage proposal. We will also get to see "the planning and pictures and stuff like that," on the upcoming seventh season of 'Teen Mom 2.'
Chelsea will meet up with her 'Teen Mom 2' cast mates tomorrow in New York City to film various things for Season 7, but it's unlikely that Chelsea will be handing out "Save the Date" cards to everyone in the cast. In fact, from the sound of it, very few people are getting an invite.
"It's mostly just family and Cole's friends," Chelsea said of her wedding guests.
As The Ashley exclusively reported in January, Chelsea is planning to marry Cole at the beginning of October. She basically confirmed this fact to WetPaint in the interview.
"We like the fall. The weather is perfect around that time so that's what we're thinking. We're not really doing a set color scheme, it's just kind of fall colors," she said.
After they get hitched, Chelsea and Cole are planning to grow their family, according to Chelsea.
"I think we both want kids right away," Chelsea told WetPaint. "I love babies and being a mom and it's great to be able to have Cole who will help and be a good dad and stuff. I can't wait to see him as a dad, well more of a dad because I've seen how he is with Aubree."
'Teen Mom 2' Season 7 premieres March 21. Click here for more info on the new season!
(Photo: Instagram)