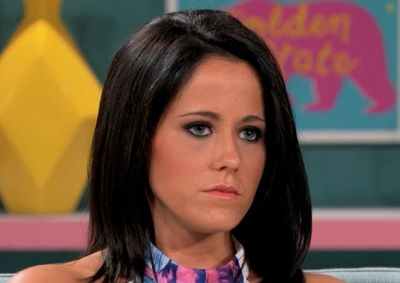 The Teen Mom 2 girls are currently in New York City, filming a series of After Shows and Specials for the upcoming seventh season. The gals are due to film the Season 7 After Show today; however, things have not gone as planned on set, thanks to the antics of one cast member.
The Ashley hears from one of her production sources that Jenelle Evans has caused some extra trouble for the production crew today, as she is currently, um, under the weather after a night out on Saturday. According to The Ashley's source, Jenelle actually asked the production staff to call her an ambulance, but the production staff refused.
"The producers said they weren't getting Jenelle an ambulance and thought it was ridiculous," the source tells The Ashley.
Anyway, the After Show taping was set to begin at 3 p.m. today, but filming has been delayed thanks to this hiccup. From what The Ashley hears, Jenelle is at Viacom headquarters but may not make it to the set. The Ashley's on-set source says it's unlikely that Jenelle will be part of the After Show taping because of this, and her cast mates are very upset about the hassle she's caused.
Another on-set source tells The Ashley that MTV did try to help Jenelle. The source tells The Ashley that a nurse is currently on set with an IV to help Jenelle recover from her, um, ailment. It's not known (yet) if Jenelle has used the service yet though.
This is not the first time that MTV has had to call for medical backup to help the cast get back into tip-top shape for filming. As The Ashley exclusively told you in December, several of the Teen Mom OG girls required an IV to help them fight a hangover they got while partying in New York City before filming their season's After Shows.
Anyway, the 'Teen Mom 2' set has not been a happy one, given the fact that Jenelle got into several spats with her cast mates, Chelsea Houska and Kail Lowry, earlier this month. The Ashley's on-set source tells her that the show's producers are doing their best to smooth over the issues between the girls, and they have, to a degree.
The Ashley will keep you posted on all the 'Teen Mom 2' hi-jinks! Click here to read one of The Ashley's latest scoops from on set!
(Photo: MTV)