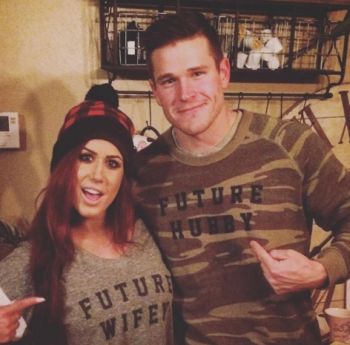 By Holly
As Teen Mom 2 fans know, Chelsea Houska is getting ready to marry her longtime beau, Cole DeBoer, later this year. Recently, the 'Teen Mom 2' star gave some new details about her upcoming nuptials to Life & Style. Chelsea talked about what she'll be wearing on her big day and who will—and won't—be attending.
"We're having a rustic wedding in South Dakota," Chelsea recently told the magazine, adding that about 100 of their closest friends and family will be in attendance. When asked if Aubree's dad, Adam Lind, would be one of the 100-or-so people invited, Chelsea responded negatively.
"[Adam] will not be invited, I can guarantee you," she told the magazine.
Adam may not be invited but at least one of Chelsea's 'Teen Mom 2' cast mates will be there.  Kail Lowry recently posted a Snapchat in which she is talking to her son Isaac about attending Chelsea's upcoming wedding. (It is not yet known if Chelsea's other 'Teen Mom 2' co-stars, Leah Messer and Jenelle Evans will be invited.)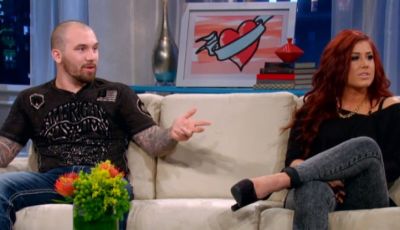 As for her dress, Chelsea said she will be wearing a simple ivory or nude gown. In an Instagram post on Tuesday afternoon, Chelsea wrote that she purchased her dress from the L'atelier Couture bridal shop in Minneapolis, Minnesota, a few months ago.
While many of the wedding details are still being ironed out, Chelsea stated that she is sure about one thing: her daughter Aubree, 6, will be a "mini maid of honor."
As The Ashley previously told you, MTV will not be filming the wedding for 'Teen Mom 2.' While Chelsea's co-stars Kail and Leah had their weddings filmed for the show, Chelsea has opted not to allow cameras to capture her big day.
"Our wedding is just something so personal and we're having a small intimate wedding and it just didn't feel right for us to have it aired to millions of people," she recently told WetPaint.
While we won't get to see the actual wedding on film, Chelsea said we will get to see "parts" of Cole's proposal and some of the planning of the nuptials. The Ashley broke the news that the pair plan to get married in October and Chelsea confirmed it to WetPaint.
"We like the fall. The weather is perfect around that time so that's what we're thinking."
Chelsea, the only woman from her season NOT to have a second (or third) child, said she can't wait to start a family with Cole after their wedding.
"I think we both want kids right away," she recently said. "I love babies and being a mom and it's great to be able to have Cole who will help and be a good dad and stuff."
The new season of "Teen Mom 2" is currently airing on Monday nights on MTV.
(Photos: Instagram, MTV)