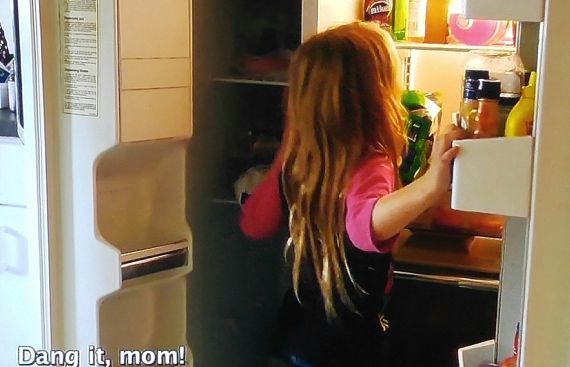 Gather 'round kiddies; it's time for another episode of Teen Mom 2! Now that we are officially two episodes into Season 7, things are about to get craaaazy! Hold on to your Lunchables!
We kick things off somewhere in the Carolinas, where Jenelle is frying up some hot dogs and devising new ways to torture her ex, Nathan. She tells us that she's currently withholding Kaiser from him (the baby, not the type of bread roll that's suitable for hoagies and other sandwiches).
As Jenelle fries up her Farmer John's, Kaiser is screaming from his high chair. Fortunately, Jenelle has enlisted her trusty trashpail-of-a-pal, Tori, to help her watch her kid. Unfortunately, Tori seems to be the one that needs the HIGHchair because…well….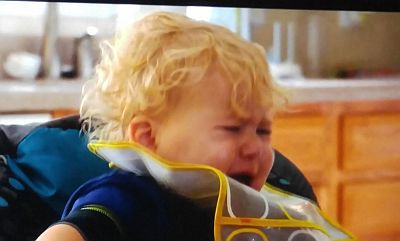 As Kaiser screams, Jenelle says she's starting to get "overwhelmed." Wait now– isn't this the same girl who's trying to fight her mother for custody of her other child? So…she can't handle one screaming baby on her own, yet she's trying to get her second kid thrown on the heap of things she is responsible for not killing? Makes sense…
Kaiser is screaming bloody murder because his processed meat products are not being prepared fast enough. Jenelle is scrambling and looking generally freaked out and we see that eventually Kaiser gets a hot dog in a bun.
Now, The Ashley is certainly no Mary Poppins or anything but…is it really safe to give a baby a big ol' piece of hot dog? Hasn't anyone seen 'Field of Dreams'?! Wasn't the tagline for that movie "If you give them full hot dogs….they will choke?"
Anyway, Jenelle eventually can't stand it anymore and cuts Kaiser's meal time short. She yanks him out of the highchair and plops him into his crib in his room, turns off the lights and shuts the door. Kaiser continues to scream, but Jenelle is "about to go insane" so she just pretends she doesn't hear him and takes an ice cream break. As you do.
It's seriously like we are watching an old episode of 16 and Pregnant or something. Jesus God (Leah).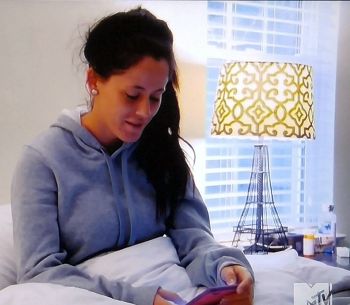 Since she's been parenting Kaiser all by herself dude, Jenelle decides she needs a break. She is going to call Nathan's mom and ask her to basically adopt her screaming child for the next week or so. (She'd ask her own mom but poor Babs is still taking care of Jenelle's other offspring.)
Before she can unload the kid on Grandmama, however, Jenelle has to call Nathan to tell him the plan. She is, of course, nervous to call him because 1) she's obviously still in love with him and 2) she's worried she'll hear the sounds of Nathan making sweet, sweet love to his new girlfriend. (Also….ew.)
Luckily, the phone conversation is short, and Nathan agrees that Jenelle can burden his mom with the task of unexpectedly taking on the childcare of Kaiser for nearly a week.
Meanwhile, Chelsea is taking Aubree and Cole to the pumpkin patch to pick out warty pumpkins. Aubree is happy that she finally has a strong man to pull her in a wagon around the pumpkin patch.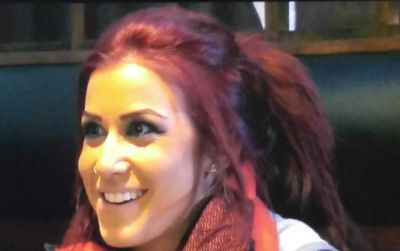 The next day, Chelsea goes out to lunch with some rando friend who has apparently chosen Chelsea to be one of her bridesmaids. Her friend's wedding makes Chelsea think of her own future, and she mentions that she's hoping that Cole proposes in the near future.
Next, it's time for the rando to ask about Adam's latest hi-jinks. Chelsea, who normally scoffs at the mention of her ex's name, actually lights up when her friend brings up Adam. Why, you ask? Because Adam has just had professional portraits taken to show off his buffed-up birthday suit. As you do (if you're Farrah).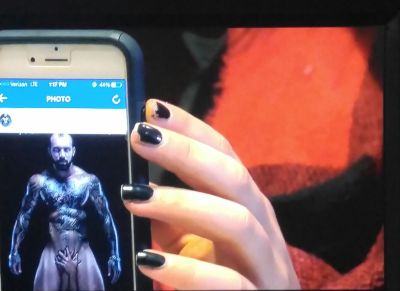 Chelsea whips out her phone to show her friend the photo, which Adam has proudly posted to his Instagram account. Adam looks downright insane in said photo. He has this really intense look on his face, and his body is bulging out all over the place. And, of course, to keep it classy, Adam has had a girl stick her hand on his crotch to cover his Sperminator.
"I feel, like, dirty looking at it," Chelsea tells her friend, adding that she's so thankful to have a guy like Cole, who is good with Aubree and keeps his naked naughty bits off of the Interwebs.
In Delaware, Kail is on the phone with her ever-present pal, Sterling, trying to get some advice about what to do about Javi's tantrums about being around Jo.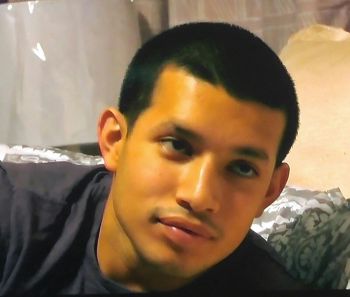 Later that night, Javi is lying in bed, lookin' like he's ready for some lovin' when Kail comes in. Unfortunately, Kail's not interested in doing the "Wacky Snake Dance" tonight. Instead, she tells Javi that Vee is about to shoot the Spawn of Jo from her loins. Talk about a picture that can kill a mood!
Since Javi knows that there's zero chance of getting some lovin', he decides it's fine to bring up some bad news. He tells Kail that he may be getting sent overseas on deployment and Kail does her best to act surprised. She fails miserably, of course, and it's totally obvious that Kail has known about this for a while and this scene was staged.
Javi tells Kail that he'd rather not spend the rest of his pre-deployment time with Rappin' JoJo  and Vee. Kail says that she understands, but that it puts her in a weird spot, because she's stuck listening to Jo spit rhymes for a minimum of 20 more years.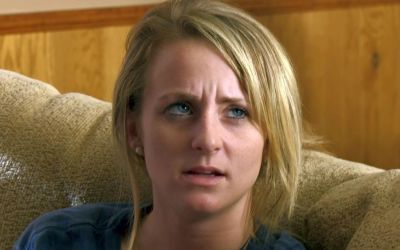 Finally, we check in with the Pride of West Virginia, Leah. It's hard to imagine that Leah could top the Great Lunchless Caper of last week. However, while Leah has not been very successful in love…or money matters…or keeping enough groceries in the house to keep her kids fed…she is always successful in delivering some Class A 'Teen Mom 2' drama!
Jeremy currently has Addie (and is probably trying to pump her stomach as we speak to get all of the Sweet 'n' Low she downed last episode out of her system). Leah has the twins who– wouldn't ya know it?!– are actually hungry and thirsty again! What is wrong with these kids, always wanting food and/or drink?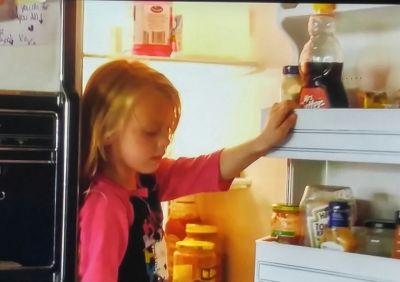 Aleeah goes to the fridge, hoping to find a sugar grenade drink or, at the very least, a few drops at the bottom of a flat two-liter of Mountain Dew. Alas, she finds that Mother Hubbard's cupboard is once again bare. She literally crawls into the refrigerator and declares that Leah doesn't have anything for her to drink.
It appears that Leah, does, indeed have a few liquids in the fridge, however. There's some sort of bright pink chemical in a plastic bottle but it's possible that it could be 1) older than Mama Dawn or 2) radioactive so Aleeah declines to drink it.
"God! You never even have nuthin'! Dangit, Mom!" Aleeah screams, before trotting out to the front lawn to wail and flop down dramatically.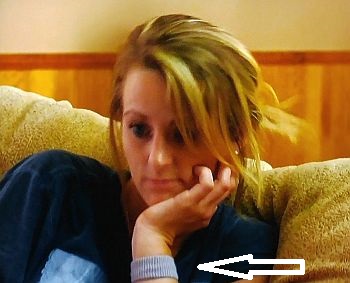 Leah is unfazed by all this, of course. She tightens her sea sickness bands on her arms and waits for her trusty cousin, Chasity, to arrive.
Um…can we talk about why the hell Leah's wearing sea sickness bands?! No one ever addresses it, yet MTV made sure to zoom in on them and include them in the scene. Maybe Leah found them in the garbage and thought it was sure a shame to see good sweatbands go to waste?  Either that or Leah is suffering from some sort of ailment that makes her nauseous (and makes her look like she's been reincarnated as a dust rag).
Hmmm….
Chasity apparently ignores that wailing and flailing child on the lawn and comes in to plop down next to Leah on the boat couch.
Leah fills Chasity in on what happened at Ali's last doctors appointment, and reveals that she's struggling with Ali's diagnosis. Chasity isn't used to dealing with doctor-speak and whatnot, so she offers wisdom the best she can, and tells Leah not to argue with Corey anymore.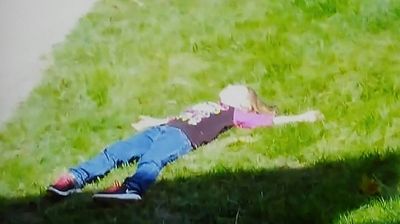 "There are more important things than arguing 'bout stupid things," Chasity advises.
It must be time for Leah to change her sea sick bands because the scene ends there….
Back in North Carolina, our gal Babs is dodging Tonka trucks that are being heaved at her by her mask-wearing grandson. Jace better be careful! Soon enough Babs will be marching  laundry baskets full of his stuff out of the house and telling him to have fun living in the street!
Jenelle, meanwhile, is upset when she finds out that Nathan has taken Kaiser to Boston without her permission. Nathan finally admits that he and Kaiser are traveling with "that girl" (aka the girl Jenelle slugged with a glass), and Jenelle is angry.
"I feel like my son has been taken from me, and I feel like I'm never going to get my son back," Jenelle says.
Well, yeah…but I thought we were talking about Kaiser here, not Jace?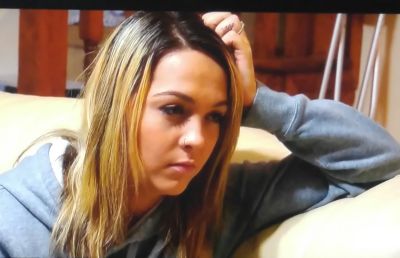 Tori is doing her best to try to keep her eyes open during Jenelle's wailing about how Kaiser's been kidnapped. Jenelle is angry because she doesn't know who's feeding Kaiser hot dogs, or if he's being taken care of.  I mean, what if he's just stuck in a crib somewhere, crying alone in the dark.
Oh…wait…
Jenelle declares that she wouldn't have let Nathan take Kaiser to Boston, even if he had asked, because she doesn't want Kaiser near Nathan's girlfriend.
"This is the girl that's pressing charges against me!" Jenelle wails.
Um…yeah because you threw a glass at her damn head!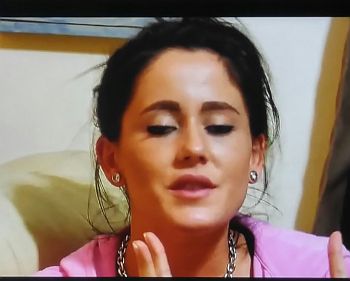 Jenelle states that as soon as she gets Kaiser back, she will be withholding him from Nathan until Nate drags her ass to court. Meanwhile, Tori is just staring vacantly at Jenelle. She's either HIGH! HIGH! or just trying her best not to laugh at whatever the hell is going on with Jenelle's eyebrows. Seriously, it looks like she just cut two pieces of Halloween beard and glued them over her eyelids. Tori– be a true friend! Get Jenelle a mirror!
Over in the hills of the WV, Leah is lounging on her couch. Since she's got some time off from work…er…school….er…cleaning the house, she decides to call up her dingdang lawyer to find out if the judge has made a decision about whether or not that gosh dern Corey Tyler is gonna get to take them twin girls away from her. The lawyer tells her that when she gets news, she'll let her know.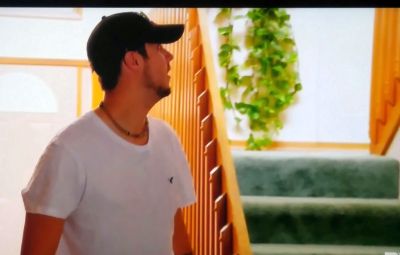 Later, the kids are rolling around on the floor as Jeremy brings a sleeping Addie into the house. Jeremy seems contractually obligated to ask Leah about her court date with Corey, but he doesn't even wait to hear her answer before he starts heading toward the door.
Aleeah is screaming and Leah looks zonked out of her mind. At one point, Jeremy actually looks up at the sky, almost as if to thank the Good Lord that he doesn't have to live in Leah's Trashheap of Chaos anymore.
Leah, however, is happy to have all three of her youngins under her roof at the same time.
Back in South Dakota, Adam wants to meet up with Chelsea to discuss him getting more custody of Aubree, but Chelsea refuses to meet with him and only wants to talk via lawyers.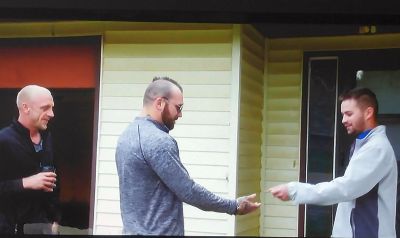 Adam is making a big change in his life: he's just purchased his first home. He brings his Skeletor-like pal Justin with him to go pick up the keys to his new place. This is a big day for Adam, and he's quite proud of himself, as he should be.
He's just bought a big house…and it's been years since he's found himself in the Big House. (The South Dakota penal system is understandably relieved that Adam has given them a break for the last few years.)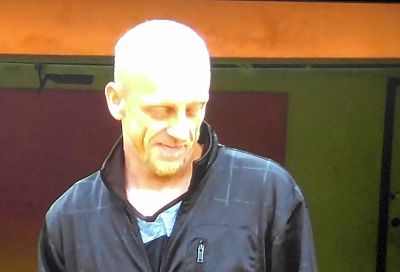 Adam tells Justin that he also recently got his drivers license back (for the first time in five years). Justin looks worried. If Adam no longer needs someone to cart him around, where does that leave our face-flesh-challenged pal, Justin?
Now that Adam has a job, a house and a drivers license, he feels that he is more than capable of getting more custody of both of his daughters.
Chelsea is not feeling it. She tells her dad Randy that she's worried that Adam may get more custody, so Randy suggests that Chelsea try to modify the child support that Adam pays for Aubree, since it is the lowest possible amount a father is allowed to pay per month.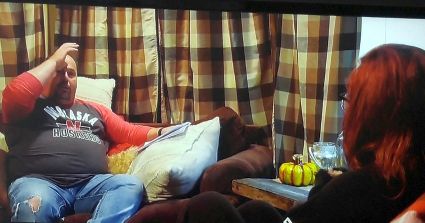 Chelsea brings up that the measly $171 a month that she's getting from Adam doesn't even cover the food Aubree eats in a month.
Chelsea decides to file for more support, even though she knows that Adam's gonna crap his gym shorts when he finds out he's going to have to pay Chelsea more money.
Meanwhile, Jenelle is busy cutting out pictures of Kaiser and pasting them on the milk cartons of North Carolina. Just kidding. She's actually meeting up Jace and Babs.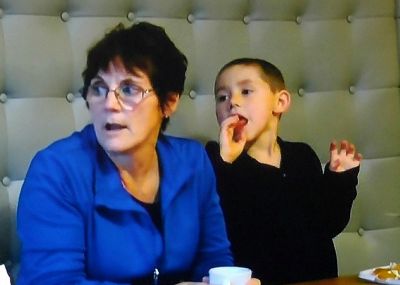 "Oh hi Juh-nelle!" Babs cackles. "I haven't seen ya in ages!"
Jenelle says it's because she's been so busy, what with all the worrying about who Nathan's banging and whatnot. Jace looks at Jenelle like he wishes she would just go away. It's almost like he wants to tell Babs, "Why are we still trying to make 'Jenelle' happen? It's not going to happen."
Babs reminds her "bitch of a daughta" that the last time she came up to Jenelle's House of Terror, Jenelle wouldn't let her in the house. (That's probably a good thing, Babsy. At least you didn't have to step over a passed-out Tori or maneuver around the creepy shrine to Nathan that Jenelle's most likely assembled in her living room.)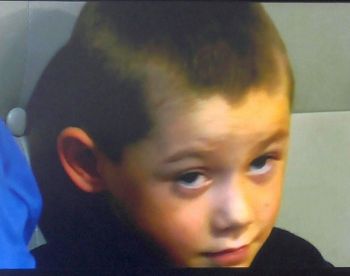 Barb then informs Jenelle that Jace has been terrorizing her lately. Apparently the kid threw a Matchbox car at Barb's face, and has been hitting her. He also hit Babs with a dog bone in the nose. Throwing things and hitting Barb? Hmm….I wonder where Jace learned that?
Jace argues that Babs has been mean to him, and thus deserved to be accosted with toy cars. He does this in a very creepy way, but no one seems to notice. Instead, Jenelle launches into a tirade about Nathan. Barb's eyes start to roll back in her head at the very mention of Jenelle's latest Nathan crisis.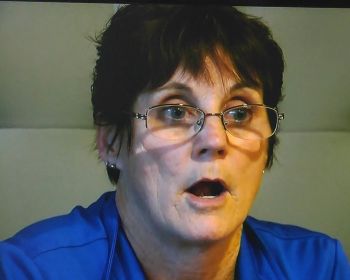 Jenelle wails that her son has been taken from her, yada yada, almost oblivious that the son that was actually taken from her is sitting right next to her, listening to her. Babs listens as Jenelle tells her that the North Carolina Police told her that, because Nathan is the father, he can take his kid wherever he wants, unless Jenelle has proof that she has legal custody.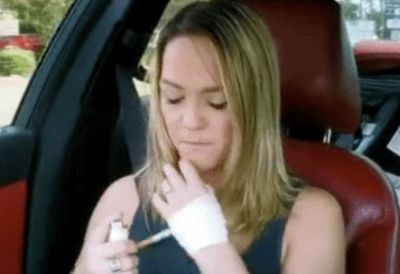 A few days later, Nathan brings Kaiser back from Boston, and Jenelle goes to pick the kid up. She's brought Trashbag Tori with her. Tori has somehow managed to acquire a hand wound, which Jenelle hints was from a stumble Tori took while she was "drunk and being crazy." Jenelle encourages Tori to hide her hand from Nathan's mom.
Tori, meanwhile, is doing her best to light her cigarette but–oopsie daisy— she just can't hold on to the ciggie! It keeps falling out of her mouth as she and Jenelle arrive to pick up Jenelle's long-lost kidnapped son…at a gas station.
(Perhaps while she's there, Jenelle can pick up some food for Leah's girls' lunches?)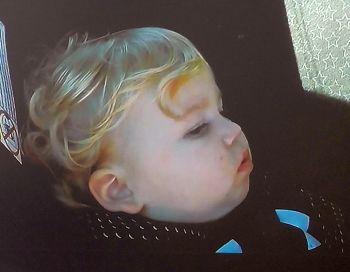 Jenelle retrieves her son from Nathan's mom (who is obviously too embarrassed to allow her mug to appear on this crapstorm of a show). As soon as Jenelle puts Kaiser into her car, he begins to wail. Even Jenelle can't blame the kid for crying.
"It's OK," she tells him. "I know you don't want to get in here."
Kaiser looks all groomed and spiffy. Jenelle notices this and automatically assumes that Kaiser has had his haircut by his "kidnappers." In the time it took Jenelle to strap Kaiser into his seat, it seems that Tori has lost a few more brain cells (if that's possible). She's literally just sitting in the car, with her mouth all slack-jawed and hanging down.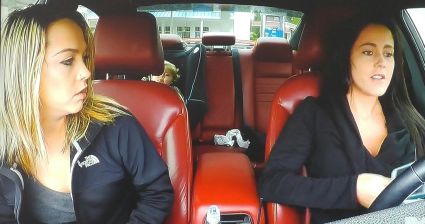 Jenelle explains to her pal that clearly Nathan's girlfriend cut Kaiser's hair because, duh, she's a hairstylist, dude.
We clearly know that it wasn't Jessica who cut the hair. If it was her work, poor Kaiser would be rocking  some sort of god-awful Manic Panic-colored highlights.
Jenelle is still certain that Jessica cut Kaiser's hair.
"That's his first haircut, and I want to be there for that and take pictures and everything!" Jenelle screeches.
It's hard when someone snatches the "Happy Family" Instagram moment right out from under you, isn't it?!
We all know that Jenelle isn't going to let Nathan and his new bone-babe get away with this, no sir! She calls him right up and starts screaming at him for letting Jessica cut Kaiser's hair. Nathan says that no one cut the baby's hair. He tells Jenelle that he's in class and can't talk, so, of course, Jenelle decides that she needs to "blow up his phone" to make things even more miserable.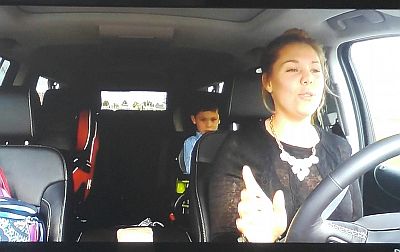 Meanwhile, somewhere in Delaware, a new life has sprung from Vee's loins. That's right– Jo is now the father of a daughter, whom he and Vee are calling ViVi. (Hmm…I wonder who came up with that name?) Kail and Isaac are heading to the hospital to meet the newest member of Jo's entourage, and Isaac is very excited to see his new sister.
On the way to the hospital, Isaac declares that Kail has "baby fever." He then proceeds to be the cutest kid ever as he tries to wrap his head around ViVi only being one day old.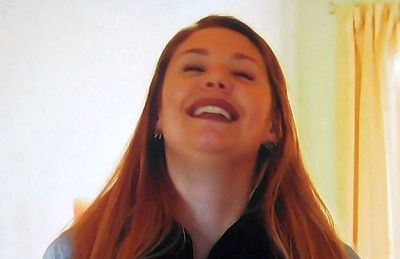 Later that night, Javi is pushing big time for them to have a new baby of their own. Kail seems reluctant to have another baby, since she only has one more year of school before graduation.
Over in the holler, Leah seems to have misplaced her sea sickness bracelets (and, apparently, her hairbrush). She calls up her sister, Victoria and as soon as Victoria answers, Leah says, "I'm so annoyed today!"
Sorry, but if someone called me up and that's the first thing I heard, I would use one of those really bad fake accents that people on 1990s sitcoms used to use when they were pretending to be someone else on the phone.
"Um….Victoria no en casa!"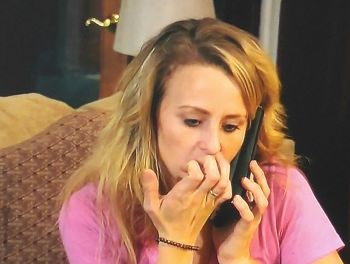 Victoria, however, knows that Leah's producer is probably just gonna call her back if she hangs up and refuses to listen to Leah's drama, so she sighs and asks her sister what's wrong this time. Leah starts yapping about how long it's taking that gersh dern judge to decide who is in charge of buying the twins' Lunchables.
Meanwhile, Aleeah is sharpening pencils in the kitchen (possibly to do her 'rithmatic, possibly to stab her sisters with), and the noise is bothering Leah. She tells her kid to knock it off so she can continue her phone complaining. Aleeah goes and sits down next to Ali on the floor, which, for some reason is covered in what looks like Astroturf! It's like Leah has assembled the most white-trash golf course in all of West Virginia right there in her dingdang living room!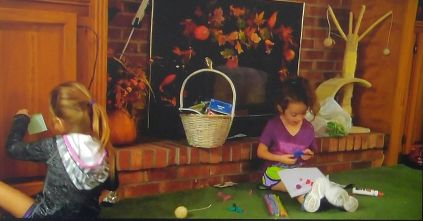 Can't you just picture Leah and Chasity with golf clubs (picked from the dumpster 'round back of Cracker Barrel, of course), putting around Leah's living room, trying their best to avoid the obstacles strewn about? Instead of a sandtrap, there's a pile of empty snack cake wrappers you have to maneuver around. Instead of having a flag mark each hole, there would just be a stick with some of Leah's old hair extensions, gently blowing in the breeze.
Unfortunately, no one explains to us why Leah has Astrotuff putting green floors.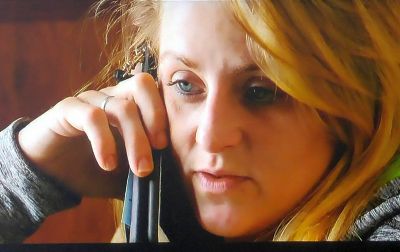 The next day, The Law still hasn't called Leah about the custody fight, so Leah is extra, um, tired today. She's sitting on the couch, fighting to keep her eyes open and decides to call her sister. Leah asks Victoria to go fetch the youngins for her, because she's just too dern "sleepy" to get in her Trashmobile and pick them up from school.
There's no other way to say it: Leah's looking rough as holy hell. Her eyes are all sunken in, her face is all broken out and her hair is wild.
There's a life lesson to learn here, kids. Whatever has made Leah look this, um, sleepy: DON'T DO IT. Not even once.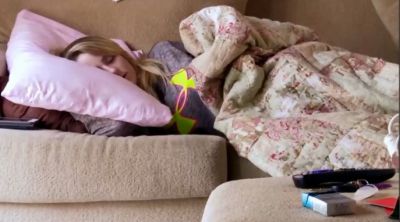 Victoria agrees to get the twins because, well, she doesn't want to see her nieces' faces on the evening news. With responsibility for the girls properly pawned off, Leah settles down for a long winter's nap. She grabs a blanket from a rag bag and curls up on the couch, while feral cats roam in and out of the door.
Parenting is hard y'alls!
Meanwhile, that pesky Corey is going to see his fantastically named lawyer, Rusty Webb. He tells Corey that the custody order has finally come down from the judge, and that Corey has been named the primary caretaker and legal custodian of the twins. He will also be allowed to share in the decision-making process when making decisions for his daughters.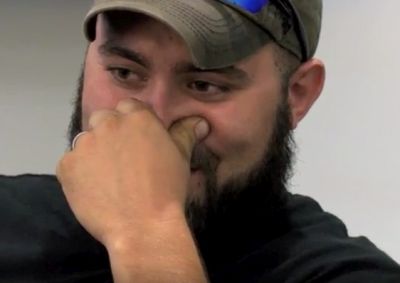 Corey is overcome with emotion. He's overjoyed to learn that he will be able to give the twins the stable life that they deserve. Leah will only have the girls Friday-Monday, so there will be only one day of Lunchable-less morning chaos for the girls during the school week.
Good job, Rusty Webb!
The episode ends with Corey and Miranda hugging and Leah dreaming of having the life she once had that was full of custody, Sour Patch Kids and the ability to buy wershers and dryers on the regular.
Next week, Leah learns that Corey has been awarded more time with the girls, Chelsea learns that Adam has posted inappropriate pics of Aubree, Kail learns that Jo's angry side hasn't gone away, and Jenelle learns that she can get an Insta-Soulmate whenever she needs one.
To read The Ashley's recap of the previous episode of 'Teen Mom 2,' click here!
(Photos: MTV)