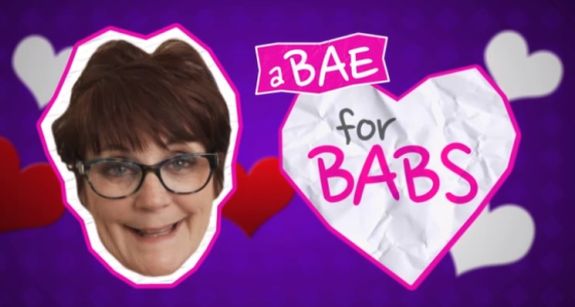 MTV has finally heard our prayers and created what Teen Mom 2 fans have been asking for since we first met Jenelle Evans' mom, Barbara, back in 2010 during Jenelle's episode of 16 and Pregnant. Yes, kids, that's right– there is now a whole show devoted to Babs!
A few months ago, The Ashley told you that a Babs series was reportedly in the works— and now it's here!
On Monday, MTV released a four-episode web series that shows Babs trying to find herself a man! A Bae for Babs shows our gal going out with several men, while MTV cameras captured it all! The web series shows Barbara's quest for a boooooooyfriend of her own!
Barbara, who broke up with her longtime boyfriend, Mike, several years ago, has been single for a while, unlike her "bitch of a daughta" Jenelle who has been married and divorced, in addition to being engaged several times in the six years that we've been following her.
"I would never pick any boyfriend like Juh-nelle did!" Babs cackles in the first episode. "I haven't been on the dating scene since the yeeeeahr 2000 so that's like 16 yeaaahrs!"
Since The Ashley realizes that many of you aren't able to watch the videos because you're in other countries (and/or you're supposed to be working but are instead on the Internet reading about 'Teen Mom!') so she will provide a brief recap of each of the videos.
Episode #1: 
Barb meets up with 60-year-old Tom for a date at an oxygen bar. Babs is immediately impressed by Tom's "characta" because he shows her photos of his grandbaby right away. The date continues and Babs cackles as she straps on an oxygen mask and starts to feel the effects.
"This is like….so weeeeird, man!" Babs tells us. "I feel like I'm on an aaaaairplane or somethin'!"  (Honestly, it's worth watching this video simply to see Babs make weird sounds while wearing an oxygen mask.)
Tom and Babs are feeling a bit "HIGH! HIGH!" after breathing in all that oxygen, but Barb says she enjoyed her date.
"It feels good to, ya know, go out and have an adult convaaaasation!" she tells us, as she rates that date an 8 out of 10.
Episode #2: 
In the second episode, Barb heads to a painting place to meet up with 68-year-old retired teacher George. Barb tells her date that in addition to working at the "Waaaaaahlmart deli," she is also an MTV reality star. George seems to have no idea who Babs is, which makes her happy.
Barb like George's "sense a huma" and the fact that he likes to write poetry. Babs is in rare form on this date (most likely because they gave her wine!) She is impressed by how nice George is to her, and tells us that, sadly, it's been over 35 years since a man has been that nice to her.
Barb rated this date an "eight and three quartas" out of 10!
Episode #3: 
On episode 3, Babs meets up with 69-year-old body builder/dancer Gerald at a winery. (Gerald looks like he's been lifting weights with Jenelle's ex, Nathan, because he's cut!) Gerald is a country boy, which intrigues Barb, because she's never dated one before. (She has, however, seen them while working in "Waaaaahlmaaart.")
Gerald says that his days are filled with gym workouts, and he starts flexing to prove it. Barb seems less-than-impressed (probably because he reminds her of an older version of "The Nathan!") and is put off when Gerald starts to get handsy. Babs does, however, enjoy all the wine she's getting, which is much better than the boxed wine she usually drinks at home.
Gerald is quite the card. He's full of great lines.
"The more I drink, Barbara, the better you look!" he tells her. (Isn't that what every girl dreams of hearing from her date?!)
By the end of the date, however, Gerald starts to grow on Babs. She rates the date an eight out of 10.
This video is worth watching to watch Gerald do some sort of dance/shake thing at the end of the date. Can we get this man his own show too, MTV?
Episode #4: 
For her final blind date, Barb goes on a date with 73-year-old motivational coach Chuck. You know the date is going to be good because Babs starts it off with "Oh, hi….!" (It just doesn't feel right for her not to say 'Juh-nelle' after 'Oh, hi' though.)
Babs and Chuck are going to be running a treetop obstacle course and doing some ziplining, which makes Barb nervous. Apparently, she doesn't like to be up too "HIGH! HIGH!" but she's willing to give it a shot. She gets across a bridge but isn't having a great time. She starts to freak out and wants to leave the course, and is eventually sobbing in a tree.
Babs says the course was "haaaaaaribble" but her date enjoyed it. She eventually completes the kid's course, and says she is open to seeing Chuck again in a different setting. She gives the date a 7.5 out of 10.
That's all for the 'Bae for Babes' web-series (for now, anyway!) If you still haven't had enough Barb, though, you can click here to watch the "Babs Breaks It Down" videos that MTV did last year!
(Photo & Video: MTV)