Back in 2007, MTV examined the topic of teens getting married on their hit show Engaged & Underage, and now, nearly a decade later, the FYI Network is once again revisiting young brides and grooms on the new show Teenage Newlyweds!
"'Teenage Newlyweds' follows three young couples as they take a leap of love and transition from teen sweethearts to husband and wife," the official show description reads. "The series captures their weddings and all the ups and downs of juggling family, school, career, finances and first homes, while still navigating life as a teenager."
The network has not released the six stars' ages; however, it appears that all of them are under the age of 21.
The eight-episode first season of 'Teenage Newlyweds' will introduce us to the following couples:
Halie & George:
After meeting on a mission trip, Halie and George, who are both members of the Mormon Church, only dated (mostly long distance) for four months before becoming engaged.
"We don't really know each other that well," Halie says of her and her future hubby in a show preview clip.
According to a recent story about the couple, Halie, who is from Mesa, Arizona, met George when he had dinner at her home during his mission trip. Halie and her family later invited George to dinner while they were vacationing in his home state of Utah. After becoming engaged, the couple was contacted by the show's casting agents and Halie's father, Robert Wind, says that the families debated if they should do the show.
"We spent a lot of time as a family fasting and praying if this is something we should be involved in," Robert told LDSLiving.com. "We felt a very strong impression that this would be an opportunity for the world to be exposed to how members of the LDS faith live their day to day lives, why we believe so strongly in eternal marriage and families, and how living a Christ-centered life is the key to happiness in today's world."
The couple was married in September 2015 and currently lives in Utah. George is in college, while Halie graduated from high school last year. She plans to go to college after she adjusts to married life in Utah.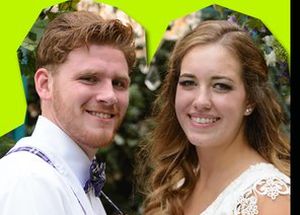 Emma & Joey
According to the FYI Facebook page, Emma and Joey are high school sweethearts from a small town. The couple is "determined to make their marriage work," despite the fact that they apparently have very different career aspirations.
According to the official show website, Emma is a full-time student who works part time at a restaurant. Joey works full-time at a retail store and is not in school currently, nor does he have plans to return.
The biggest obstacles this couple is facing is apparently lack of money and a lack of communication.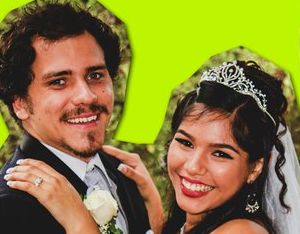 Brenda & Travis:
Set up on a blind date while in college, Brenda and Travis got hitched on July 18, 2015 at the ages of 19 and 20, respectively. Travis proposed to Brenda after less than a year of dating.
The Southern-California-based couple have "clashing values and beliefs," according to the FYI Facebook page. Travis is a devout Christian, while Brenda was raised as a Jehovah's Witness. She left the religion and converted to Christianity after meeting Travis.
In addition, Brenda is very liberal, while Travis is very conservative.
Wanna watch their wedding video!? Of course you do!
The FYI Network already has a healthy stable of wedding- and marriage-centered shows, making it the perfect network for 'Teenage Newlyweds,' according to the network's VP.
"FYI continues to create unique and entertaining content that spotlights the many faces of American marriage," Gena McCarthy, Senior VP of programming and development for FYI, said in a statement. "'Teenage Newlyweds' joins 'Married at First Sight,' 'Arranged' and 'The Seven Year Switch' as one of our latest relationship franchises that shares alternative paths to finding love."
From what The Ashley hears, MTV is also developing a similar show about teen marriage!
Watch a trailer for 'Teenage Newlyweds' below. The show premieres on May 31 on FYI!