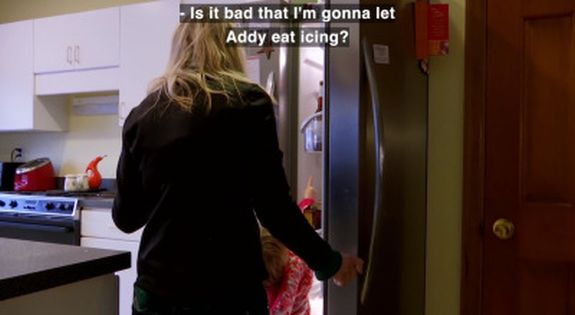 Well Juh-nelle, I see ya finally decided to show up on our TVs after takin' a week off to be with ya boooooooyfriend!
After a week-long hiatus, Teen Mom 2 finally came back, and MTV sure saved up a lot of stuff to pack into this hour-long crapfest. We've got Babs-filled brawls, screaming kids and a whole lot of inappropriate food choices to cover, so let's get started before The Ashley ends up passed out on her couch from all the stress (a la Leah).
The episode begins with Chelsea, who has her man Cole building her a shoe rack out of wood. Chelsea wants to help cut some wood and Cole agrees to let her if she wears safety goggles.
"First things first though, protection!" he says.
That seriously may be the only time in history that any man uttered those words on 'Teen Mom 2.'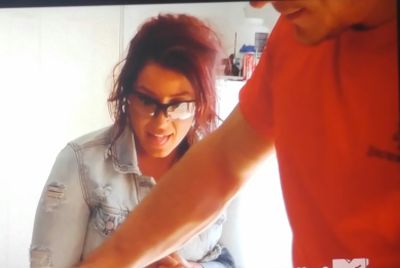 Chelsea pulverizes the wood (huhuhuhuh) and then tells Cole that Aubree has mentioned that she can't see very well in school. Chelsea's worried that Aubree may need glasses.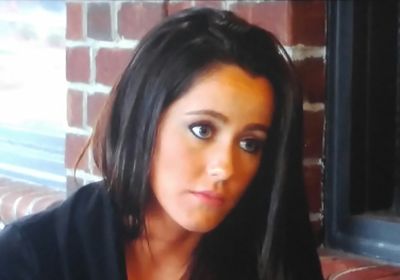 After that dose of normalcy, we skip on over to North Carolina, where our favorite trainwreck Jenelle is enjoying an MTV-comped meal with her soulmate Keiffer Gary Courtland Nathan Lurch. Jenelle's pupils seem to be popping out of their sockets during this scene but it's probably just the way she put on her eyeliner that morning. Yeah…that's it…
Jenelle tells Lurch that she wants to pick up Jace from Babs, but Babs is hoping to just drop the kid off at Jenelle's Chaos Castle the next day, since she'll be in town. Of course, that idea is just ridiculous to Jenelle and Lurch. Jenelle is really upset about losing a whole day with her beloved son.
Um….speaking of sons….where the hell is Kaiser? Does anyone else see the irony in the fact that Jenelle and Lurch are out drinking margaritas in the middle of the day, complaining about not seeing Jenelle's son, when Jenelle's other son is MIA, most likely left at home with Trashbag Tori or some other local street-youth-turned-babysitter?!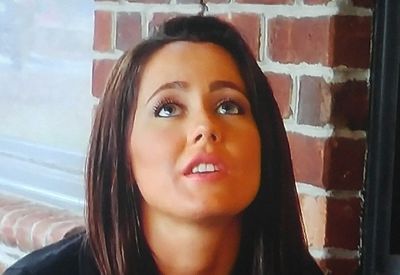 Jenelle tells Lurch that as soon as she gets Jace back, they're moving far, far away. I feel like this girl has been singing that same song for six years now: "As Soon As I Get Jace Back: The Remix."
Lurch has been talking to Jenelle's previous love-of-her-life, Nathan, via texts, and apparently Nathan's girlfriend Jessica has decided not to drop the assault charges against Jenelle.
"I told him it would be nice if she dropped the charges but if she didn't I'd understand," Jenelle says.
Seriously though: can you imagine Jenelle ever actually saying something like this!? It's like her saying, "I'll never get engaged again." IT.WOULD.NEVER.HAPPEN.
In Delaware, Kail is struggling to teach her son Lincoln that it's not appropriate to hit your brother and call him a "puta."  As you do.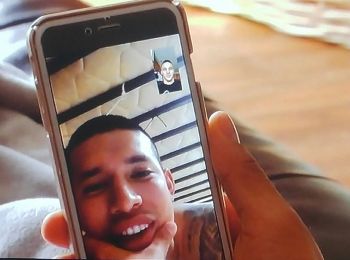 Javi, meanwhile, is still off saving the world, but he's able to take breaks from fighting ISIS and whatnot to FaceTime his random pal. He tells Random Pal that he's arranging for some of Kail's girlfriends to go to Delaware and pick Kail up for a night of festivities. He's planning to get all the girls flowers and wine to show his appreciation that Kail is taking care of the kids and house solo.
For some reason, Javi keeps talking like Randy Jackson from American Idol during this conversation and calling everyone "dog."
Finally we check in with Leah and the gang. We start off at Corey and Miranda's cabin, where Corey's trying to pick out the girls' outfits for the next day.
Wait…what?! Picking out the girls' clothes a whole day in advance? At Leah's they'd just scurry out the door in their pajamas and put on whatever outfit they could dig out from under the pile of trash, coats and little sisters. This is a whole new way of life for them over at Corey's place!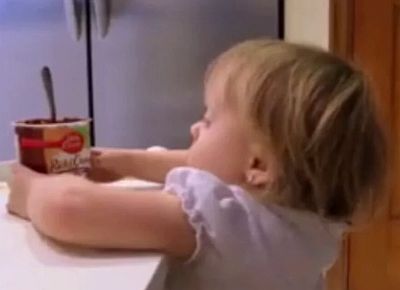 Meanwhile, Leah is hanging out with "the other one," Addy, and her mother and mentor in parenting Mama Dawn. Addy asks her mom to fetch the cake icing from the fridge so she can snack on it. Even Leah questions if this is a good idea, but after getting reassurance from Mama Dawn that icing is a perfectly acceptable snack for kids, she allows it.
However, Mama Dawn insists that if Addy is going to guzzle icing, she at least needs to "set" at the table to do it.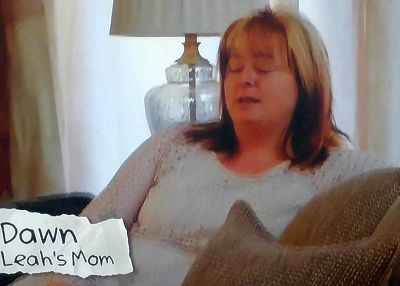 I mean, they're not hillbillies, guys! She's not gonna let her "set" on the couch and eat icing! It wouldn't be proper!
As Addy happily pushes her blood sugar levels to amazing new heights, Leah and Mama Dawn talk about how happy they are that all the court stuff is now over. During this time, Mama Dawn's got her hair all fixed up looking like a marble cake! It's dark! It's blonde! It's a whole new look for Mama (however, her trusty wisp bangs still remain!)
Leah says she's not even bitter with Corey Tyler anymore. (Hell, she'd probably even be willing to go a round or two in the back of his truck at this point!) Leah says she wants to keep her relationship with Corey in a positive place now that all the court stuff is over…
You see where this is going, don't you? It's kind of like when you're watching Survivor and someone states that there's no possible way that they'll be voted out that night. And you know what happens every single time someone says that? They're voted out.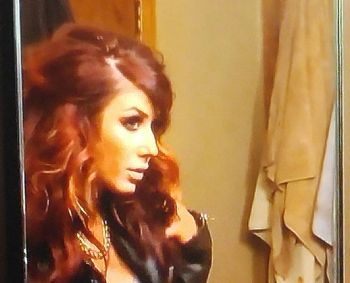 In South Dakota, Chelsea and Cole are preparing to boot-scoot the night away with Chelsea's friends at a Jason Aldean concert. The gals have got their hair jacked up to new heights and they're downing Mike's Hard Lemonades like there's no tomorrow! (This is much different than a night out at a concert with Jenelle and Trashbag Tori. Those usually end in a mugshot and/or someone passed out against the urinal in the concert PortaPotties.)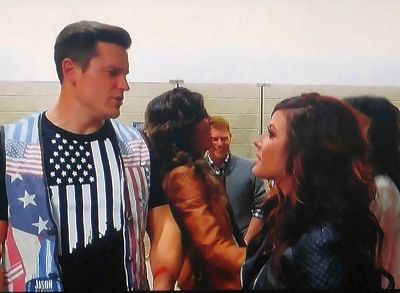 For some reason, everyone's dressed  like they hit up the post-Fourth of July sale at Old Navy. They arrive at the concert venue and we find out that Chelsea & Co. have backstage passes to meet Jason Aldean. (That's what happens when you arrive with an MTV camera crew, y'all!) Surely, appearing on 'Teen Mom 2′ will be the lowlight of ol' Jason's entire career.
As Chelsea waits in line to meet Jason, she asks Cole if it's OK if she has Jason sign her baby chute. As you do.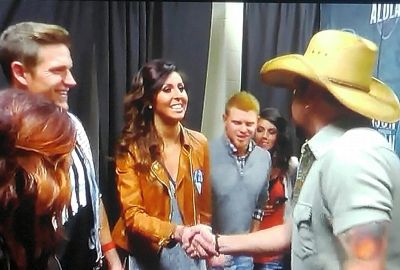 After Chelsea finds out that Jason's not willing to sign any sort of genitalia, regardless of how famous said genitalia is, she goes to meet the singer. He seems absolutely thrilled (and by that I mean "completely mortified") to meet the teen mom and her friends.
They then head to their seats to watch the concert. We are treated to some awkward hand-held camera shots of Chelsea and Cole singing about "boom-booming"…or something.
In Carolina, Jenelle has located Kaiser, who seems to be playing some sort of weird trust game with Jenelle. He stands dramatically on the couch and plummets, obviously expecting his mother to catch him. Of course, Jenelle doesn't and the kid falls hard off the couch and onto the floor.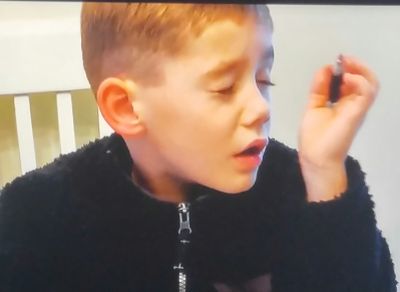 Meanwhile, Barb is chatting with Jace about life at Jenelle's place. Jace tells Babs that he just sits at Jenelle's all day and doesn't have any fun. He says they don't go do things while he's over there because Jenelle and David are always locked in their room sleeping or…making illegitimate love-children or something. Jace says that he spends most of his time hanging out with David's daughter and watching videos.
Barb seems very concerned by what Jace is telling her. Jace even admits that being at Jenelle's is quite "spooky." Who can blame the kid for saying that, though? Imagine walking around the corner and seeing Lurch staring at you. [Shudder]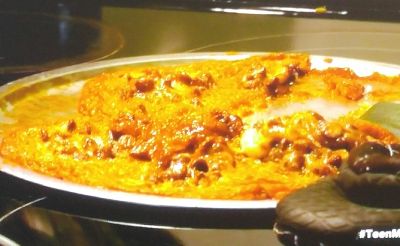 In Delaware, it's almost party time for Kail and her assorted friends. Because Javi has paid for the gals to go out on the town later that night, the girls decide to bake cookies to send to Javi and his Air Force pals.
Unfortunately for our boys overseas, the cookies turn into a runny, sticky mess. (It kind of looks like what I'd imagine Farrah's sink looks like after she washes off all her makeup.)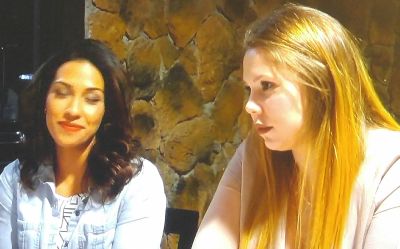 Later that night, Kail and the girls head out for their Javi-funded night of fun. He's gone all out: ordering flowers for each girl and writing a nice note for each of them. The girls are all impressed by Javi's gesture, but soon the talk turns to sex.
Kail's friend asks her how she feels about not getting to do the horizontal mambo at all, since Javi's away, and Kail tells us that she's "taking care of business" via sex toys. They also talk about the perks of a removable shower head.
Ew. Also…ew.
Let's hop on over to West Virginia quick before the image of Kail & Co. pleasuring themselves with shower heads is permanently etched into our brains.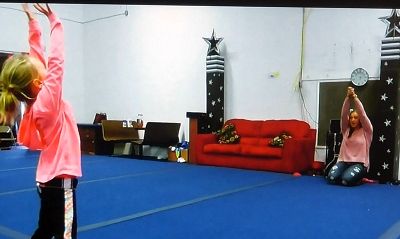 It's Thursday down in the holler, so Aleeah is heading to cheer practice. With the new custody order in place, Leah is able to take her daughter to cheer and then take the girls home with her that night.
For some reason, Aleeah seems to be getting private cheer lessons or something. There are no other kids around, except for Ali, who is heartbroken that she is no longer physically able to cheer. (Couldn't Leah have dropped Ali off with Mama Dawn instead of taking her to cheer and forcing her to see what she can't do? Mama Dawn could have "teached" her to pluck the banjo or something.)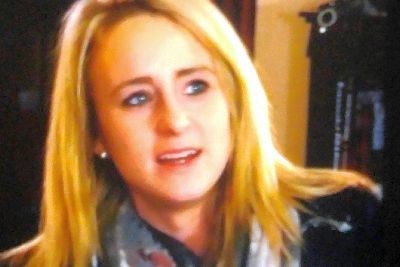 Aleeah is actually becoming a pretty good gymnast, and Leah is standing on the sidelines, beaming with pride. (Over/under on Leah becoming the "cool mom" from "Mean Girls" eventually? I've got money on Leah doing Aleeah's routine from the sidelines while filming it. That's so happening. Please, God, let Mama Dawn come out and do it alongside Leah!)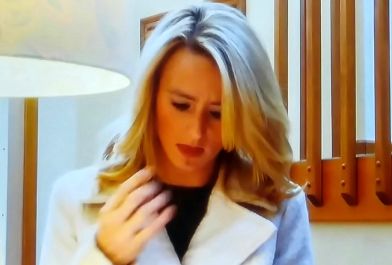 The next day, Leah is casually getting the mail (conveniently on camera, of course), when she discovers some sort of official document alongside the Walmart ads, Mary Kay booklets and Candy-of-the-Month Club renewal forms.
That's right, y'all! That gosh dern Corey Tyler is at it again, and this time he's done sent Leah another custody form!
Apparently, "The Law" doesn't recognize the concept of joint custodians,  so it looks like Leah and Corey will be going back to court yet again. It ain't over, y'all!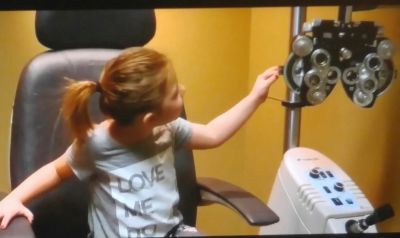 In South Dakota, Chelsea is taking Aubree to the eye doctor. Luckily, Other Chelsey just happens to work there, so Aubree feels more comfortable…until the doctor tells Aubree that she's going to put drops in her eyes. Aubree starts to freak out, especially when the doctor tells her it's going to feel similar to when you get water in your eyes in the pool.
Yup, that'll make the kid really want to go along with your plan, Doc. Tell her that it'll feel like chlorinated water seeping into your eye sockets. Kids love that.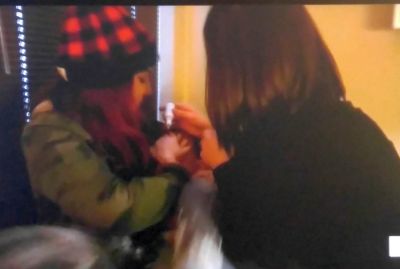 By now, Aubree's hiding her eyes in Chelsea's shoulder and crying (and seemingly kicking the camera man in the balls). She's terrified and trying to run away and screaming, "Don't do it!"
Why do I have the feeling this is what Jace does every time Barbara tries to put him in the car to go see Jenelle?
Speaking of Jenelle, she has Jace for a night, but all he wants to do is play Xbox. Jenelle's upset that Jace doesn't want to do anything else (like take "happy family" Instagram photos), so Jenelle tells the kids to go outside and play, and suddenly we flash to the next day. Jace and David's daughter are still outside running around in the driveway.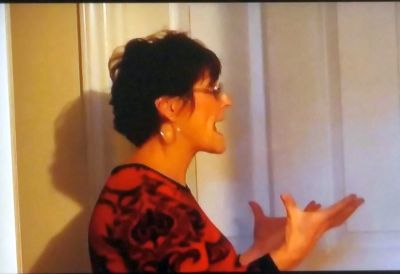 Jenelle and Lurch are locked in "their" bedroom when Babs shows up to pick up Jace.
"Oh hey, Juh-nelle!" she cackles as she observes an empty house. "I'm heee-ah!"
When she gets no answer from Jenelle, Barb starts to get concerned.
"Ya got all the kids outside and no one's watchin' them!" Barb yells.
We hear David tell Jenelle that Babs is screaming, and it appears that Jenelle says, "leave me alone." The kids start filtering back into the house and Barb asks them if the "adults" are sleeping. The kids confirm that Jenelle and David are probably snoozing (or boozing).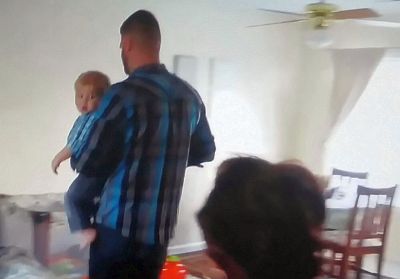 "Whatdya got her in prison, David!?" Babs screeches at the closed door. Finally David comes out of the room with Kaiser and tells Babs that Jenelle doesn't want to see her right now and to go away and try again later.
Um…what is she, the Wizard of Oz? Jesus God (Leah)!
Babs is very upset that she can't see Jenelle, and David tells her to leave if she's going to yell at him in front of "all of his kids."
Did anyone else get a totally creepy shiver going up their neck when he said that?
"You're in MY house!" David says to Babs.
"You live here and she pays all the bills, just like with every other guy!" Babs yells back.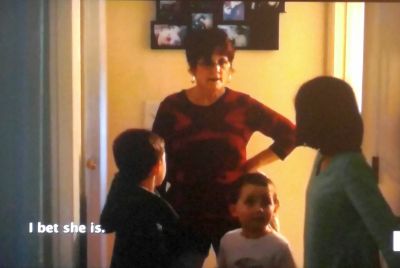 David can't even deny this….he just tells Babs to stop yelling.
"This is called child abuse!" David tells Babs as he points to Kaiser. "You're yelling in front of my child right now."
UM!?!?!
Barb reminds David that Kaiser is the spawn of Nathan, and David says that Kaiser is basically his because he takes care of him every day. (Um?) Babs reminds David that he has "pendin' chaaaahrges" for domestic violence and David denies it.
Meanwhile, Jenelle has not come out of the bedroom to defend her mom (or her man).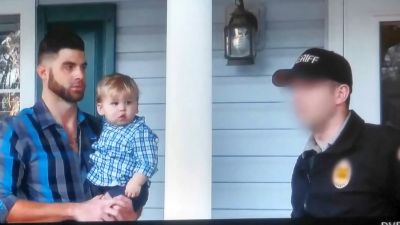 Because no "Very Special Episode" of 'Teen Mom 2′ would be complete without a call to the cops, Lurch dials up The 9-1-1 to report that Babs is "trespassing" in "his" house. Those poor emergency operators are probably so sick of getting calls from Jenelle's various Hillbilly House(s) of Horrors, they most likely have a dedicated line just for calls involving her.
David tells the operator that Barb is making him look like a bad person in front of all of his children. He slams the door in Babs' face, and she yells that she's charging him with assault for that. (Must everyone charge everyone for something on this show?! Geez.)
She yells that Lurch is the worst boyfriend Jenelle's ever had (which, when you think of it, is quite a statement. Who could forget Creepy Kieffer or Courtland, the Cold Sore King?!)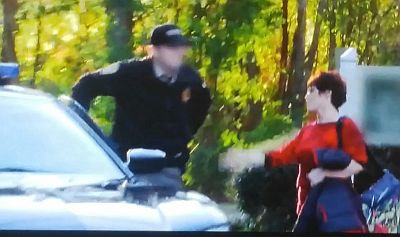 Soon, Babs has collected Jace and her other grandson and is heading outside to her caaaahr. She tells the cops that David had no need to call the cops. She leaves the house, proclaiming that she and Jace will not be back.
In West Virginia, Leah is confused about the papers she received from Corey's "laaaw-yer." She's attempting to wrangle all the youngins and read the papers, and it's just hard, y'all.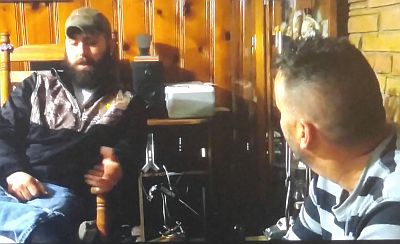 Meanwhile, Corey is talking to his dad, explaining to him what those papers were about. Apparently, Leah's "laaaw-yer" done filled out the papers wrong, because only one parent can be the primary custodian. There's no such thing as having joint custodians.
Corey's dad says that Leah has been in "turmoil" since the girls were born, and Corey agrees that it would be best if he remains their primary custodian, as they've been properly fed and schooled while under his care.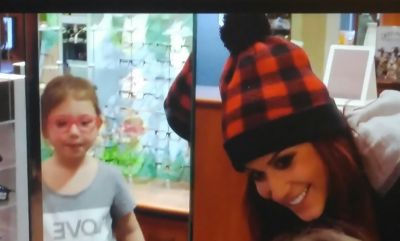 In South Dakota, Aubree has settled down and apologized to the doctor for her tantrum. The doctor tells Chelsea that Aubree needs a pair of glasses, and Chelsea gets emotional. Aubree, however, is happy to have to wear glasses all the time. They pick out some bright pink hipster frames and head out.
In Carolina, a disgruntled Babs is still trying to figure out what the hell happened at Jenelle's house.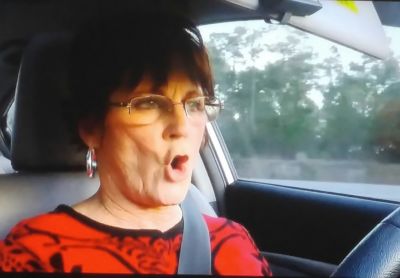 "No one messes with Meme!" she tells Jace, just as Jenelle calls on the phone.
Jenelle says that she didn't want to talk to Barb, and that she is mad that the cops were called and there was a "huge scene" made in front of her neighbors.
Really, Jenelle!? We're worried about what the neighbors think? Tori probably passes out on their lawn at least three times a week. They already know you guys are crapnozzles.
Babs brings up that she isn't the one who called the cops, and that it was Lurch that did the dialing. Jenelle says that Babs ruins her"whole entire day" every time they talk.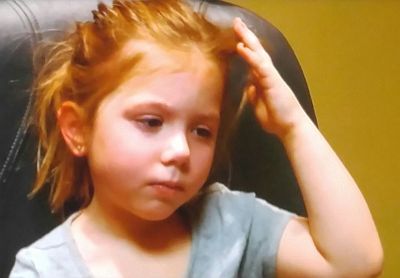 This seriously sounds like something a junior high schooler would tell her mom. This is just embarrassing.
Barb says she's worried about Jenelle because she's not acting like herself these days. (Really? She's doing all of the regular "Jenelle-isms": screaming at her mom, speaking like a 13-year-old and singing the "When I Get Jace Back" song. Sounds like business as usual to me!)
Jenelle tells Babs that she's totally healthy; in fact she works out at the gym two to three times a day "vigorously." (Looks like somebody found the "thesaurus" feature on their phone! That's a mighty big word for Jenelle!)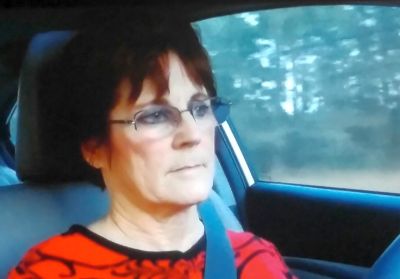 Jenelle hangs up on her mom, so Barb asks Jace what really happens in Jenelle's Chaos Castle. Jace says that Mommy Dearest and Lurch are always in their room, and are always complaining about him being there.
Let's look at the facts: either Jace is telling the truth about his mom complaining about his presence, or Jace is lying, knowing that if he says that to Barb, she won't let him go back over there. Either way, it's very sad!
The final scene takes place in West Virginia. Leah's busy vacuuming her AstroTurf carpet when her sister Victoria comes in. Leah complains how hard it is to keep her dang house clean before launching into a tirade about the papers Corey has filed. She says that she thought things would be getting better, but they aren't because of Corey's objection to her being a joint custodian of the girls.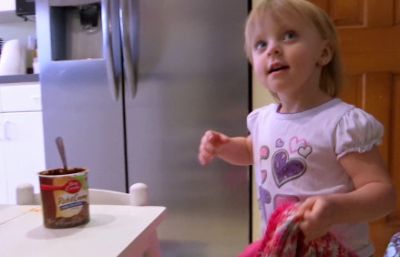 "I know plenty of parents that's done joint custodian!" Leah says. "If you're both good parents then there should be nothing wrong."
Um…well…
Leah says that Corey is doing this because he wants to be in control.
"To do what he's done, to my kids, I don't care if he takes another breath!" Leah says.
Well, nothing like a death wish to end an episode on! Until next week, kids!
To read The Ashley's recap of the previous episode of 'Teen Mom 2,' click here!
(Photos: MTV)