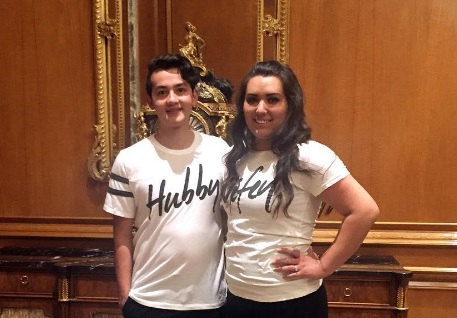 A longtime 16 and Pregnant couple has finally tied the knot!
Last weekend, Izabella Tovar of Season 3 married Jairo Rodriguez, the father of her two children. Izabella is one of only a few girls from the show (10 to be exact) to still be in a relationship with the father of the child born on '16 and Pregnant.' Even fewer girls have married their baby's father, making Izabella's story unique.
We first met Izabella way back in 2010 when she was a pregnant 15-year-old hiding her pregnancy from her Catholic school friends. Izabella and Jairo have come a long way since then. While raising their son, Enrique (nicknamed Henry), they welcomed another child, Anatazia in 2014, and last month, Izabella graduated college with her Bachelor of Science degree.
According to Izabella's social media posts, the wedding took place in Utah. The couple said their vows outdoors under a beautiful gazebo and their two children played an integral part of the ceremony. Izabella wore a strapless white gown while Anastazia wore a sweet blush pink dress. Jairo and Enrique were dapper in matching black suits.
Two days after the wedding, Izabella reflected on her life with Jairo.
"5 years ago today our episode of '16 and Pregnant' aired for the first time," Izabella wrote on Instagram. "I am so incredibly proud of where we are now. We saw the potential in each other and we have both flourished as a result. We have two beautiful children, are happily married and have a college degree and a successful career. I couldn't ask for anything more. It's truly amazing to me how far we have come."
The wedding has been a long time coming. The couple has been engaged since 2010, but Jairo proposed twice. According to Izabella's original wedding blog post in 2010, the first proposal took place the beach in Puerto Rico.
"It was a beautiful, clear, starry night. It was a night I will never forget," Izabella wrote on her blog. "However, we were then chosen to be featured on MTV's documentary '16 and Pregnant.' Because of this Jairo was asked to redo the proposal in front of the cameras. So the second time around Jairo proposed at La Caille restaurant here in Utah. It was also beautiful, we got an entire room all to ourselves that opened up onto their pristine grounds. They were both amazing experiences and I was lucky enough to be able to say yes to Jairo twice."
The couple originally planned to get married in June of 2013, but decided to postpone the nuptials.
Going forward, Izabella plans to attend medical school. When we spoke with Izabella in May, she praised Jairo and her parents for always being there for her and supporting her dreams.
Check out a clip from Izabella's wedding video below.
(Photo & Video: Instagram)