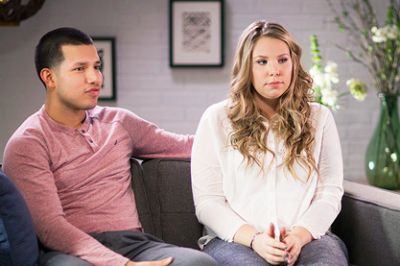 Last week, Teen Mom 2 star Kail Lowry finally set the record straight regarding her marriage to Javi Marroqin, revealing that the couple is, indeed, divorcing as the rumor mill has been speculating for months.
While their relationship's demise has started to play out on 'Teen Mom 2,' it appears that the marriage had been over a long time before the scenes that are currently airing on the show were even filmed.
An insider told Us Weekly that Kail and Javi officially separated back in December, a fact that The Ashley has confirmed with her sources.
The couple decided to end their marriage before Javi even left for his deployment, which makes sense as to why the couple has been acting so emotionless in their conversations shown on 'Teen Mom 2.' (The scenes we are watching now were filmed in early 2016.)
"They've been unhealthy for a while, and Kail knew divorce was inevitable," a source told Us Weekly. "There was always a disconnect."
Both Kail and Javi have been accused of being unfaithful to the other in recent months, but this new fact sheds more light on the alleged cheating. (For the record, The Ashley is not confirming or denying any of those rumors.)
"They've been separated since December, so if Javi was with anyone else overseas it wouldn't really be cheating," the source told the magazine. "The bottom line is they were two strong personalities who both want to be in control living together. They clashed."
During the most-recent episode of 'Teen Mom 2,' Kail and Javi stated that Kail doesn't want to have any more children, and both revealed that this was one of the big problems in their marriage.
"We're trying to do the best we can for our kids because they are what really matters," Kail told Daily Mail last week.
Kail and Javi, who married in September 2012, share son Lincoln, and Isaac, Kail's son with Jo Rivera.
Javi is still overseas, but will be coming home soon. At this time, it is unknown whether or not he will return to the Delaware home he shares with Kail and the boys. Either way, it will all be playing out on the upcoming season of 'Teen Mom 2,' which is being filmed right now!
(Photo: MTV)