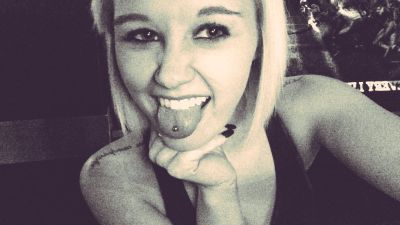 Season 5 star Jordan Cashmyer has hit rock bottom, according to a report by TMZ yesterday.
The 16 and Pregnant Season 5 star reportedly checking into a 30-day rehab program in Baltimore after she allegedly came home so drunk that she gave herself a black eye and a concussion.
"After a night of heavy drinking [Jordan] stumbled into her mother's house and fell so hard, she smacked her head on the ground and suffered a concussion," TMZ reported, adding that Jordan's drinking habit has spiraled "out of control" lately. (Click here to see Jordan's busted-up face, post-accident!)
Life after '16 and Pregnant' has not been easy for Jordan. After being featured on the show, she split with her baby's father, Derek Taylor, and began working as an exotic dancer in a Baltimore strip club. In November 2014 (five months after her '16 and Pregnant' episode aired), Jordan was hospitalized after she attempted suicide. Jordan's daughter, who is now two years old, has been living with relatives and Derek since she was very young.
As of recently, it seemed like Jordan was trying to get her life back in order. She had stopped working at the strip club and had taken a job at a gym. In a February blog post, Jordan admitted to heavy drug use, writing that, in the past, she had used everything from cocaine to heroin, and had been hospitalized several times for overdosing.
"I would take whatever else was offered to me," she wrote. "Whether it was coke, Xanax, whatever, I would take it, which damn near could've killed me."
According to TMZ, however, Jordan's drinking resulted in her getting fired from the gym earlier this month.
A few days before the story was posted by TMZ, Derek took to Twitter to express his thoughts on his ex-girlfriend.
"…realistically it makes no difference because Jordan isn't a mother and she never will be!" he tweeted. "Not to mention Genevieve doesn't even know who Jordan is."
Want to see what some of the other girls from '16 and Pregnant' are up to? Click here!
(Photo: Twitter)