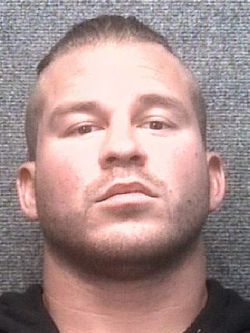 A Teen Mom 2 star spent time behind bars this weekend– but this time it wasn't the show's resident jailbird Jenelle Evans!
Jenelle's ex-soulmate, Nathan Griffith, was picked up by cops on Saturday in Myrtle Beach, South Carolina, and hauled into jail on original charges of disorderly conduct, public intoxication, impairment and endangering himself and others. In Touch Weekly was the first to break the story.
The Ashley was able to locate a little more information on Nathan's arrest. According to online records, Nathan was arrested somewhere along the main drag of Myrtle Beach's Ocean Blvd., an area full of restaurants and hotels, around 5:30 p.m.Online records state that Nathan was eventually charged with disorderly conduct (for using lewd, obscene or profane language), and for resisting arrest. (The original charge was as In Touch listed, but it appears that charge was eventually changed.) Both charges are misdemeanors.
His girlfriend, Jessica Henry, bonded him out of the clink on Sunday for $469 and $262 (two bonds for two charges). His pal later posted a video to Twitter that showed Nathan being filmed by what we can assume is a 'Teen Mom 2' camera crew.
According to court record, Nate is due in court on Tuesday to face both charges. He will be back in court on June 23 to face charges he incurred in May for driving without a license or registration.
This is certainly not Nathan's first arrest. He has been arrested on an assortment of charges in recent years, including larceny, domestic violence and DUI. To see the full "Nathan Griffith Mugshot Collection," click here!
His ex seemed to take pride in the fact that, this time, it was Nathan behind bars instead of herself.
"At least I can say I'm staying out of trouble," Jenelle tweeted on Monday.
UPDATE! According to Horry County court records, Nathan's charges were reduced on Tuesday to  "Disorderly Conduct/Loudly Breaching Peace." It appears that all of the other charges were dropped. The case is currently pending.
(Photo: Horry County PD)