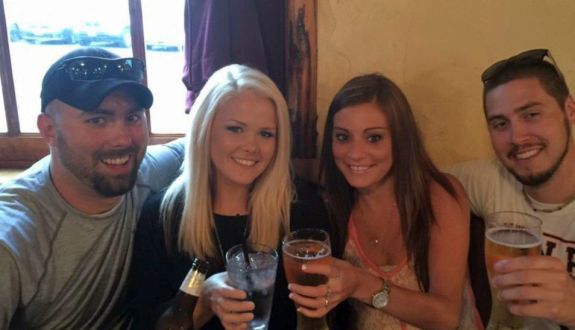 The Ashley has decided it's about time again for her to break down some of the recent rumors about the stars of Teen Mom 2! It's been a while since The Ashley's last installment of 'Teen Mom 2' Rumor Patrol but the fake stories seem to be popping up all over this week, so it's a great time to clear some stuff up.
As faithful readers know, The Ashley holds off on reporting on most 'Teen Mom' stories until she can personally confirm or deny their legitimacy. (Otherwise, she will let you know to file it under "rumor.")
Let's get started!
Rumor #1: Corey and Miranda Simms are getting a divorce.
FALSE! This rumor has been circulating the 'Teen Mom' world for weeks, and from what The Ashley can gather it stems from a couple of posts made to a fake Corey Simms Facebook page.
"Single dad. Never thought I would do this again," the fake Corey wrote on Facebook.
The Ashley can confirm that Miranda and Corey are NOT divorcing. In fact, they celebrated their third wedding anniversary earlier this month. Corey's father Jeff Simms recently posted about the couple's relationship.
"Corey and Miranda complement each other as a married couple should. Each is better as a result," Jeff tweeted. "They are not getting a divorce. Solid relationship between those two. Our family is awesome!"
According to one of The Ashley's sources, "Corey and Miranda barely use Facebook. They have one joint one, and if either of them were ever going to talk publicly about their relationship, it would not be within a Facebook post. That story is ridiculous."
Rumor #2: Jeremy Calvert's girlfriend Brooke Wehr is pregnant.
FALSE! This rumor started when Jeremy posted a photo of Brooke to his Instagram account yesterday, along with a caption that in part read, "Hopefully we get great news today babe."
Naturally, fans jumped to the conclusion that Jeremy and Brooke are expecting, but The Ashley can confirm this is not the case. Brooke is not currently pregnant.
Somewhere in West Virginia, Leah Messer is letting out a big sigh of relief….
Rumor #3: Kail Lowry is writing a tell-all novel about all her lesbian love affairs, and her (soon-to-be-ex) husband Javi Marroquin is writing a tell-all book about Kail.
FALSE! While Kail is currently working on her third book, Hustle and Heart, which is due out this November, the book is NOT a salacious tell-all about Kail's lesbian love affairs, as Radar Online posted earlier this month.
The book is actually about surviving tough situations– whether it be marital trouble, new motherhood, career challenges, etc. It may include information about Kail's past relationships with both males and females, but it not a lesbian love affair tell-all by any means.
Also… Javi is not currently writing a tell-all wife to expose Kail's "deepest, darkest secrets," as Life & Style Weekly recently reported.
"He knows her deepest, darkest secrets, including the plastic surgery she's had and what she's planning on having in the future," the magazine reported. "And he could dish on how she really feels about the 'Teen Mom' cast."
The Ashley's source says that Kail is not "petrified" that Javi's going to "dish dirt" on her, as the magazine says.
"It's simply not true at all," one source told The Ashley. "Kail would probably end up telling people herself before Javi would write a tell-all."
Javi is still under contract for 'Teen Mom 2,' so he would not be able to do any on-the-record interviews to "expose" Kail until he is no longer under contract.
That's all for today! And for those of you who have been asking The Ashley on social media whether or not she still stands by her story that revealed that 'Teen Mom 2' star Jenelle Evans is pregnant— the answer is YES! As far as The Ashley knows, Jenelle is currently about three months pregnant.
Got a 'Teen Mom 2' rumor you want The Ashley to clear up? Leave it in the comments below!
(Photo: Instagram)