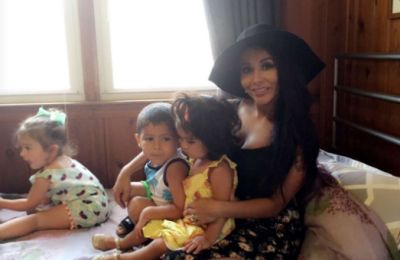 For six seasons, the infamous Jersey Shore house saw its share of "smooshing," boozing and general debauchery. Since the show ended after six seasons in 2012, fans have come to the house to get their "GTL" on, as it's now available for public rental. Today the house had some very special guests– original 'Shore' kids Jenni 'JWoWW' Farley and Nicole 'Snooki' Polizzi— and their kids!
Nicole and Jenni, who are both moms to two kids, brought their sons and daughters to the Shore House today to film for their Awestruck show. The kids visited all of the famous Shore House spots– including the "Smoosh Room" (also…ew)– and even played with the house's duck phone! Nicole posted plenty of photos of the visit to her Snapchat account.
Jenni's husband, Roger Mathews, wrote about the trip in a hilarious post on Jenni's blog. He joked that the house was unsafe for the kids, given all of the, um, smooshing that took place there.
"For reasons unknown my wife and Nicole took our kids to the 'Jersey Shore' house today and let them pose for a photo op in the 'Smoosh Room' or as I like to call it the DNA Daycare," Roger wrote. "This room glows like plutonium under a black light yet they let our kids in there.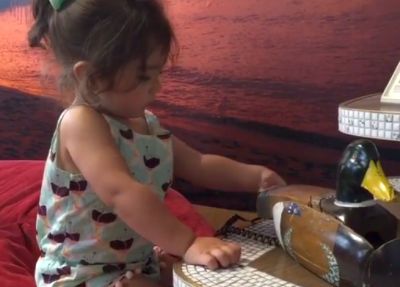 "I'm in a full Haz Mat suit now waiting in the driveway to power wash my kids off and scrub them down with bleach when they get home," he added.
Jenni's nanny, Carly Taylor, posted a video of Nicole's daughter Giovanna and Jenni's daughter Meilani napping at the Shore House, along with the caption, "Honey I shrunk Snooki and JWoWW."
As cute as the visit was, Roger assured fans that his daughter and Giovanna would not become the second generation 'Jersey Shore' cast.
"#NoJerseyShoreSequel," he captioned one of the photos posted from the visit.
(Photos: Snapchat, Instagram)