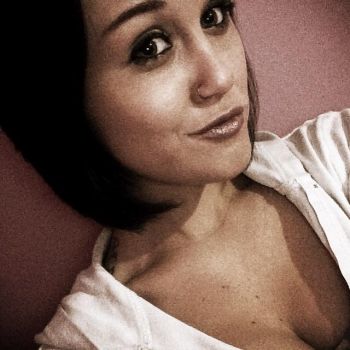 Last month, 16 and Pregnant Season 5 star Jordan Cashmyer checked into a rehab center in hopes of pulling herself out of the downward spiral she says she has been in since giving birth to her daughter Genevieve on '16 and Pregnant.' While Jordan was supposed to be in the 'hab for at least 30 days, she checked out early and updated her Twitter on June 23 to let everyone know that she was "free" after only about 15 days in treatment.
Yesterday, Jordan provided a new update on her life, posting a long message to her social media accounts that she hoped would "clear up" a few of the stories circulating about her.
In the post, she denied any truth to the June TMZ story about her giving herself a black eye and a concussion after coming home drunk.
"My face was not busted up due to coming home drunk," Jordan wrote. "In fact, as dumb as it sounds, I tripped over a stool in the dark and fell face first in the bathtub, (not intoxicated by alcohol at all when it happened.)"
Anyway, Jordan also denied the original story that she went to rehab for alcohol abuse. In the post, she stated that she physically cannot drink, due to suffering from pancreatitis.
"I went to rehab for drug use," Jordan, who has discussed her substance abuse issues in other posts, wrote.
She added that since leaving rehab, she is doing better than she has in years. She no longer works as an exotic dancer, and says she is finally clean.
"For the first time in a really long time, I am thinking clearly, not using drugs or alcohol and have my depression , anxiety & mood swings pretty under control," she wrote. "This is the first time in a really long time that I have felt like myself since my senior year, pregnancy and the few months after that before going to work at a [strip] club."
This is positive news for the young mom, whose daughter has been being raised by Jordan's ex, Derek Taylor, as well as members of Jordan's family.
"I still have plenty of things to work on and finally I feel like I can handle them with a clear head and do what's right for once in two years."
Click here to read Jordan's full post, click here!
Want to find out what's happened to some of the other girls from '16 and Pregnant' since their episodes were filmed? Click here!
(Photo: Facebook)