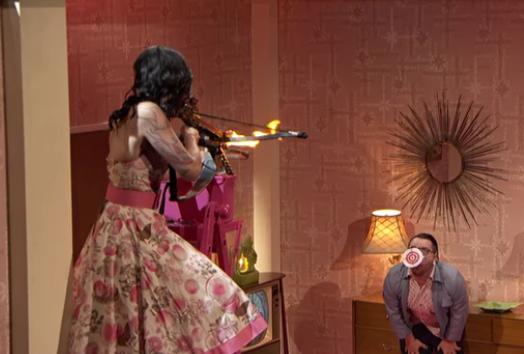 Last night's episode of America's Got Talent left no doubt in viewers' minds that the dangerous stunts sometimes performed on the show are, indeed, very real. Contestant Ryan Stock, one half of a daredevil stunt team, learned that the hard way during the live show on Tuesday, when his wife Amberlynn Walker accidentally shot him in the neck with a flaming arrow in a stunt gone wrong.
Ryan and Amber were finishing up a daredevil skit that ended with Ryan swallowing an object with a target on the end of it. Amber, perched on a ladder, was supposed use a bow to shoot a flaming arrow at the target. Unfortunately (for Ryan!) Amber missed her mark, and ended up shooting her hubby with the arrow in the neck area.
Luckily, the arrow hit Ryan's shirt collar and did not seriously injure him. EMTs were called to the scene, though.
Later that night, Ryan took to Twitter to explain what went wrong.
"We had a serious mishap tonight outage live on @nbcagt," he tweeted. "A very unfortunate mechanical failure but I am very fortunate to walk away from it."
If you'd like to see someone get shot in the neck region with a flaming arrow (and, honestly, who wouldn't?) watch the video below!
(Photo: NBC)