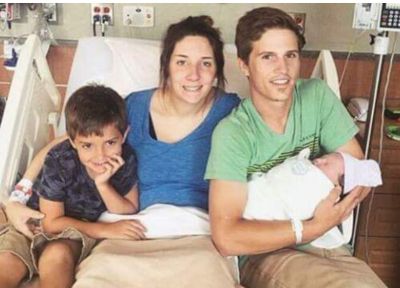 It's (another) boy for 16 and Pregnant star Kayla Jackson! The Season 3 star gave birth to her second child on July 27. Kayla and her boyfriend, Matt Neyers, named their little boy Cedric.
"I am so happy. exhausted. But so incredibly happy," Kayla tweeted a few days after Cedric's birth.
Kayla, who has been dating Matt for over three years, announced her pregnancy in March. She is already the mother of five-year-old Preston (the baby she gave birth to on '16 and Pregnant') but this is the couple's first child together. (Kayla broke up with Preston's father, Michael Schwing, years ago, but the exes have remained friends.)
Nearly all of the mothers on Kayla's season of '16 and Pregnant' have gotten pregnant again (or had more children) since appearing on the series. In fact, only one girl– Taylor Lumas— has yet to have another pregnancy.
In the past, Kayla, now 23, has been outspoken about regretting her decision to appear on '16 and Pregnant.'
"It was the worst decision I've ever made," she wrote in March 2015. "And every time they replay [my episode] and people ask me about it I regret it all over again."
To see what's happened to the other '16 and Pregnant' Season 3 girls since their season aired, click here!
(Photo: Facebook)