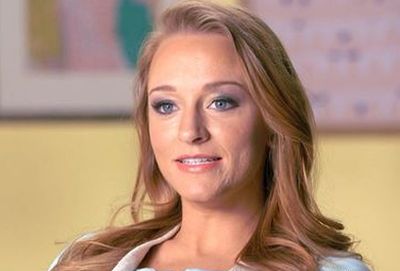 Get the Bud Light truck over to Tennessee because Teen Mom OG star Maci Bookout is finally getting married!
Maci spoke with OK! magazine and WetPaint about her upcoming nuptials, revealing why she and her fiancé Taylor McKinney decided to allow MTV to film their wedding for 'Teen Mom OG,' and whether or not her 'Teen Mom' co-stars will attend the big day.
The mother of three, who will marry T-shirt designer Taylor on October 8 in Tallahassee, Florida, explained why she wanted her wedding filmed.
"I think, you know, just knowing how my family and friends feel about us getting married and how happy for us they are, I think it was important for me to show my fans that too," Maci told OK! before acknowledging that she basically hounded ol' T-Money for a ring this past season. "I think everyone kind of thinks it's been a long time coming and it's something that everyone has been waiting for, so they will be able to see it."
Maci will be doing a fall themed wedding, much like fellow "Teen Mom," Chelsea Houska has planned for her big day.
"The wedding itself is going to be very traditional, and as hard as it might be to imagine, a good mixture of fall wedding but in a warmer climate, it's going to be kind of rustic pretty theme, and I guess the rest everyone is going to have to wait and see," she told the magazine.
So…camo and Tennessee Vol orange?
She will not, however, be giving away any details about her wedding dress, which she purchased several months ago.
"I'll just say it's pretty because I don't want Taylor to see anything," she said.
During her chat with WetPaint, Maci revealed who she's planning to invite to her wedding. She confirmed that, while her 'Teen Mom OG' co-stars will get invites, they will not her in her wedding party.
"I am going to have bridesmaids but they're girls that I've grown up with and Taylor's younger sister," Maci said.
One of Maci's co-stars, Amber Portwood, was due to get married around the same time as Maci, but she recently revealed that she has postponed her big day. Had Amber gone through with the wedding, it would have been a huge headache for the 'Teen Mom' crew, who would have been trying to film both weddings on the same weekend.
"I'm not sure if she had to postpone it because of me or not but we did pick the same weekend," Maci said. "So hopefully it works out for both of us. At least now they're not on the same day so we'll be able to go to each other's weddings."
Amber & Co. will have to trek all the way down to Florida to attend Maci's wedding. Maci stated that she and Taylor chose to have their wedding in Florida because it was neutral ground.
"Taylor is from Dallas and so his family lives there and a lot of our friends live out there and I'm from Tennessee so we wanted to do a destination wedding so that we could all come together in one place," she said.
Just days before Maci and Taylor say "I do," Teen Mom 2 star Chelsea Houska will tie the knot in South Dakota. Chelsea and her fiance Cole DeBoer are not allowing MTV cameras to capture the event, however, because they want the wedding to be private. Maci doesn't seem to be bothered by the idea of having cameras at her wedding.
"I think at this point after eight years I've gotten used to the cameras being around and on a day like that, I know with everything else going on they'll be like a fly on the wall," she told WetPaint. "I'm excited to be able to have it video'd."
(Photo: MTV)