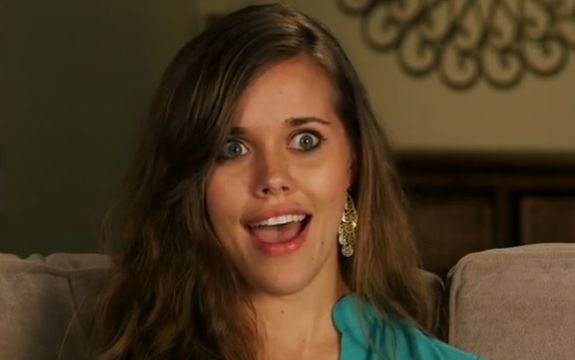 It's been a while since we've taken a stroll into Duggarland, and luckily, TLC is giving us a full new season of the family's reality show, 19 Kids and Counting er…. Jill & Jessa: Counting On er…. Counting On. Grab your fertility tests and your denim skirt, because the Duggars are back, biotches!
The new season kicks off at Jessa and Ben's house, where Jessa is telling us how much she loves her son, The Spurge.
"I can't even explain it really," Jessa says.
Well, if you do decide to explain it, be sure to use small words because Ben's looking awfully confused. To be fair, he's at the same reading comprehension level as The Spurge, so it's understandable.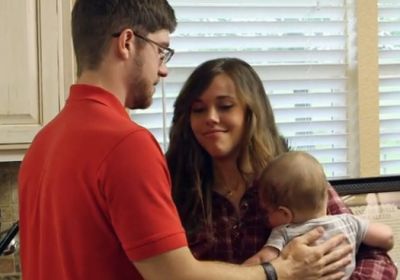 Jessa and Ben are always desperate to get their mitts on new kids, so they agree to babysit for their friends. To prepare, Jessa decides to baby-proof their house because she don't want The Spurge or their friends' kids to electrocute themselves or something. (And, let's be honest, it's probably not safe to have Ben around uncovered outlets, either.)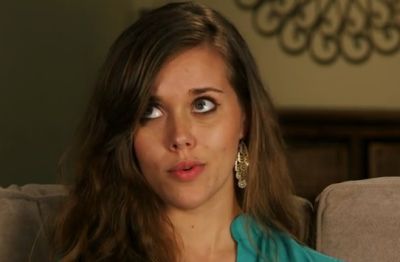 Meanwhile, Jill and Derick are still in Central America, saving heathens and battling scorpions.
Jessa describes what her sister's life is like down in the jungle, and you can see her gloating just a little, and thanking the Good Lord (and Daddy Jim Bob) that she wasn't the one chosen to marry "missionary" Derick. Queen Jessa isn't exactly the type who enjoys roughing it.
Jessa says that it's cool that she and Jill are both newly married and mothers to baby boys, but admits it sucks that she can't enjoy it because Jill lives so far away. (Not to mention, with Jill in Zika territory, all of the baby-making has been left up to Jessa, basically.)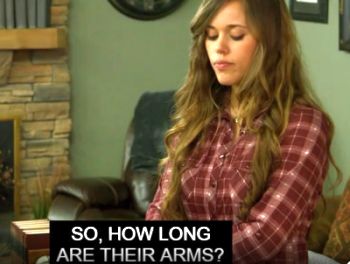 Jessa recruits Anna and Jinger to come over to baby-proof her house. (Ben, of course, isn't allowed to use sharp objects so he won't be much help.) They want to get rid of anything that's dangerous or unhealthy to have around kids.
Hey, guys. You might wanna start by covering up that creepy drawn portrait of yourselves on your wall. That could scare the BeJesus out of any kid.
Over in the jungle, Derick (and his new man-bun) is talking about all the disgusting things they live alongside– tarantulas, bugs, scorpions, etc. (Hey, Jill is used to living with disgusting things! After all, she lived in a house with Josh Duggar for years!)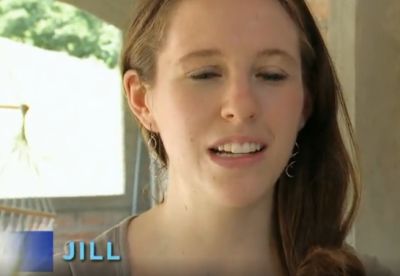 Jill tells us that she has basically become a shut-in now that Israel is older. She says she's too scared to leave her home because she will probably be kidnapped and held for ransom by the various street heathens floating around her part of the jungle. She's especially worried about her "gringo" son sticking out in the crowd.
Unfortunately for our favorite missionaries, life in the jungle isn't much fun. They have gone days without power or water. (This may be why Derick has looked like a Yeti in recent photos.) They are basically forced to live in a dark, damp hut with dirty dishes and smelly diapers all over the place. Good times! #SlummingItForJesus
Meanwhile in Arkansas, Anna and her litter, along with Jinger, are heading to Jessa's house to baby-proof things.
Speaking of Anna, she's once again got that glazed-over look in her eye that's typical of the married Duggar gals. She tells us that "Joshua" is now out of rehab and that she has a "lot of hope" that she can forget and forgive him for cheating on her/making her look like a fool/touching his sisters inappropriately/etc.
"It brings a lot of joy," Anna says of seeing Josh keep his grubby mitts to himself finally. "It helps heal the pain that we've walked through."
But, enough about Anna–it's time to baby-proof Jessa's house!
Anna releases her son Marcus to go get into things. He opens one of Jessa's dresser drawers and we see that they have blurred out something that looks like Jessa's unmentionables! The horror!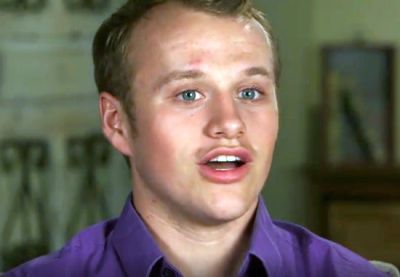 Back on the Duggar compound, Josiah is practicing for his commercial drivers license test. John David is attempting to teach him to drive big equipment. Of course, no one really cares about John David and Josiah, unless it's to find out if they are courting anyone. Naturally, this is the first question the guys are asked. Both reveal they are not currently courting anyone so…we don't really care about them. Why would we want to watch them drive trucks when we can go watch Jessa & Co. go shopping!?
Jessa and the gang head to the hardware store to go buy supplies to keep the kids/Ben from permanently injuring/maiming themselves. Jinger tells us that she is happy to be along on the shopping trip because it will prepare her for when she has a "whole houseful of kids" someday. Sigh.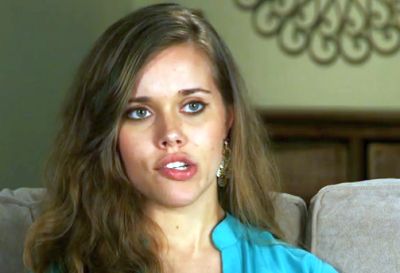 The girls bring all the baby-proofing crap back to Jessa's house. There are kids crawling around everywhere, and the girls are having trouble getting everything installed before their friends' kids arrive.
Also…why the hell are they putting all of these baby-proofing gadgets around the house before they babysit? These kids are about five! Jess, we all know you're doing this for Ben's sake, let's just be honest here…
Once the chores are done, Jinger and Anna leave and Jessa throws some sort of "Helper" on the stove for the kids to eat. The family arrives and the kids seems scared to death to be left with Jessa and Ben. (Who can blame them!?)
One of the kids (Ethics? Entity? Eternity? I have no idea what the hell they named this poor kid) is giving Ben some attitude but things seem to go decently well. Ben is stumped by all the baby-proofing apparatuses in the house. It's hard for him, y'all!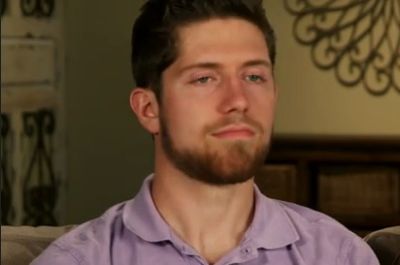 Jessa tells us that she and Ben are still planning to adopt a kid, but they aren't able to do it until The Spurge is at least nine months old.
Next, the producers corner all the older kids to get the scoop on Jinger. They want to know if she's in love, and Jessa and the gang all confirm that something is definitely up with Jinger. She tells the producers that she isn't officially courting anyone, but that her "friend" Jeremy is coming to visit her from Texas.
Jinger is getting all tingly in the loins just thinking about Jeremy. Apparently, he was good friends with Ben and Jessa, which is how he met with Jinger. They hung out on a mission trip and everyone could see their chemistry.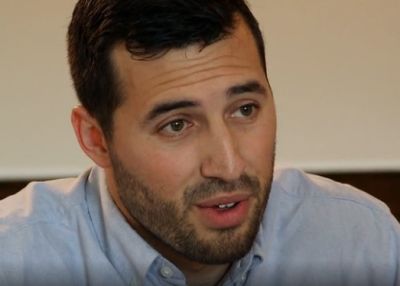 Jim Bob picks up Jeremy at the airport and they chat about Jeremy getting dibs on Jinger. All the siblings say that Jinger is head-over-heels for Jeremy, and apparently the feelings are mutual. Jeremy asks ol' Jim Bob if it's OK to court Jinger. Jim Bob gives him the OK to have Jinger.
Finally, Jim Bob brings Jeremy home and after a lot of awkward side hugs, he finally gets to see his girl. Jeremy asks her if she'd like to chat and Jinger obviously knows what's about to happen. He finally spits it out and asks her to court and Jinger looks like she can't wait to jump on him in the special way reserved for married couples…and heathens.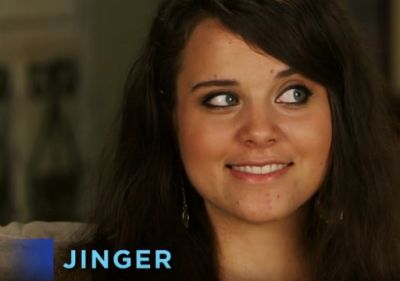 They declare their love for each other and then go back inside to announce to the family that they are courting.
Jeremy gets to do his first couch interview, and they tell us they want to get hitched as soon as possible.
But…all the hitching will have to wait because the episode ends there!
Until next week!
To read some of The Ashley's other reality TV recaps, click here!
(Photos: TLC)