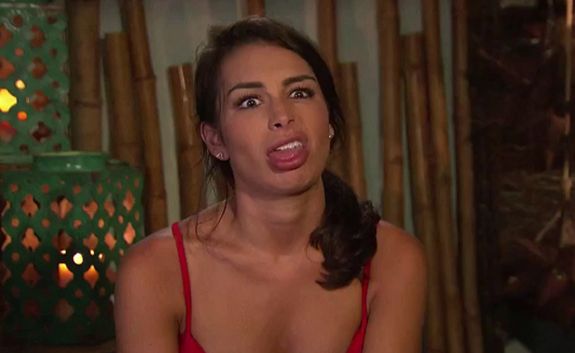 We've devoted two full hours of our lives this week to watching the reality show crapfest that is Bachelor in Paradise, so what's one more hour?! (If you missed The Ashley's recap of Monday's episode, go ahead and click here to catch up. It was a doozie!) It's time to, once again, watch these trainwreck trolls show each other their private parts!
This episode kicks off with Caila telling Jared that she's tired of being stalked by Ashley and she's willing to leave Paradise to get away from her. (Of course, Ashley is literally standing behind them during this conversation.) Ashley tells us that she's sure that Jared will let Caila leave so that he can remain on the beach with her.
Sure, Jan…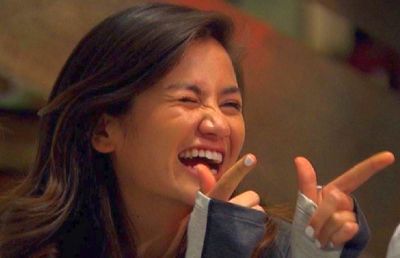 Jared pulls Ashley aside to let her know that Caila is leaving. Ashley insists that she didn't tell Caila to leave (she did, however, tell her "not to stay.") Ashley lies to Jared and tells him that Caila told her that she doesn't like him, but Jared's not buying it.
He is, however, frightened that Ashley is going to boil him in the jacuzzi, so he's being nice to her, the same way that people are nice to the weird kid who wears all black at their high school.
Ashley is blubbering, telling Jared that she destroyed his relationship with Caila to help him. Jared has finally had enough, and decides to take his manhood from Ashley's grip. He tells her that he is going to leave with Caila. Even this act isn't enough to make Ashley hate Jared, though. She wails how wonderful he is, and marvels at his "golden soul."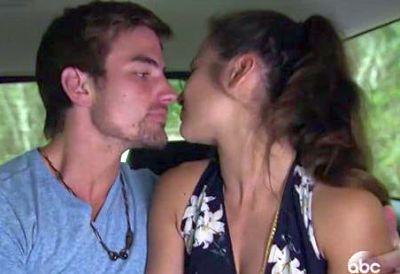 Caila is leaving in the Pity SUV (shoeless, as you do), and Jared hops in just in time. They drive off into the sunset…which is likely just a busy Mexican airport.
(Jared left all his stuff in his hut. Over/under that Ashley's currently wrapping herself in Jared's clothes and sniffing the armpits of his sweaty T-shirts in between sobs?)
Later, Ashley tells some of the Paradisers that she's in love with Wells again, now that Jared has told her to stay away from him. Ashley is plastering on powder in hopes that Wells will be wooed by her Kardashian beauty and forget all about his date with Jamie.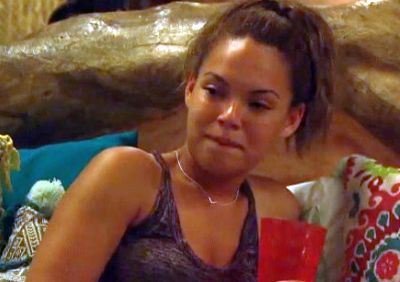 Speaking of Wells and Jamie, they arrive back to the beach, where they talk about how much fun they had. Nick is trying to explain to Wells why Jared and Caila left, without saying anything to piss off Ashley because…he doesn't want to have to listen to her wail like a hyena again.
Wells is scared of hurting the feelings of Ashley, so he's trying to be nice to her. Wells is hoping that Ashley has matured since Jared's departure (which, was, you know, an hour ago), and Ashley's trying to pretend that she has. Of course, she can only keep the crazy in so long; eventually she will burst.
Meanwhile, Izzy is still trying to get in Brett's pants. She is marveled by the "physical connection" she has with him, and seems to have forgotten that just days ago she was sucking on the face of Vinny.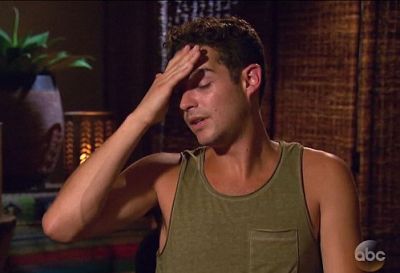 Wells is unsure what to do because both Ashley and Jamie are trying to get with him. Ashley really wants Wells to be hers, since he's "the guy that she got over Jared with."
Cue the music from 'The Twilight Zone!'
Just then, Lauren from Ben's season (not the one who won, the other one) arrives, and all the guys are noticing her "cute outfit" (re: ass) and are trying to figure out if they can ditch whatever broad they're currently boning to get with Lauren. A few of the girls fill Lauren in on which guys are available. Just as they're doing that, Shushannah walks in. She's the Russian girl from Ben's season, and she, too, has her sights set on Wells.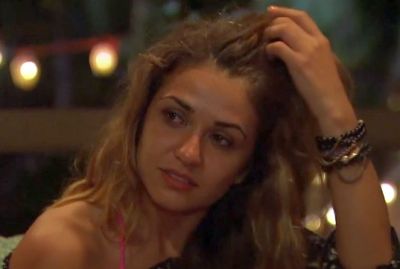 Lauren and ShaNaNa (wait…what is her name?) will be going on a double date, and they need to find two guys to go with them. Ashley is not worried that "Shu" will take Wells away from her because, as Ashley puts it, "She's Euro-trash."
Wells tells Shu what life in Paradise is like: everyone bangs each other and there will probably be crabs in your shower (among other places…)
Shu asks Wells on the date, while Lauren asks Brett. Both guys accept, and Ashley is very angry that, once again, "her man" Jared er…Wells is going away with another woman.
Izzy, Jamie and Ashley are just sitting there, like some Sad First Wives Club, moping that their men have ditched them. Meanwhile, Jaime, Wells, Brett and Shu head out for their date. They'll be going surfing,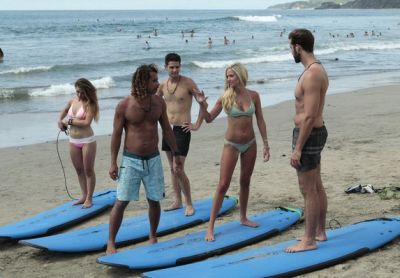 "I brought my beeeches to the beaches," Brett jokes.
Please God, let this guy wipe out Greg-Brady-style. He deserves it.
Shu is happy to show off her body in a barely-there bikini. Wells is trying to keep himself from drowning in his own drool. After the lesson, Lauren is telling Brett how she "wants to connect on, like, another, like, level," which confuses Brett. He knows that he's been boinking Izzy up until this point, but may want to make some changes to the fornication schedule now that Lauren's here.
Soon, both couples are making out.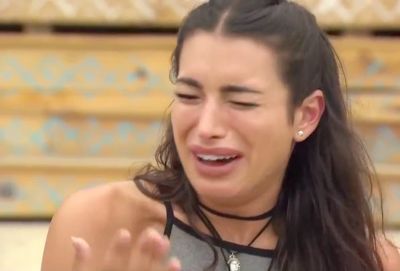 On the beach, Evan and Carly are determined to make all of our dinners resurface. He's slapping her ass, she's grinding on him like a sad stripper, and Evan is fulfilling his title as "the penis man" (i.e. he got a boner).
Ew.Ew.Ew.Ew.
Meanwhile, Ashley is back on the beach, piling on the pressed powder as fast as physically possible.
Josh is holding court on the beach, telling everyone how great he is, and how rotten that dern Nick is. Amanda is trying her best to not look worried about her new love.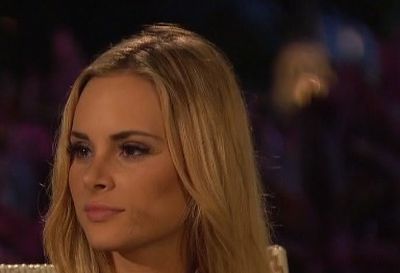 Amanda is given a date card, and she, of course, asks her Hunk 'o' Sweaty Man Meat, Josh, to go with her. She tells us that she's head-over-heels for Josh and his sweaty neck, so she wants to use this date as an opportunity to see if she should marry Josh.
Wait….what now!? Do these people know that there's other options for their relationships besides breaking up and being engaged?
Over a meal of greasy pizza, Josh again tells Amanda that he's great and Nick is just "out to get him." Amanda is buying it all, and she declares that she will never listen to Nick…and the twins…and Andi…and Evan…and anyone else who says bad things about Josh.
Later that night, Amanda tells us that she knows she loves Josh.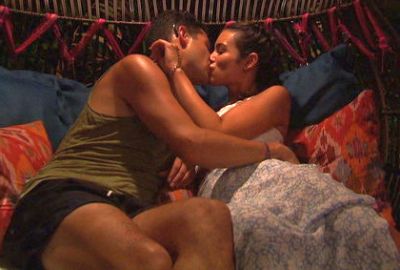 Meanwhile, the double-daters are back from their date, and Ashley is ready to ruin Wells' other relationships (with ShaNayNay, and Jamie, the random Canadian). Wells talks to/make out with all three girls. After tasting the saliva of all of the gals, Wells is more confused than ever.
Which one will he choose?!
DUN.DUN.DUN.
Next week, the Paradisers will end their stay on Syphilis Island. Some will get engaged, and some will leave– you guessed it!— brokenhearted!
To read The Ashley's recap of the previous episode of 'Bachelor in Paradise,' click here!
(Photos: ABC)