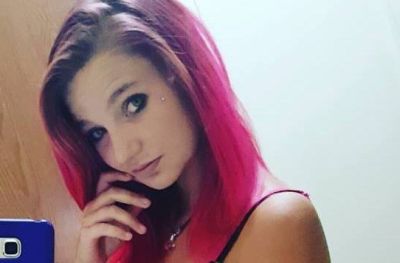 Yet another girl from 16 and Pregnant has announced that she's pregnant again!
Millina Kacmar, who starred on the fifth (and most-recent) season of the MTV reality show, tells The Ashley that she is pregnant with her second (and possibly third) child. Millina, who is best remembered as being the "raver girl" from her season, is currently about five weeks pregnant, and has been told that she may be carrying twins! 
"My beta levels are doubled," she told The Ashley, adding that she will find out in two weeks if it is indeed twins. "At the five-week ultrasound they saw a second tiny dark spot that might have been another baby or a shadow."
Millina is already the mother of two-and-a-half-year-old Kayden, whose father is Millina's ex, Trevor Davis. The father of the baby she's carrying is her fiance, Dylan. The couple became engaged on August 11 and are planning to get married on October 30, 2017.
"We are planning a Harry Potter-themed wedding," Millina told The Ashley.
One of Millina's Season 5 cast mates, Autumn Franklin, will be serving as one of the bridesmaids in the wedding.
Millina is the third girl from Season 5 to have another pregnancy. Her cast mate, Summer Rewis, gave birth to her second son in June. Savannah Mooney, who also starred on Season 5, recently announced that she also gave birth to a second child in June, but kept the baby's birth a secret. She placed the baby for adoption.
UPDATE: Unfortunately, Millina's pregnancy has ended in miscarriage. Click here for more information.
(Photo: Facebook)