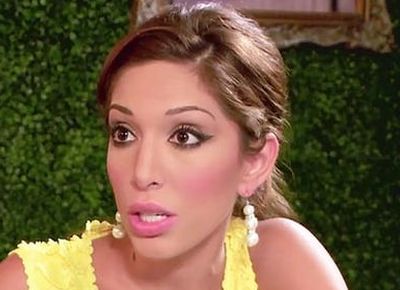 It's been a few months since Teen Mom OG star Farrah Abraham opened her first restaurant— a frozen yogurt shop called Froco–in Lakeway, Texas. It took Farrah a few years to get the project off the ground, but she celebrated the shop's grand opening in June, and is frequently posting about Froco on her social media.
Fans of the show were skeptical that Farrah would be successful in her venture, due to her "Backdoor Teen Mom" past, and, while the yogurt shop is still running successfully, it appears that Farrah's adult movie past is affecting the business.
Of the 15 reviews that Froco has received on Yelp (at press time), only six are positive. (One of those positive reviews is biased, though, as it was written by Farrah's "friend" Paola, who has appeared on 'Teen Mom.') While many Yelp reviewers have commented that the yogurt served at Froco was not good, others wrote that they had a hard time not thinking about Farrah and her history as they were slurping down their desserts.
"Place is clean but the yogurt is awful," one Yelper wrote. "Have to agree that a p*rn star opening a family friendly yogurt shop in small conservative city was not the best idea."
"I am by no means a prude and I try not to judge – I simply have a difficult time forgetting the fact that I'm eating frozen yogurt and popping boba balls sold by the same woman who also sells multiple molds of her…um," another wrote. "It's just not an image I want in my head at that particular point…Just sayin'…"
"The yogurt was OK, a bit sour compared to what I'm used to, but the tables weren't clean and the staff was fairly disorganized," a third customer wrote. "Then I looked at the website where it stated 'you may where sunglasses at work as well.'  I don't predict good things for a business where the owner can't even spell."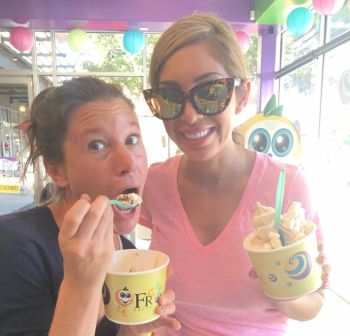 Not all the reviews were bad, though. A few people wrote that they weren't put off by the shop just because it's owned by Farrah.
"Honestly, I couldn't care less about the owner and what she's done in her past," a Yelp reviewer wrote. "Who cares!  It's none of my business and I am a firm believer that everyone can choose a different direction in life. So, good for her! It's a yogurt shop and we like the yogurt."
If you're interested in working for Farrah at Froco, though, be prepared. According to the brand's website, you'll have to be OK with being in the presence of a major star such as Farrah.
No, seriously…
"All applicants by reading this understanding that the owner of this brand is a top celebrity in the nation, all employees who apply must be okay with being on TV if it comes up and must be responsible for their own actions and behavior comfort levels while being filmed," the website states.
As.You.Do.
(Photos: MTV, Facebook)