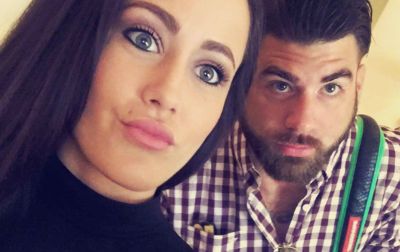 Well Juh-nelle…it looks like your boooooyfriend is going back to the big house!
Radar Online broke the news on Tuesday that David Eason, the boyfriend (and future baby daddy) of Teen Mom 2 star Jenelle Evans, has reportedly been sentenced to 60 days in the slammer for violating a restraining order against him earlier this year.
As The Ashley previously reported, David– who is the father of the child that Jenelle is currently pregnant with– was arrested in March for violating a domestic violence protective order that was filed against him by one of his baby mamas. (Other than Jenelle, David has two other baby mamas.) This baby-mama filed the protective order against David back in October 2015 after David allegedly became physically violent with her while she was pregnant with their child.
David is not allowed to see the child– a little boy named Kaden–or the boy's mother, due to the protective order. In March, though, David was arrested after he saw Kaden in the grocery store with relatives. Although the relatives reportedly told David not to approach them or Kaden, the warrant stated that David did anyway, hugging and "grabbing" the child.
David was arrested shortly afterward, and delivered a Class A mugshot.
According to Radar, David pleaded not guilty to the crime during his hearing on September 13, but a judge found him guilty and sentenced David to 60 days in jail. The site states that David is planning to appeal the decision to the county's Superior Court.
It is not known when David is scheduled to report to jail to start his sentence, but The Ashley has confirmed that he is not currently behind bars in New Hanover County, where the sentence was handed down.
The Ashley will update this story when more info becomes available.
UPDATE: Jenelle has been tweeting a response to the stories about David being sentenced to jail time. In a series of tweets, she claims that David was the victim of a bad judge who hated him, and confirmed that David is appealing the decision.
"This is old news… lol he appealed the decisions in regular court and waiting on a court date. He does not have to do 60 days," Jenelle tweeted. "The no contact order expires Oct. 22nd then he will be filing for visitation for his son that his ex is refusing to let David see. The judge found him guilty saying "an unwanted hug is a form of child abuse", same judge that granted the no contact order and that wrote up his custody papers when he had no way to even fight against his ex, the judge even knew this. She hates David."
Jenelle continued to claim that the judge was rude to David and Dustin Sullivan, Jenelle's trusty attorney who she apparently loaned out to David for this case.
"[The judge] wouldn't even listen to a word Dustin had to say while he was speaking and she rolled her eyes at Dustin. How respectful," Jenelle wrote.
(Photo: Twitter)