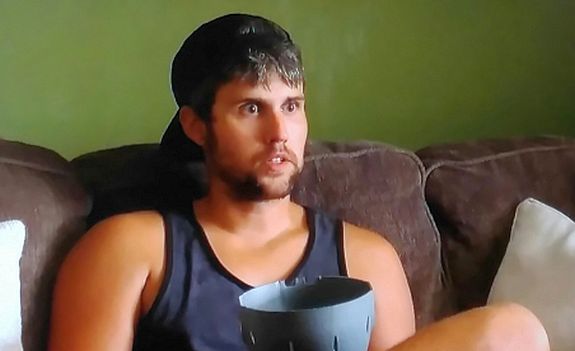 'Member back in the 1980s and 1990s when sitcoms would do those "very special episodes" to tackle important issue such as drug use, boozing or sex ? (The Ashley still can't look at vanilla extract without thinking about the long-suffering "Uncle Ned" of Family Ties.)
Anyway, this week's episode of Teen Mom OG comes as close to one of those Very Special Episodes as a ridiculous MTV reality show can. It's one hour-long cautionary tale of what can happen when you give young people a consistent stream of money, and nothing to do but get high (allegedly) and sit around on their couches.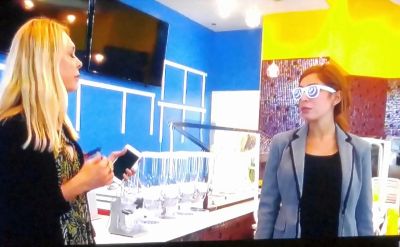 Anyway, we start things off in Austin, where Farrah is hard at work preparing to open up her new frozen yogurt business. The business will be called "FroCo" and its mascot will be some sort of dumpling-like monster (who bears a striking resemblance to Farrah after she gets cheek fillers) named "Cobadabobabababa" (or something like that.)
Naturally, Debra is right there to support Farrah (and ensure she's not cut off from that CoppaCabana money that will come). Deb receives a harsh tongue-lashing from Farrah when she dares to call toys "FroCos" instead of "CoppolaPasoboblas."
The horror!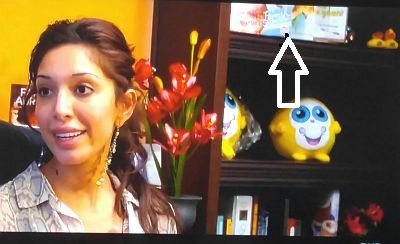 Farrah brags that she has "mastered the art of manufacturing." (I mean, she is basically the Henry Ford of the 21st century, y'all.) She proves this to us by showing us her Cabinet 'o' Accomplishments which includes her creepy romance books, a 'Teen Mom' T-shirt and, of course, her greatest accomplishment of all, a copy of her "Backdoor Teen Mom" sex tape.
No, seriously. It's just chillin' there right next to the stuffed Poppadabobas and it's rather disturbing. I suppose we should just be thankful she doesn't have her vibrating vaginas on display as well.
Debra is eager to hear all about Farrah's inspiration for opening the yogurt shop.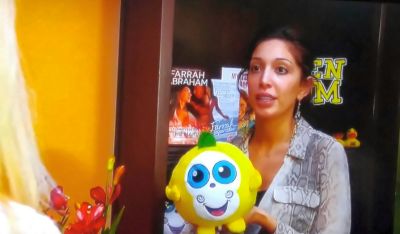 Farrah explains that she "went to school for restaurants" (as you do) but when she went to actually go work in a restaurant, she realized that she is way too good to be delivering Moon Over My-Hammys to the peasants. She wanted to be in charge and do things in her own [horrible and dictator-like] way, so she decided to open her own restaurant. Farrah describes her restaurant for her mother.
"Healthy, innovative…like me," Farrah says. (So…it will also be narcissistic, demanding and downright awful?)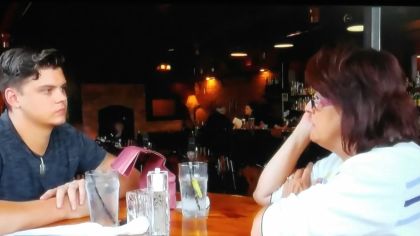 Meanwhile in Michigan, you know who's not opening a business? Catelynn and Tyler. Cate is rolled up in blankets on the couch, while Tyler is out having lunch with his mother, Kim. In order for Kim to score that comped plate of Cajun Chicken Tortellini, though, she will have to sit there and talk crap on Catelynn with Tyler.
Ty explains that all isn't well with Cate, even though she went to rehab. He says that she is failing to do her aftercare program, and Kim agrees that Cate is slipping her back into her own ways. They are both irritated by Catelynn's lack of ambition.
Over in Tennessee, Maci's house is overrun with kids of assorted ages, and Maci is busy giving her youngest youngin, newborn Maverick, a bath. She clears all the rusted-out beer tabs out of the sink and gives the baby a good warshin'. Much like Maci's ex, Ryan, Maverick starts screaming when he gets near soap and water.
Speaking of ol' Ryan, he's sitting at his house his mom's house, logging heavy-duty couch hours when Producer Jaala comes by to visit him. (Hopefully she had the decency to turn him so he doesn't get bedsores.) She walks in and, judging by the look on her face, you can totally tell that she lost a round of "Eeny Meeny Miney Mo" with the other producers and is sour that she's the one who had to go have a very creepy chat with Ryan.
I like Jaala. She seems nice, has a cool accent and she always brushes her hair before going on-camera.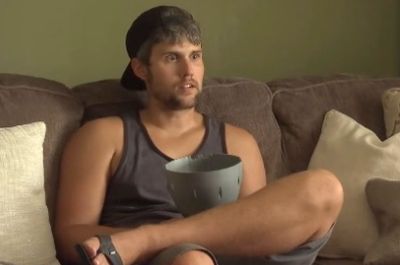 She opens the door and sees Ryan sitting there, looking like a bigger, dirtier version of Farrah's CoppadeBopa dolls. His eyes are legit the size of Farrah's backdoor after she went two hours with James Deen. Also, it looks like he hasn't blinked since Bush was in office.
Jesus God (Leah)! It seems that Ryan took a few too many of his "special vitamins" today. (Allegedly.)
Jaala is doing her best to avoid staring at Ryan's big ol' eyes. She has to try to get the juicy gossip from him and find out why he is now living in his mother's extra house, instead of directly mooching from his parents under their roof like he's always done.
It's simple, Ryan explains.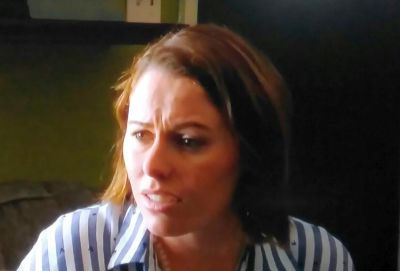 "Me 'n' my dad gottin' an argument," Ryan mumbles, while bugging out his eyes even farther for added effect. "Over some Allen wrenches." (At least, that's what I think he said. It was hard to understand with all the slurring, but from what The Ashley can gather, Allen wrenches were definitely involved.)
Jaala's not buying Ryan's story, so she keeps peppering a very tired Ryan with questions.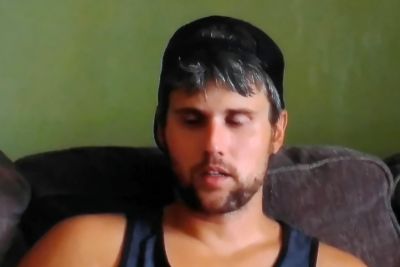 Ryan tells Jaala that his Dick-of-a-Dad (not to be confused with a Bitch-of-a-Daughter) has "rode his ass" his whole life and that they've never gotten along.
That Larry is just awful: always wanting his 27-year-old son to work, go to school, be a father to his son, treat the people in his life with respect.
Jaala is just sitting there with the "bless his lying, [allegedly] strung-out heart" look on her face. She's relieved to hear that Ryan is still getting along with his mother, Jen.
Finally, we go to Indiana, where Leah is celebrating Father's Day with her dad, Gary. For the occasion, Leah has purchased her father a Coach wallet and a collector coin. (Who knew Gary was a collector of anything other than ECHO T-shirts!?)
Across the way, Amber is depressed because she feels that the only thing that will fit her now are Gary's ECHO T-shirts. She tells us that she's gained a lot of weight and, instead of just dieting and exercising like the rest of us, she is planning to go see a "weight loss specialist" to help her shuck the extra pounds. Amber has gained back 20 of the 40 pounds she lost, and she's not happy about it!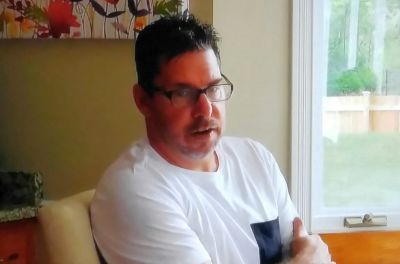 Ambie's fiance, Matt, always knows the right things to say, though.
"I think she looks perfect," he says, before adding in that quality digger, "she could be 900 pounds, I don't care…"
In case you were wondering, that sentence ended with "as long as those MTV checks keeping coming in" inside of Matt's head.
Amber tells us that she knows a surefire way to get her bod back to being 110 pounds and a size 0…but it will require her gulping handfuls of pills on the regular like she did when she was playing "Ali vs. Frazier" with Gary circa 2011.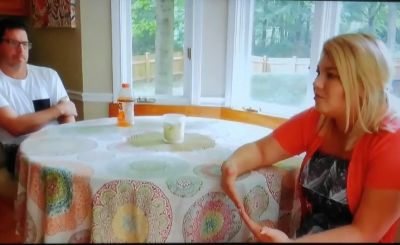 Ambie is not about to jeopardize her sobriety, so she's going to the "weight loss specialist" to learn tips on how to stay healthy. She knows that dozens of people count her as a role model, and she doesn't want to disappoint them by packing on the pounds. Amber is determined that she will not become "the big girl" on 'Teen Mom' ever again.
Well, Amb, I'm no "weight loss specialist" but if you want to lose a quick 200 lbs. of dead weight, you can give Matt the ol' heave-ho. Just sayin'…
Back in Texas, Farrah is BUSY! She's preparing to open her Froco restaurant, and of course, she's saved money by hiring her parents to help her instead of a real staff. (They are, after all, the only people she can pay in insults and MTV T-shirts, so…)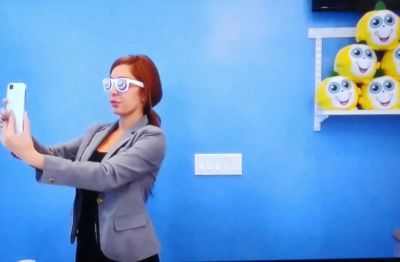 As Deb is moving freezers and Michael is stacking plush Casablancapo toys, Farrah is in full boss lady mode. (By that I mean she's wearing a blazer and sunglasses and taking creepy selfies of herself.)
Deb is working hard to move chairs (which is no easy feat, since she's wearing sky-high corkboard platforms…as you do), and Michael is pushing in shelving units. Farrah (still wearing those weird sunglasses) is yelling to everyone that she is a manager.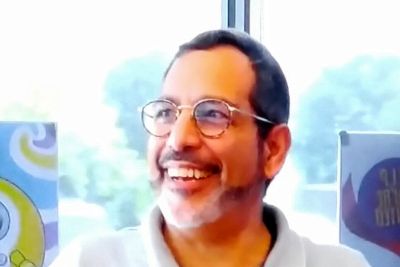 Farrah has cooked up a real plush job for her father– literally. She insists that Michael will be the one to don the massive CocoPebboba costume and dance around on opening day. And of course he's gonna do it because…well, he's probably afraid that Farrah will lock him in a freezer if he refuses.
Speaking of the freezer, Deb tells Farrah that they are having some problems getting the freezer and fridge to the right temperatures. Bless Deb's heart, she manages to have a serious conversation with Farrah, despite the fact that her daughter is still insisting on sporting the weird sunglasses (not to mention those fish lips). Deb's a champ!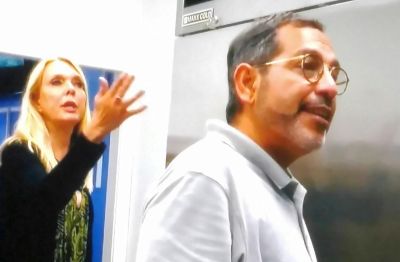 Of course, this bit of criticism sends Farrah off into a tizzy. She storms back to look at the cooling units and screams at her parents for doing everything wrong. Deb and Michael are both blaming the other for the freezer temp fiasco, and this scene really shows just how frightened Deb and Mike are of their daughter. They both look like they're afraid Farrah is going to beat them with a blender for doing wrong.
Farrah yells at Michael for staring at a door (or something) and finally he's had enough. He walks away and tells Farrah to get off his ass. That may be the first time in 'Teen Mom' history Michael has ever even attempted to stand up to his daughter. He runs to go hide in a pile of PoopaDeBoba plush and pray that Farrah will show him mercy.
In Tennessee, Maci is helping Bentley make a sign to give to Taylor for Father's Day. After it's done, Bentley proudly (and adorably) presents it to Taylor, who is overjoyed. He makes a big fuss and Bentley looks so happy.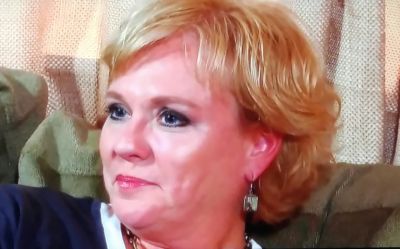 Unfortunately, things aren't so happy over at Ryan's parents' house. Jaala is talking to Jen and Larry about Ryan getting booted from their house. Jen is trying to pass the situation off as Ryan voluntarily moving out, but Jaala knows the truth and presses for more details.
Larry, however, isn't holding back. He's gotten himself all rolled up into a Snuggie and is ready to wage verbal war on his only son.
"Good riddance!" Larry says. "It was a long time coming! I'm over Ryan's lies, I'm over his laziness, selfishness! I'm done with it."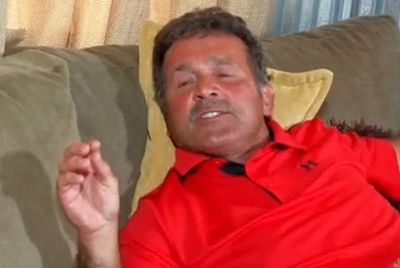 Although Jen's trying her best to act like all is well in her family, Larry is not holding back his true feelings any longer.
"I'm done with him forever!" he says of Ryan. "I don't want him anywhere around me, ever! And I never want to be around him, ever. I'm tired of that blood-sucking leech!"
With that, Jen bursts into tears and runs out of the room. (COME BACK! You need to tell us what the hell caused this! Don't leave us hanging here!)
Larry isn't done. He tells Jaala that he's tired of Jen putting Ryan in front of him.
"He's a f**king bum!" says Larry (who may or may not have been nipping at the, um, vanilla extract, before this scene was filmed). "I wouldn't piss on him if he was on fire!"
Tell us how you really feel, Lar!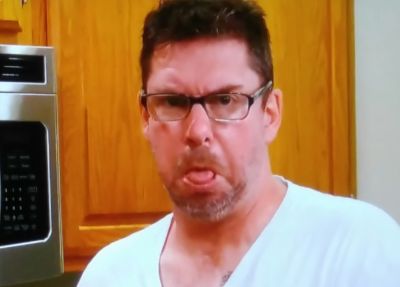 Meanwhile in Indiana, Leah is spending the day with Amber and Matt. Amber recently met with the "weight loss specialist," who sent her home with an ample supply of a nutrition drink (which may or may not just be Kool-Aid made with Sweet 'n' Low instead of sugar). #HealthyChoices
Amber's upset that she's going to have to change her whole lifestyle in order to keep off the weight. In fact, she's only allowed to eat one meal a day. The rest of the time, she'll be guzzling the Kool-Aid (both physically and figuratively) to stay full. What the hell kind of specialist was this!?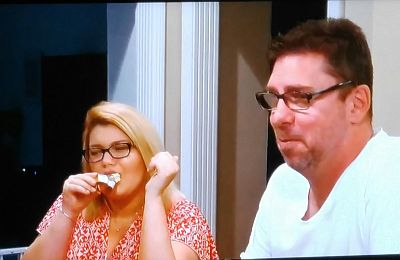 That night, Amber is only allowed to have 3 ounces of meat and a chalky food bar. (This cuisine surely reminds Amb of her days in the clink! There, she and her 'bunkies' could trade food bar flavors while braiding each other's Jolly Rancher-scented hair and talking about life 'on the outside.')
Unfortunately, the food bars on the outside aren't all that tasty. Both Matt and Amber take a sample of one and both make faces like they just walked in on someone watching Farrah's p0rno.
Amber reveals that she is a sleep-eater. She says that she would walk, zombie-like and grab something out of the fridge and it would disappear before anyone knew what happened. Oddly, the same thing happens to Matt and Amber's credit cards!
Later, Matt is talking to some random guy about all the "tabloid stuff" surrounding him.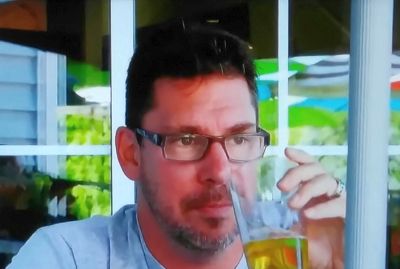 "Sure, I've down a lot of stuff in my life," he says. "Name me one thing that I've done in the last five years!"
My point exactly, bro.
He insists that he's not committed any hi-jinks since he's been sober. He does this, of course, while literally holding a beer. Even Matt has to chuckle over the irony of the situation. He changes the phrase to "clean" but…um, that's still a stretch, considering the noticeable pit stains on Matt's shirt.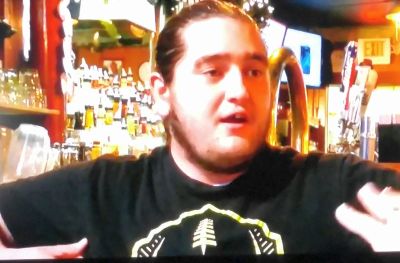 In Michigan, it's Father's Day and Cate has rolled out of bed to help Tyler celebrate with Nova. Ty quickly ditches the girls, though, so he can go have beers (and a long crap-talking session) with Cate's cousin, Jordan, who looks like he just left a 1995 Phish concert. Jordan may be missing a few teeth, but he ain't missing the chance to trash-talk Catelynn on national TV! He encourages Tyler to confront Catelynn about her lack of ambition and aftercare.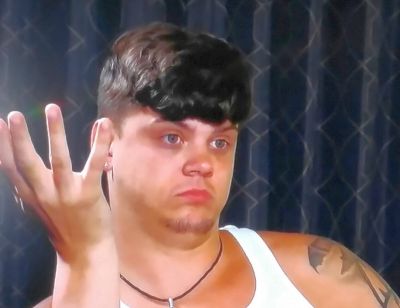 Tyler decides to head to his trusty therapist to figure out what to do about his wife. With Catelynn safely tucked into the couch, Tyler heads to see the therapist, who is looking less-than-chipper about having to come in on what may have been her day off to talk about this 'Teen Mom' crap again. Tyler, sporting his finest wife-beater tee and some sort of roadkill on top of his head, explains that he's frustrated that Cate isn't doing her aftercare treatment.
The therapist assures Tyler that he is allowed to talk to Cate about her problems, as long as he doesn't act like a total tool. Tyler thinks that Catelynn will be worried that he will leave her if she doesn't get better.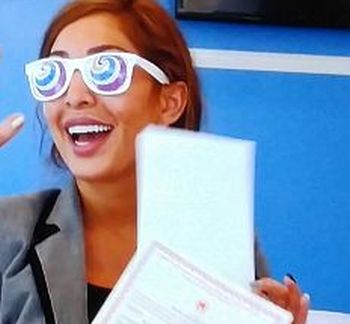 Meanwhile in Texas, Farrah is looking to hire a few poor saps to work at her yogurt shop. (I mean, someone has to refill the sprinkles while Michael is locked in a freezer on "punishment.") One girl comes in and Farrah immediately demands that she wear a pair of the ridiculous sunglasses. (How are these people supposed to see through the psychedelic lenses? Then again, being sight-less may work to their advantage, since they won't have to resist the urge to laugh at their boss' latest Botox disaster.)
The girl tells Farrah that she needs to give her current job a two-week notice before starting her Froco adventure. That's a problem for Farrah, who is planning to open Froco within the next few days. Farrah then explains to the girl that she will be working 40 hours a week…in, like, three days. The girl just stares at Farrah and finally says, "OK…?"
RUN while you can, girl! Run like the wind!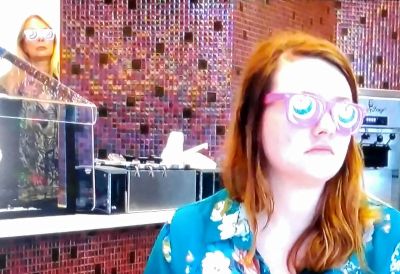 (All this time, Debra is just creepily lurking behind the counter, sunglasses in place, watching this pathetic interview go down.)
More interviewees come in and Farrah will not take off the damn sunglasses. (Maybe she's trying to hide some weird eye-widening procedure she recently had or something? Hell, she should have just taken whatever "vitamins" Ryan took…his eyes are plenty damn wide!)
If Farrah is attempting to ask every illegal interview question she possibly can…she's succeeding!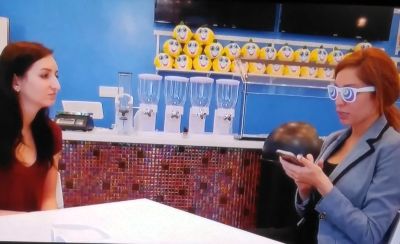 Farrah asks a girl where she lives, who she lives with, how old she is and if she has children. Once she successfully creeped that interviewee out, Farrah moves on to the next girl, who used to work at the yogurt shop before Farrah bought it. The girl tells Farrah that it usually took them about an hour to set up things before opening. Of course, in Farrah speak, a hour is equal to five minutes.
She would know, guys, because she is THE MANAGER!
Farrah hires the girl, and tells her that she's "going to have a blast working here."
Speaking of "blast," isn't it time to let Michael out of the blast chiller?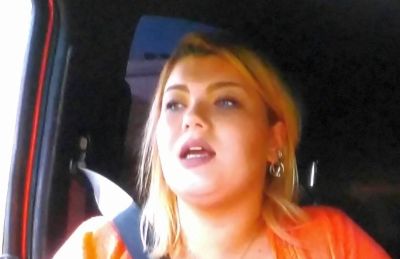 In Indiana, Matt, Leah and Amber are heading to the good ol' Steak & Shake. Unfortunately, Amber will not be shaking or steaking, because she has to eat her grilled chicken and chalk bar. Although Amber's eating healthy, that doesn't mean that the rest of the family is.
"Can I get a macaroni with a side of macaroni?" Leah asks.
Amber quickly shuts down her daughter's unhealthy request.
"Why don't you get a hot dog and macaroni?" Amber suggests.
Muuuuuch better.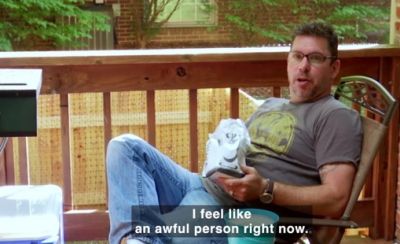 Matt insists that he's getting a milkshake, which just seems cruel. It's almost as if he's purposely rubbing it in Amber's face that she has to go hungry. They pull up to the drive-thru and Amber is trying to consume all of the French-fried scents that she can before she has to go home and gnaw on some unseasoned chicken. She seriously looks like she's about to cry.
Matt and Leah bring their food bounty home, and Matt slops down all of his fried goodness right in front of Amber.
"I feel like an awful person right now," Matt says as he gargles French fries.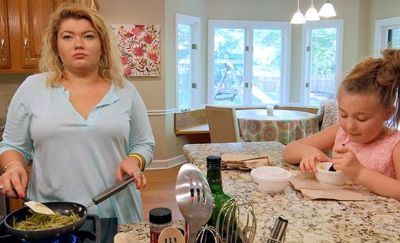 Amber then prepares her own meal, which Leah informs her "looks disgusting."
Amber later explains to the producer that she's switched from an addiction to pills to an addiction to food. She says that she mainly eats because she's bored.
Catelynn is bored too.
"There's nothing to do," Cate complains.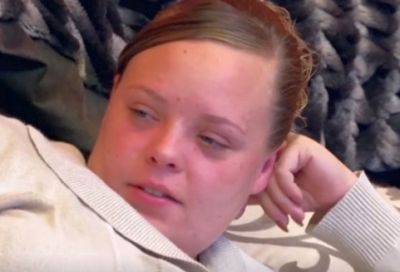 Well…it's hard for Cate and Ambie. I mean, how much can one possibly do from the couch? If only there was a way they could go out and get a job, or go to school? Oh wait…
Tyler tells Catelynn that he's tired of her acting like this, and he gets a little snappy with her. He kind of threatens that she may lose him if she doesn't snap out of her misery.
In Tennessee, Taylor is surprised that Ryan has yet to call to see if he can hang out with Bentley for Father's Day.
"He probably doesn't even know it's Father's Day," Maci says.
Hell, I'd be surprised if Ryan even knows he's a father at this point!
Jen asks Maci if she can take Bentley to Ryan's so that she can demand he at least pretend to be a dad for a few minutes. Maci allows it, but fears that it will make Bentley uncomfortable.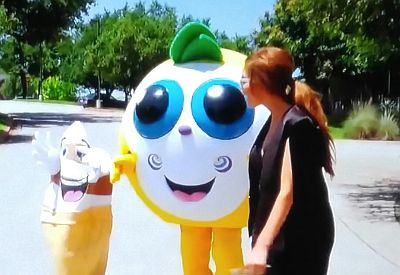 In Texas, it's opening day for Froco. Sophia is wearing the "Swirl" ice cream costume, while poor Michael is stuck being CocoPogoBogo. They walk down the street with Farrah and everyone, including Deb and the new hires, start dancing awkwardly for the cars going by.
AS.YOU.DO.
Later, Farrah, Deb and Sophia head to dinner to celebrate Farrah's first business endeavor that doesn't involve her butt. (Poor Michael is probably still out there in the dumb costume, waving and/or being rolled down the street by local street youths.) To make sure everyone knows that she has a lot of money, Farrah orders Sophia three dinners off the kid's meal. (That's more food than Amber's allowed to eat in like three weeks!)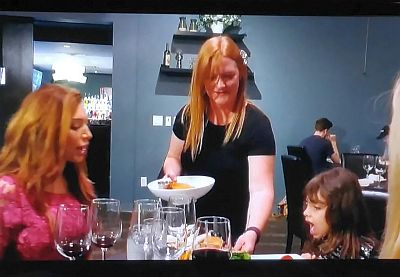 The waitress delivers all three meals to Sophia, while Farrah and Deb both make strange baby noises at her and talk about all the "numers" that Sophia has to eat.
The real star of this scene is the waitress. Ever the professional, she acts like this behavior is totally normal, and doesn't flinch at Farrah's ridiculous display of riches. (She is quite the pro– she probably works 40 hours in, like, three days and can set up the whole restaurant in four minutes!)
Instead of eating her three meals, though, Sophia picks up two pickles and puts them over her eyes.
"Spa baby!" Farrah squeals.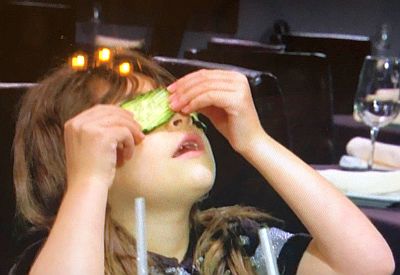 Again, everyone around them acts like it's totally normal for a kid to put the Kosher dills over her eyes while the two grown women she's with speak to her in weird baby-talk code.
Debra is laying it on really thick. She keeps telling Farrah how great she is, and how proud she is of the businesswoman she's become. Don't get me wrong– it's nice to hear these two do something other than baby talk Sophia or scream at each other but it's just…weird.
Speaking of weird, during all this talk Sophia is casually drinking her ketchup. Naturally.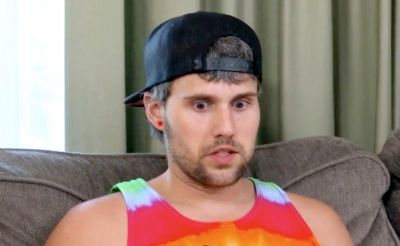 We head back to Tennessee one last time to see how Father's Day turns out for the gang. Jen brings Bentley over to see Ryan after Bentley's game (which Ryan missed, of course). Little does Jen know that it's basically Spring Break 2005 at her rental house. Ryan is sitting on the couch, wearing a tie dyed shirt, drinking out of a sad-looking red cup. He's once again got that deer-in-the-headlights look in his eyes.
Seriously, the eyes. THE EYES! Ryan is just sitting there, looking like Kermit the Frog, because his eyes are so big that they're basically on top of his head. His eyes just keep getting bigger and bigger. Jen hands over the present she bought her son for Father's Day. (Hopefully it's some Visine.)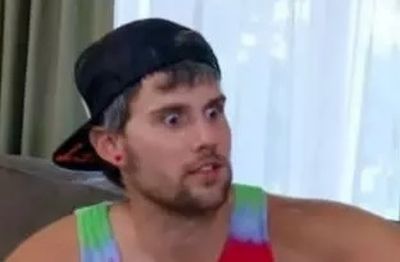 "Some records!" he exclaims as the whites of his eyes push up into his eyebrows. (Not gonna lie; I rewound this about 15 times and had quite a chuckle watching Ryan bug his eyes out as he said this.)
Seriously, Zombie Ryan is funny to watch, but he's also damn scary. Clearly, MTV included this scene on purpose. They've done this in the past as a way to address an alleged "problem" without actually talking about it. (Who could forget Leah Messer's slurred-word-filled, baby-holding catnap from a few seasons ago?)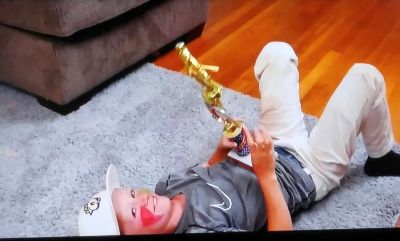 Both Jen and Bentley are trying their best not to look Ryan in the eye (although it's probably hard because, well, Ryan's eyes are everywhere.) Bentley looks totally scared of his dad, but keeps looking at the camera like, "Can you guys believe this!?"
In an effort to make small talk, Ryan asks his son how his baseball game went. Bentley utters a response and Ryan decides to make fun of Bentley's haircut. He jokes that Bentley looks like he has a mullet. Jen says that it looks that way because Bentley's hair is growing (much like Ryan's eyeballs). Later we find out that Bentley cried when he found out he had to go see Ryan that day.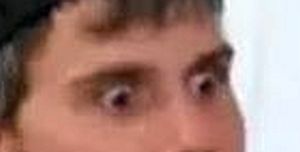 This show has turned into one giant, super-sized episode of Intervention over the last few episodes. It's like they're purposely trying to demonstrate the effects various addictions and afflictions have on someone, using the cast of 'Teen Mom OG!'
This is your brain on pot…
This is your brain when you're drunk on power…
This is your brain on an overload of steaks and shakes…
This is your brain on…whatever the hell Ryan is/has been on for the last few years…
Shockingly, MTV did not end this episode with the special "If you or someone you know needs help…" message that is usually shown when one of these people beats someone up and/or talks about needing rehab. Maybe next week!
To read The Ashley's recap of the previous episode of 'Teen Mom OG,' click here!
(Photos: MTV)