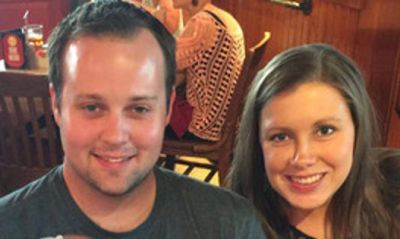 Priscilla Waller is doing her best to squash the recent rumor that her sister, Anna Duggar, is about to file from divorce from Josh Duggar.
Last week, a report from In Touch Weekly stated that Anna had recently decided to "rid herself of Josh," and was planning to have legal divorce papers drawn up within the next few weeks. However, Josh and Anna's actions at the wedding of Jinger Duggar this weekend, as well as a recent Instagram post made by Priscilla, seem to be telling a different story.
Josh and Anna joined Priscilla and her husband, David, on a double-date after the wedding festivities, and hardly looked like a couple on the verge of divorce.
"Thank you, Josh & Anna, for a wonderful weekend together topped off with a fun #doubledate this evening! You'll are doing great!" Priscilla captioned a photo of the happy looking foursome.
The conveniently timed post seemed to be serving as a way for Josh and Anna to quell the rumors that they're divorcing, without the couple actually having to make a statement to directly address the tabloid rumor.
A source for Us Weekly stated that Josh and Anna were getting along great at Jinger's wedding on Saturday.
"Josh and Anna seemed happy," a source told the magazine. "He had his arm around her. They were talking and smiling."
While Anna has admitted that she and Josh have sought marriage counseling since Josh returned home from rehab this spring, she previously seemed very unwilling to divorce Josh, despite his confessions that he had been unfaithful to her. When it was discovered that Josh had been maintaining profiles on numerous dating websites, including the made-for-cheating site Ashley Madison, he called himself "the biggest hypocrite ever" and checked into a rehab to deal with his sexual demons, which included an alleged addiction to p0rn.
According to In Touch Weekly (which, if you'll remember, was the outlet that revealed in 2015 that Josh had molested four of his sisters, as well as another young girl, while in his teens), Anna was being encouraged to divorce Josh by a group of "new friends" who thought she had been turned into a puppet by the Duggar family.
"They were horrified that she'd been persuaded to talk on-camera about Josh, and then wheeled out with the children, looking like everything was fine," the magazine's source stated. "Hearing those outside views changed Anna incredibly… [she] agrees and feels angry that Josh has treated her so appallingly for so long."
While it's possible that Anna could just be putting on a happy face until she can lower the divorce boom on Josh, it's unlikely. Divorce is very rare among the Duggar family's circle.
Anna and Josh celebrated their eighth wedding anniversary in September. They currently have four children together.
(Photos: TLC, Instagram)