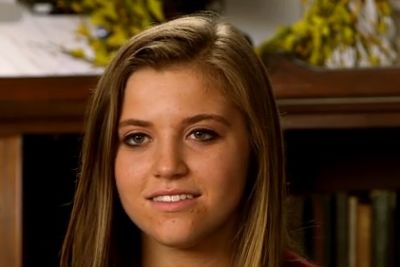 The Duggar Family has announced that yet another one of its daughters is on her way to getting married! Joy Duggar, the 19-year-old daughter of Jim Bob and Michelle Duggar, announced on Tuesday's episode of Counting On that she is now in a courtship with Austin Forsyth.
In a video aired on TV and posted online, Joy introduced fans to Austin, whose family has been friends with the Duggars for years. Joy and Austin stated that they have known each other for about 15 years.
Joy did not actually reveal Austin's last name in the video, but most Duggar fans know who the Forsyths are so he was easily recognizable.
Austin, 22, told the cameras that he asked Joy to court him while on a hike under the stars with friends. Joy commented that she was "not expecting" Austin's courting proposal.
Austin's family is, like the Duggar clan, very religious. They run the Fort Rock Christian Family Camp in Arkansas, where Joy has spent time working, and the Duggar parents have spent time working on their marriage. The Forsyths follow the same religious practices as the Duggars, and believe in modesty, homeschooling and saving physical affection for marriage. Unlike the Duggars, though, the Forsyths are a relatively small-sized family, with Austin only having one sibling.
Austin and Joy's courtship will be a big focus of the upcoming third season of 'Counting On.' This will, not, however, be the first time Austin has appeared on reality TV. In 2009, Austin and his family were featured on an episode of CMT's show World's Strictest Parents.
Joy is the fourth Duggar daughter to enter a courtship. Her sisters Jill, Jessa and Jinger are all married now, making eldest Duggar daughter Jana the only female Duggar of courting age to still be single. All but one of Joy's older brothers, though, are single.
The third season of 'Counting On' is set to premiere in early 2017.
Watch the courting announcement below: