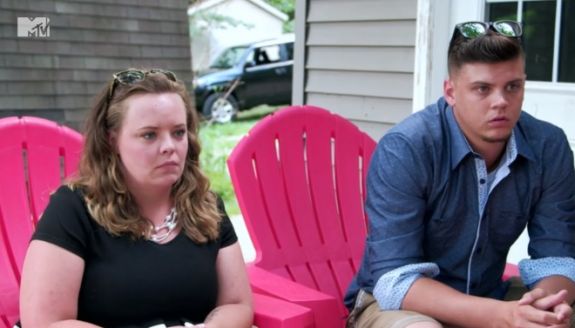 MTV just gave us our first look at Teen Mom: Reunited, the new series starring Teen Mom OG stars Tyler Baltierra and Catelynn Lowell. One thing's for sure: this show is going to be very intense!
In the trailer for 'ReUnited,' Catelynn and Tyler are shown trying to get a woman named Katie in touch with her birth mother. They manage to get Katie's biological sister, Hazel, on the phone, and Hazel tells the reality stars that Katie may not want to hear the true story surrounding her mother and adoption.
It appears that Cate and Ty eventually get Katie's birth mother in the same place as Katie, but Katie is shown getting emotional and running off when it's time for her to meet her mother.
The show, which was filmed over the summer, will not only focus on people who were adopted, but also people who have lost touch with loved ones for one reason or another. However, it seems that reuniting people separated by adoption will be the main focus. In addition to Katie's episode, there will also be an episode that features an adopted Florida woman named Pheniquea, who sought Tyler and Catelynn's help in finding her birth family.
"I didn't realize how many people are actually searching for whoever," Tyler tells Catelynn in the 'ReUnited' trailer. "I feel like, if me and you are meant to do something, it's this."
On the 'Teen Mom OG: Ask the Moms' special, which aired on Monday, Catelynn discussed the new show, stating that it will feature people who are looking to reunite with family members who have gone to jail, or have been absent from their loved ones' lives. Judging from the trailer, the show seems to have a very Catfish-esque vibe.
As The Ashley previously told you, 'ReUnited' is the brainchild of Tyler, who has been passionately promoting the show on his social media for over a month.
"I just got lucky enough that one of the many crazy ideas in my head actually worked out," he tweeted to a fan in October.
Watch the trailer for 'Teen Mom: ReUnited' below:
(Photo: MTV)