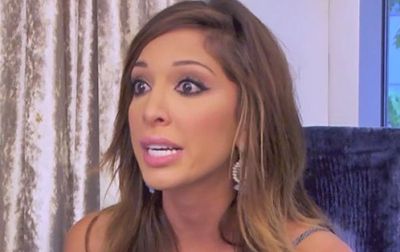 Monday night's Teen Mom OG Reunion turned into a Jerry Springer Show-esque brawl between stars Farrah Abraham and Amber Portwood. (The Ashley is about to recap that lil slice of heaven, so stay tuned!) The brawl, which The Ashley first told you about back in October, was featured on Monday's episode, but the fight between Farrah and her cast mates rages on!
In a new interview with Too Fab, Farrah held nothing back when discussing 'Teen Mom OG' and her co-stars: Amber, Maci Bookout and Catelynn Lowell. She called for the end of the show, and blasted MTV and the show's producers for covering up her co-stars' bad behavior. 
"Production can't hide it anymore…I feel production has hid Catelynn, has hid Maci, and has hid Amber's behavior for — how many f**king years have I worked on this show? It's been about eight years and I think it's sad," Farrah told the site.
The Ashley can confirm that Farrah is not exactly lying about this. Particularly in the early days of the show, much of the cast members' bad behavior was "accidentally" left out of the show, or completely ignored. (For instance, Catelynn and Tyler were both heavy smokers all throughout the show, but they weren't shown smoking on camera for years.)
Farrah stated that having the producers' help in covering unsavory behavior has stunted Maci, Catelynn and Amber.
"If they just allowed themselves to show what's really gong on in these women's lives, then maybe they could grow out of this high school, stagnant, criminal behavior that they're in," Farrah said. "They cover up them going to jail, they cover up drug things, they cover up what's really going on with their children and how they are as parents."
"How many years to expect someone to be stuck around all this?" she added. "It gets stagnant and it gets boring. And I don't want to be around it."
Still, Farrah says she's not leaving 'Teen Mom OG,' no matter how much she hates her co-stars.
"As far as I'm concerned, I will always be a part of something I started and no bullies, no criminals, no violent s**t is going to take me away from a show that I started," she said. "When it's my time to go, I'll go, but the only time that's going to be for 'Teen Mom' is when the network takes it off the air."
She did want fans to know that, for the record, she feels she would win in a physical fight between herself and her three other co-stars.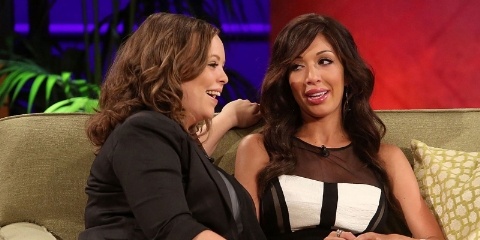 "I'm not scared of [them], I'm not worried. I could probably slug all three of the Stooges in one breath and knock them all out. That's how little they are compared to me," she said. "I don't have the energy or time, I'm working and I'm running businesses. If I'm ever concerned about something, I'll have security deal with it."
No 'Teen Mom' franchise cast member was safe from Farrah's tirade, not even the girls from Teen Mom 2! She expressed her desire to have that show taken off the air.
"I've been pro-take it off the air for many years because I'm not OK with seeing women who are getting pregnant worried about being famous like Chelsea Houska, Kailyn Lowry," Farrah said. "It's sad to me that these women who I meet/see, so eager to be famous."
UM!?
Kail and Chelsea (as well as Chelsea's father Randy Houska) reacted to Farrah's comments about them. Kail tweeted directly to Farrah, asking her, "Do you ever have anything nice to say about anyone?"
Farrah replied back to Kail on Twitter.
"Yes, real people who aren't fake puppets of [Executive Producer Morgan J. Freeman]'s production company," Farrah wrote. "Thanks for asking sweety hope you stay out of the drama."
Kail pointed out that it was Farrah that had dragged her into the brawl, even though she (and the other 'Teen Mom 2' girls) had nothing to do with it.
"[It's] hard to stay out of it when you bring my name into interviews and say I got pregnant to stay relevant," Kail tweeted to Farrah.
Kail later told Real Mr. Housewife that Farrah has made it very hard for anyone in the casts to like her.
"The thing with Farrah is that she's so negative all the time. She never has anything nice to say about anybody on the cast," Kail told the site. "I see her doing big things- I would love to be able to support her doing those things- but when she's constantly slamming me in the media and saying things that are so out of left field, it's hard to find any kind of good in her.
"Her exact words were that Chelsea and I got pregnant again for fame…. but Chelsea and I were both married and in our mid-twenties [when we had second pregnancies]," Kail added.
Chelsea laughed off Farrah's comments about her, but her dad Randy stuck up for his daughter.
"Hilarious. I wonder exactly which teen mom would do ANYTHING to be famous. Chelsea flies so far under the radar, MTV forgets about her," Randy tweeted.
Stay tuned– this brawl seems to be a long ways from being over!
(Photos: MTV, VH1)