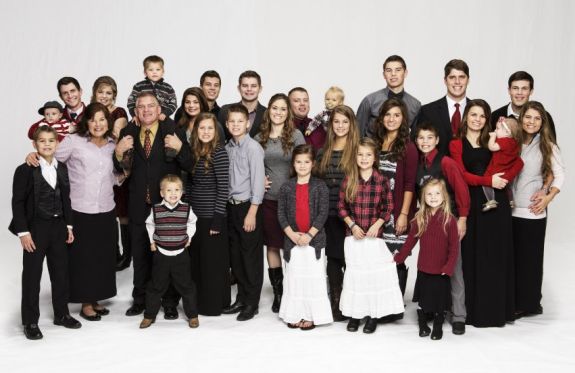 A new season of Bringing Up Bates is coming our way starting in 2017! The extra-large Bates Family has a lot in store for their reality show's fifth season.
According to a press release from UP Network, 'Bringing Up Bates' Season 5 will bring a lot of changes for the Tennessee family. The network has ordered 10 new episodes of the reality show, the first of which will premiere on Thursday, January 5.
At this point, the Bates Family is one of the last remaining "wholesome large families with a reality TV show" without a major scandal surrounding it. The Bates' pals, the Duggar Family has seen its fair share of public scrutiny over the last few years, thanks mostly to son Josh; and The Willis Family, who also had their own reality show, was rocked by scandal in September with family patriarch Toby Willis was arrested.
The Bates, however, have managed to remain relatively scandal-free throughout their years in the public eye.
Anyway, here's what we can expect to see this season from the more-interesting members of the Bates Family:
*Bates Family Parents Gil and Kelly Jo will primarily be focusing on building their own church.
*Oldest son Zach and his wife Whitney, who welcomed their second child in June, are adjusting to life as parents to two young children. (Their oldest child, son Bradley, is now two.)
*Daughter Erin and her husband Chad Paine are also parents of two kids. They welcomed daughter Brooklyn in August, just over a year after their son Charles was born. According to the press release, the new season will highlight their struggle as parents to the two kids, as well as a new puppy.
*Son Lawson, now 24, is attempting to launch his own concert tour. He released his second album, "What Country Means To Me," last month.
* Daughter Alyssa and her husband John Webster discover that they are expecting a second child. They are already parents of one-year-old Allie Jane.
* Daughter Tori will see "her relationship with Bobby [Smith] evolve into something more serious," according to the press release. (The couple is now officially courting.)
* Two of the teenage Bates daughters– Carlin and Josie— will head to college and attempt to figure out their career paths.
* Son Trace, now 19, is trying to make his dream of working at the Dixie Stampede a reality. (No…seriously…)
The new season of 'Bringing Up Bates' premieres in January on UP. To see when your other favorite reality TV shows will premiere in 2017, click here!