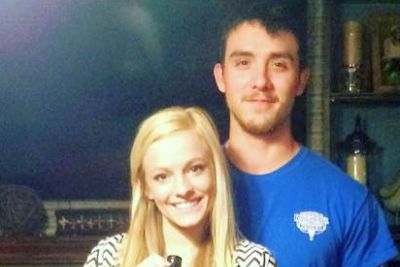 The saga of Mackenzie and Josh McKee continues!
The former Teen Mom 3 stars have had their share of trouble over the course of their three-and-a-half-year marriage: from fake sex tape scandals to a breakup that took place while Mackenzie was pregnant with their third child. However, the latest events involving the couple may be the most disturbing yet!
Mackenzie has confirmed to Radar Online that Josh left the home he shares with Mackenzie last week. (According to The Dirty, though, he's now back living with his family as of Thursday.) The 'Teen Mom 3' star also told the site that, during a recent struggle with post-partum depression, Josh encouraged her to commit suicide.
"I don't know what Josh is going to do," Mackenzie told the site. "He said he is going to divorce me several times. I hope he can calm down and talk to me."
It's been an especially rough few months for Josh and Mackenzie. The couple aired a lot of their relationship's dirty laundry during a spat on Facebook last week, in which Josh accused Mackenzie of cheating on him, among other things.
The one interesting part of that spat is that Josh spilled the beans on Mackenzie's 2015 sex tape drama, in which Mackenzie met with adult film company Vivid Entertainment to "prevent" the sale of a sex tape. According to Josh's rant, Mackenzie and her manager at the time, Gina Rodriguez, were behind the entire scandal, as well as several of the break-ups the couple faked over the years.
"The p0rn video was all [Mackenzie's] idea, me throwing my wedding ring down the toilet was all her idea. Me leaving her when she was pregnant was all her idea," Josh wrote. "The funny thing is I was laying in our bed at our house when I seen that one. And the list can keep going."
According to Mackenzie's interview with Radar, the real trouble started when the couple brought home their third child, Broncs, from the hospital this summer. (Broncs was born with several health issues, including a hole in his heart, but seems to have recovered after a month-long stay in the NICU.)
"When I came home I had postpartum depression," she said. "That pushed Josh away. There was no support. He hated who I became.
"He said, 'I don't love you, you're crazy,'" Mackenzie added. "I was suicidal. He said, 'Go kill yourself, but don't do it in front of me and the kids.'"
Mackenzie told the site that she turned to a male friend to help her through the tough times, and somehow it got back to Josh that she was having an affair with this person.
"During that time he had left and that was when I was texting that guy," she said. "I never wanted to be with that guy or talked about being with him. He's in a serious relationship and that is not who I am."
It appears that Mackenzie was recently able to convince Josh that she hadn't cheated on him, and, according to The Dirty, these two knuckleheads are back living under one roof…for now, anyway…
"I simply couldn't stop hugging him and letting go," Mackenzie said of Josh's return. "It was the worst week of my life."
The couple has been on-and-off for years, and even called off their wedding twice before actually tying the knot in 2013. While this dramatic episode in the hillbilly soap opera that is Mackenzie and Josh's marriage may be over, more drama is likely not far behind.
(Photo: Facebook)