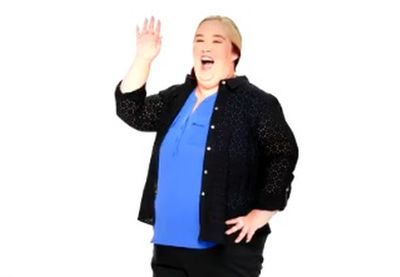 Buckle up, Honey Boo Boo fans: Mama June Shannon is back!
Yes, the boisterous mama from 'Here Comes Honey Boo Boo' has somehow managed to make it back on TV! WeTV has decided to give the redneck mom her own show, despite her somewhat nefarious past.
The new show, Mama June from Not to Hot, will focus on Mama June's transformation from the overweight, belching and farting redneck we've known her as to…a glamorous reality star!
Or something.
"I'm a Mama, a Grandmama, and a big reality star—and now I'm ready for a big change," Mama June tells us in the new promo for the show.
The promo alludes to the fact that June made both physical and lifestyle changes as part of her transformation.
"It's time to say goodbye to bad men and junk food," Mama June says. "Say hello to a whole new me, because when they see what I look like now, they're not going to believe their eyes!"
Mama June has a history of choosing "bad men." From her turbulent relationship with Sugar Bear Thompson (the father of June's daughter Alana "Honey Boo Boo" Thompson), to an affair Mama reportedly had with the man who spent time in prison for molesting Mama's daughter (!), it's safe to say that Mama was in desperate need of a love life overhaul.
Mama's physical transformation is also significant, according to the promo. A list appears on the promo running down what we can only assume are the things that went into making Mama June "hot." Included in the list are weight loss surgery, physical therapy, liquid diet, tummy tuck, gastric sleeve, strength training, breast implants and laser teeth whitening.
Mama and her trainer Natasha Fett have ties to Snapchatting plastic surgeon Dr. Miami, so it's likely that the Good Doctor had a hand in at least some part of Mama June's physical transformation. (Like Mama June, Dr. Miami is also about to get his own reality show on WEtv.)
During an August episode of Botched, Mama June announced that she had already lost about 150 pounds in a year by working with her trainer.
Few other details are known at this time about 'Mama June: From Not to Hot,' but we do know that Mama's manager, the infamous Gina Rodriguez, is serving as an executive producer and star of the show. (Just FYI: Gina was the manager who was supposedly behind both the Farrah Abraham and Mackenzie McKee sex tape scandals.)
'Mama June: From Not to Hot' premieres February 24 on WeTV. Watch the first promo below:
#MamaJune's got a brand new look! ? Stay tuned! pic.twitter.com/BicZklUKr0

— WE tv (@WEtv) January 9, 2017
(Photo: WEtv)