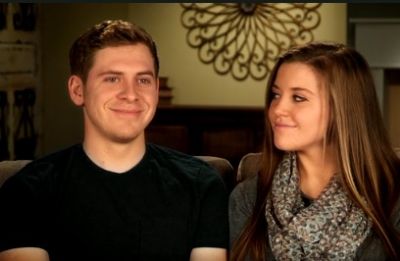 Joy-Anna Duggar is only 19 years old, but she may be headed down the aisle very soon!
In a just-released trailer for the next season of the Duggar family's reality show Counting On, Joy's 22-year-old boyfriend, Austin Forsyth, is shown asking Joy's father, Jim Bob, for her hand in marriage.
In another scene in the trailer, Joy's sisters, Jessa Seewald and Jill Dillard, explain that Austin's father had asked him to "flip" five houses before he settles down and gets married. Jessa says that Austin is currently finishing his fifth house flip, which means marriage should be right around the corner for him.
Joy and Austin have been courting since last fall but have yet to announce their engagement.
"I'm not sure when the next step will come," Joy recently told People. "You would have to ask Austin what he's thinking and my dad, but I'm excited to see what God has in store for us in the next year."
If Joy were to get married this year, she would be the youngest Duggar daughter bride at the age of 19. Her sisters were several years older than she is now when they got hitched. (For reference, Jill was 23 on her wedding day, while Jessa was 21 and Jinger was 22. The girls' mother, Michelle, was only 17 when she got hitched to Jim Bob.)
In addition to Joy's possible engagement, the upcoming season will showcase the end of Jessa's pregnancy and the arrival of her son, Henry. It will also show Jinger's new life in Texas with her husband, Jeremy Vulolo.
The new season of 'Counting On' will premiere this summer on TLC. Click here to watch the trailer for Season 4.
(Photo: TLC)