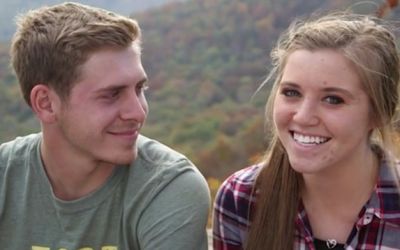 Another Duggar daughter is heading down the aisle!
Just days after it was speculated that Joy-Anna Duggar's relationship with her boyfriend, Austin Forsyth, was about to go to the next level (as hinted in the just-released trailer for the upcoming season of Counting On), the Duggar family has announced that Joy and Austin are officially engaged.
According to the couple, the proposal happened yesterday.
"We just got engaged!" Joy told Us Weekly. "I'm so excited to be engaged to my best friend. Austin made it so romantic, it's amazing."
According to TLC, Austin proposed to Joy after a day of horseback riding. In a video made after the engagement, Joy says that her younger sisters, Jennifer and Johannah were present on the date when Austin popped the question.
"I knew we were ready for this next step because everything fell into place," Austin says in the video. "I got the OK from Mr. Duggar and my dad, and the timing on the Lord…everything was just perfect."
Now that they're engaged, Joy and Austin are allowed to hold hands.
"That's pretty special," Joy says in the video.
Joy has known Austin for most of her life. (His family is friends with the Duggars.) They began courting last fall.
"I feel like engagement is more special [than courting] because we're committed to each other now," Austin says in the video. "We're just moving forward until the day we get married. It's exciting."
The couple has not yet revealed when they plan to get hitched. However, the Duggar family is generally not fond of long engagements. All of Joy's older married sisters–Jill, Jessa and Jinger— were engaged for a relatively short period of time before marrying.
As The Ashley previously pointed out, if Joy were to get married this year, she would be the youngest Duggar daughter bride at the age of 19. Her sisters were several years older than she is now when they got hitched. (For reference, Jill was 23 on her wedding day, while Jessa was 21 and Jinger was 22. The girls' mother, Michelle, was only 17 when she got hitched to Jim Bob.)
Surprisingly, Joy has yet to join social media. (Her sibling were all "allowed" to get on Twitter and Instagram once they entered courtships. However, Jinger and Joy have yet to make accounts.)
Click here to read facts about other Duggar engagements/weddings!
Watch Joy and Austin's engagement announcement below:
(Photo: TLC)