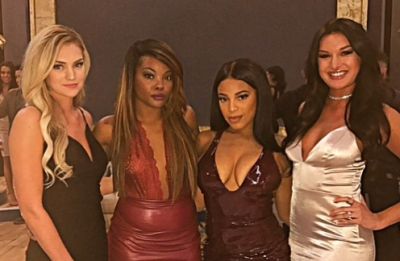 GoFundMe is used to raise money for many things. Need to pay for your dog's chemo? Start a GoFundMe. Need to pay for a relative's funeral? Start a GoFundMe. Need to move to L.A. and become a reality star? Start a GoFundMe.
Wait…what?!
Four women who starred on the most-recent season of MTV's Are You The One? are have started a campaign in hopes that the show's fans will give them cash so that they can move to Los Angeles to further their reality TV "careers."
The GoFundMe page, started by Season 5 star Tyranny Todd, begs strangers to help her and her cast mates Taylor Selfridge, Kam Williams and Hannah Fugazzi fund their dream life.
"Hello! We are Tyranny, Taylor, Kam, and Hannah!" the GoFundPage reads. "We are planning a big move to Los Angeles, California! We all live far from LA and it's really expensive to leave across country! But with your help, we can collectively move to LA and fulfill our lifelong dreams! Thanks in advance!"
The girls hail from Georgia, Washington, New Jersey and Northern California, respectively, so it can be assumed that they need the money for moving expenses.
There is only one snag in their plan: so far, they've only raised about $20 of their $20,000 goal Oof.
Jemmye Carroll, who has starred on The Real World and The Challenge, saw the girls' GoFundMe page and had the same reaction we did.
"Ummmmmm. Wtf. This can't be real life. What. Is. Wrong. With. People," she tweeted over the weekend.
UPDATE: It appears that the girls have closed their GoFundMe page, having raised a grand total of $20!
(Photo: GoFundMe)