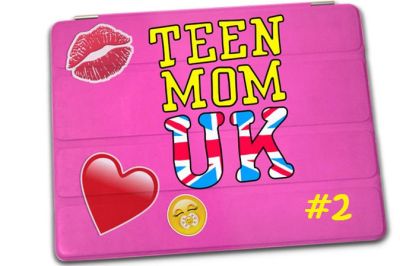 Get the fish and chips ready and prepare for more British baby mama drama because…MTV UK has renewed Teen Mom UK!
The network announced on Wednesday that the second series of the show will premiere this summer with eight hour-long episodes.
However, the network specifically said that this will be a second "series" rather than a second season, so it appears that the upcoming episodes may star new girls. If this is the case, the UK version of the show won't be replicating the American version's pattern of following the same girls throughout the years. This may be MTV UK's way of preventing the UK girls from becoming 'celebrities' like the U.S. 'Teen Moms' have.
The first 'Teen Mom UK' series premiered in November 2016 to great ratings. The first series' cast– Naomi Konickova, Mia Boardman, Megan Salmon-Ferrari, Chloe Patton and Amber Butler–shared all their motherhood joys, triumphs and disappointments with us. While fans seem interested in continuing to watch these young moms as they grow, it will be entertaining to meet a whole new group of moms and see what their lives entail.
MTV UK's Jill Offman said she's excited about the new series.
"We're so excited to be bringing the show back for a second series and will continue to capture all the joys and challenges that come with young motherhood," she told MTV UK.
MTV has yet to officially comment on  whether or not the Series 1 girls will continue to be shown. The girls all tweeted about the new episodes, but none of them clarified if they will be starring on them. The Ashley has reached out to the network for more information, and will update this post if more info becomes available.
'Teen Mom UK' series two will air this summer.
(Photo: MTV UK)