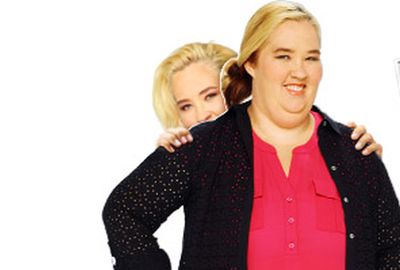 After getting nipped, tucked and sucked on the plastic surgeon's table, while also trading her trusty cheese-covered snacks for healthy meals, Mama June Shannon finally gave reality TV fans their first glimpse of her svelte new body on Friday's episode of Mama June: From Not to Hot!
WEtv had been hyping this moment for months, promising viewers a "shocking transformation" from Mama June and, well, they weren't really lying!
June reportedly went from a size 18 to a size 4, in addition to undergoing several skin removal surgeries, and getting a boob job and veneers. On Friday's episode, several of June's children didn't even recognize her after she revealed her 'new look' to them.
June's weight loss coach, Kenya Crooks told People that June had to change everything about her lifestyle, particularly her eating habits which, as Here Comes Honey Boo Boo viewers saw years ago, were kind of revolting.
"You have to keep in mind, this lady used to eat this stuff called sketti," he told the magazine. ('Honey Boo Boo' viewers may remember that 'sketti' consisted of over-cooked pasta blended with massive amounts of butter and ketchup.)
It's safe to say that June's diet is now 'sketti'-free.
"We had to change how she looked at food," Kenya told People. "We had to cut down the portions, because she used to eat really, really big. So we had to change how she ate, how she worked out, and just put it all together!"
On his Instagram account, Kenya congratulated his client on a job well done.
"I'M SOOOOOO PROUD OF MY GIRL JUNE! After her surgery….June lost over 80 lbs in just a couple of months with me! I'm happy to say that I was a part of "THE GREATEST TRANSFORMATION IN TV HISTORY!"
While June has been focusing on getting herself healthy, viewers are worried about her young daughter, Alana 'Honey Boo Boo' Thompson, who has continued to eat massive amounts of junk food during 'Mama June: From Not to Hot' episodes. It is not known yet if June will overhaul her children's eating habits.
The season finale of 'Mama June: From Not to Hot' airs Friday on WEtv.
Check out June's new body, via People,  below:
(Photos: WEtv, Instagram)