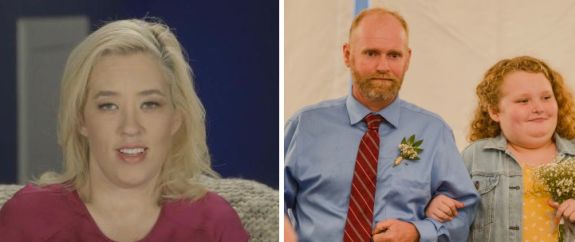 Mike "Sugar Bear" Thompson was desperate to have his daughter, Alana "Honey Boo Boo" Thompson, attend his wedding on last night's episode of Mama June: From Not to Hot, but his ex, Mama June Shannon, is claiming The Bear is hardly a devoted dad.
In an on-camera interview with Life & Style Weekly, Mama June revealed that Sugar Bear does not currently have much of relationship with Alana and "he never has."
In a recent interview with Entertainment Tonight, Alana talked about kind of father Sugar Bear is.
"He calls me every once in a blue moon, so if there's a blue moon outside, he's going to call me," she said.
June added that Sugar Bear has made negative comments to Alana about her weight.
"[He said] 'It wouldn't hurt if you lose weight,' and I think that was the most ignorant thing that he ever told her," June told ET.
Mama June stated that her relationship with Sugar Bear is also "non-existent" meaning that she has no contact with him or his new wife, Jennifer Lamb. She did, however, have some advice for The Bear's new bride.
"Watch out," she said. "I promise you what you see on the outside [is not what's on the inside.]"
"There was just so much emotional and physical abuse," June added. "I just choose not to put my kids through that."
After the first season of 'Mama June: From Not to Hot' ends, June said there will be a special all about Sugar Bear.
"You saw a little bit on Marriage Boot Camp, but this shows the real true side of Sugar Bear and when the special comes out y'all are going to be like 'what the hell,'" June said.
'Member the good ol' days when the whole family was getting along and doing the "Honey Boo Boo Bop?"
A premiere date for the Sugar Bear special has not yet been announced.
(Photos: WEtv)