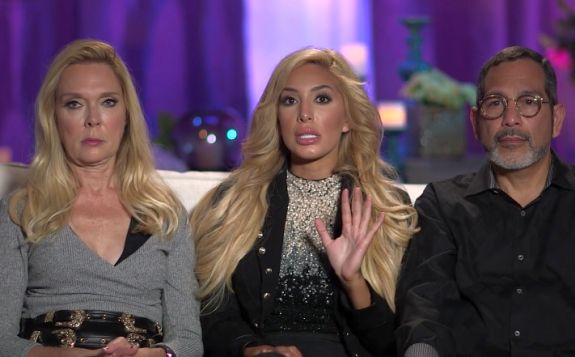 If you're one of the dozen or so people who are jonesing to have more Farrah Abraham in your life, WEtv is here to help! Next month, the network will bring Farrah, her mother Debra Danielsen, and father Michael Abraham to a special "Family Edition" of Marriage Boot Camp Reality Stars, but WEtv just gave us our first sneak peek of the family fighting it out on-camera.
The train wreck trio sat down to introduce themselves in a little "Meet the Abrahams" clip. The network hopes the clip will get us all pumped up for the level of family dysfunction that they will be bringing to the series.
The clip starts out with the family arriving at the 'Marriage Boot Camp' mansion, while discussing their tumultuous relationship.
"I still get to parent my divorced, dysfunctional parents," Farrah tells us.
"Farrah can become angry within a matter of seconds," Debra says.
Deb tells us how Farrah once wished her mom was dead.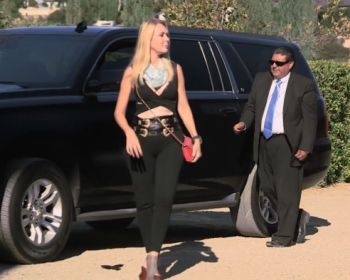 Of course, while Deb is telling us this sad story, we watch clips of her arriving at the mansion, sporting a midriff-bearing top, her trusty "double belt" look that she's still trying to make happen, and skintight pants. Deb, who is 58, has clearly come a long way since the early days of 'Teen Mom,' when she sported 1990s power suits and a Farrah Fawcett hairdo.
We also get to hear from Farrah's dad, Michael. Michael says he came on the show to help Farrah find ways to deal with her anger.
"I think Farrah could be a little more considerate," Michael says in the clip. "She's disrespectful to me."
Um…ya think?!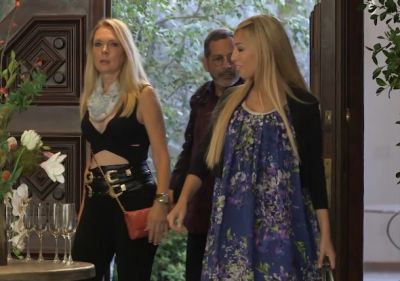 Of course, according to Farrah, the problem is not her, but actually her father's push-over behavior.
"If I could have one word to describe my dad….I would say….my dad's a pansy," Farrah says.
Ouch.
(Michael was not thrilled when he watched this clip and heard his daughter say that. On his personal Facebook, he posted the clip and wrote, "What I'm a pansy! I think NOT!")
Anyway, in the clip, Farrah continues to insist that she doesn't have any family supporting or helping her. (Funny, we see both Deb and Michael dropping everything to help Farrah with her daughter and her various businesses. Poor Michael had to sweat his Froco Coba balls off when he dressed as the mascot to open Farrah's yogurt shop last year.)
Farrah says that she wants to break the cycle of hostility and awfulness for her daughter, Sophia.
We will, of course, be recapping this train wreck for your enjoyment once the episodes start airing on WEtv on April 28..
Watch the full "Meet the Abrahams" clip below:
(Photos: WEtv)