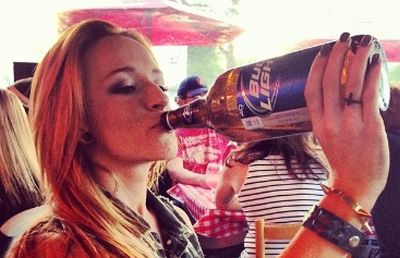 Teen Mom OG star Maci Bookout is finally speaking out about her frequent drinking, telling the show's critical fans she will continue to fight for her right to guzzle Bud Light!
In her upcoming new book, I Wasn't Born Bulletproof, Maci addresses her fondness for beer, something that has caused some fans of the show to worry about the well-being of Maci's kids in the past. The 25-year-old and her husband, Taylor McKinney, are rarely shown on 'Teen Mom OG' without a beer in their hand, and Maci says that's just fine by her.
"While obviously I don't condone excessive drinking, having a beer– or even smoking the occasional cigarette–does not warrant a call to Child Services, and it does not make you a bad mother," Maci writes in the book, which is due to be released on June 27.
Maci has always been somewhat open about her enjoyment of the alcoholic beverage.('member those Spring Break pics of a then-underage Maci beer-bonging her way onto TMZ to become part of one of the first big 'Teen Mom' scandals in the news?) In recent years, though, Maci has made no effort to hide the fact that she and Taylor frequently drink, with alcohol often appearing in her 'Teen Mom OG' scenes.
In her book, Maci writes of a time when Taylor posted a photo to Instagram of her drinking a beer while holding her then-newborn daughter Jayde. She says her followers attacked her.
"The reaction that followed was intense," Maci writes, according to Radar Online. "People accused me of being a horrible, negligent mother; of drinking too much; of putting my newborn in mortal danger."
"It's one beer, folks, I am an adult, over the legal drinking age and just because I'm a mom doesn't mean I can't enjoy a beer on a Sunday evening with my husband," Maci writes. "Newsflash: Mothers are human beings. We are flawed, hard-working, well-intentioned, exhausted individuals; we do our best, we make mistakes, but above all we love our children."
While most of the 'Teen Mom' cast members have been shown drinking at some point during the show, fans have argued that Maci and Taylor drink to an excessive level. The controversy surrounding Maci's frequent imbibing increased significantly last year when it was discovered that Maci was photographed drinking throughout most of her third pregnancy. Although Maci claimed she didn't know she was pregnant during some of that time, she is seen sporting a baby bump in some photos taken during the pregnancy.
An Instagram photo from Maci's friend's wedding on January  30, 2016  clearly shows Maci sitting with a glass of wine in front of her. By her own admission, Maci knew she was pregnant on that day. When that photo began to circulate the Internet, it added even more fuel to the fire, with fans pointing out that it was just one of several times that a pregnant Maci was photographed with a drink.
Around the same time, Taylor did a Facebook Q&A session with fans in which he was asked whether he and Maci have problems with alcohol.
"We love us some [Bud Lights]," Taylor responded. "We can [have fun without alcohol]…..but no good story started with a glass of milk."
More recently, Debra Danielsen— the mother of Farrah Abraham— called Maci out for possibly drinking during her pregnancy.
"Maci, yeah, well I would recommend that if we're gonna get pregnant anymore, we cut back on the beer consumption," Debra said during a Facebook Live interview with Best Products last month.
Maci never publicly responded to Deb's dig.
(Photo: Instagram)