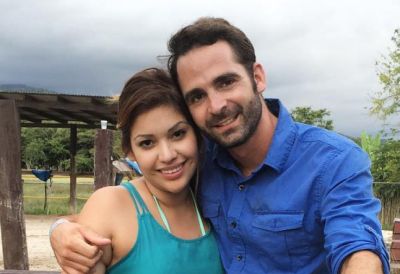 It looks like yet another marriage from Married At First Sight will end in divorce.
Starcasm broke the news on Tuesday morning that Lilly Vilchez and Tom Wilson, who got hitched during the show's fourth season, have apparently filed for divorce. According to the site, Lilly's last name was listed as "Uilchet" on the May 17 filing for some reason. The couple filed for dissolution of marriage in Florida, where they live.
Since the folks at Starcasm were skeptical that they had the right couple (given the different last name listed for Lilly), the site reached out to both 'Married At First Sight' stars…and the responses each gave the site seem to point to the fact that they are, indeed, getting divorced.
"We would appreciate for everyone to respect our privacy during this difficult time," Lilly told Starcasm. "Tom and I are lucky enough to be able to remain best friends and love each other very much."
"Lilly and I will be making a statement soon," Tom told the site.
If Lilly and Tom are, indeed, divorcing, that means that all three couples from Season 4 are no longer together. In March, Sonia Granados and Nick Pendergrast revealed that they are divorcing. (The third couple from Season 4– Heather Seidel and Derek Schwartz— barely made it through their honeymoon before they decided to split.)
That leaves only two 'Married At First Sight' couples who are still married, out of the 12 who were formed on the show's first four seasons. (The three Season 5 couples have yet to announce whether or not they are still married.) Season 1's Jamie Otis and Doug Hehner, and Cortney Hendrix and Jason Carrion are still married. The couples celebrated their three-year wedding anniversaries in March.
UPDATE! Lilly and Tom have issued a statement to People magazine, confirming that they are divorcing.
"After much thought and reflection, and after being married for over a year, we have decided to file for a divorce. This was not an easy decision for either of us because we do love each other very much but sometimes God has other plans," the pair tell PEOPLE in an exclusive statement. "This is the route we have decided to take, and all we request is that you respect our privacy in this delicate matter. Divorce is never easy for anyone, especially not such a public one.
[We] "remain best of friends and will always be there for each other even if we are not married. We plan to continue to grow our relationship, just without a piece of paper binding us together. We appreciate all the love and support you have all shown us during our marriage and hope you continue to support us during this time."
(Photo: TLC)