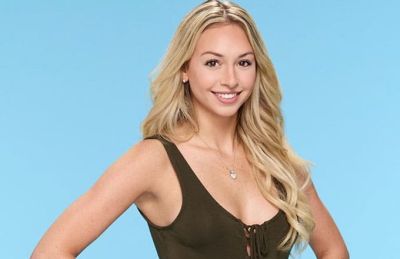 It's been several days since news broke that filming of the fourth season of Bachelor in Paradise had been shut down and, while numerous details have surfaced about what allegedly happened between contestants Corinne Olympios and DeMario Jackson to cause the shutdown, neither party had spoken out about the incident publicly…until now.
On Wednesday, Corinne broke her silence, revealing in a statement to TMZ how she is doing in the days since the alleged incident.
As The Ashley previously reported, a 'BIP' producer filed a misconduct in the workplace complaint last week, after allegedly witnessing a sexual encounter between Corinne and DeMario that made the producer uncomfortable, mostly due to the fact that the producer felt that both parties were too drunk to consent to the sexual acts that reportedly took place.
Corinne, who hired high-powered celebrity lawyer Marty Singer and a publicist in recent days, issued the following statement to TMZ on Wednesday:
"I am a victim and have spent the last week trying to make sense of what happened on June 4. Although I have little memory of that night, something bad obviously took place, which I understand is why production on the show has now been suspended and a producer on the show has filed a complaint against the production.
"As a woman, this is my worst nightmare and it has now become my reality. As I pursue the details and facts surrounding that night and the immediate days after, I have retained a group of professionals to ensure that what happened on June 4 comes to light and I can continue my life, including hiring an attorney to obtain justice and seeking therapy to begin dealing with the physical and emotional trauma stemming from that evening."
According to TMZ, DeMario (who is a cast-off from the current season of The Bachelorette) was highly intoxicated during the incident, and has stated (off the record) that he feels he didn't do anything wrong, as Corinne appeared lucid during the acts. A lawyer for Warner Bros. has reportedly requested the tapes of DeMario and Corinne's sexual encounter, and DeMario is hoping to get the tapes released too, in order to clear his name.
DeMario told the paparazzi on Tuesday, "I have nothing to say. You know, Corinne's an awesome girl and that's all I have to say. Love you all, thank you for the support."
The incident is currently under investigation.
To read more about the 'Bachelor in Paradise' scandal and keep up with the last info, click here.
UPDATE! DeMario has issued an official statement to the press, and E! News has uncovered some interesting new details regarding the alleged incident.
In a statement issued Wednesday via his publicist, DeMario stated, "It's unfortunate that my character and family name has been assassinated this past week with false claims and malicious allegations. I will be taking swift and appropriate legal action until my name is cleared and, per the advice of legal counsel, will be seeking all available remedies entitled to me under the laws."
E! News stated on Wednesday that the producer who filed the original misconduct complaint was not actually on the set when the interaction between Corinne and DeMario occurred. (This is the first time this detail has been reported, to The Ashley's knowledge.) The E! News source also claims that a second producer on the set also filed a complaint. According to Reality Steve, that second producer had not seen the footage and had also not been present during the alleged incident. ABC has not confirmed any of this, however.
(Photo: ABC)