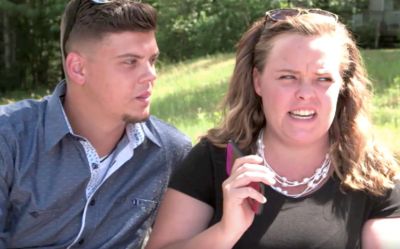 Tyler Baltierra is finally telling fans why his Teen Mom spin-off show, Reunited, was cancelled by MTV after only one airing– and is pleading with fans to help him get the show back on the air.
Last year, Tyler and his wife Catelynn Lowell announced that they would be starring on 'Reunited,' which would follow them as they helped reunite people with their long-lost family members. The show's first episode aired in December 2016, and, although it had originally been made out to be a full series, it was turned into a one-time special.
According to Tyler, 'Reunited' had great ratings, but MTV declined to continue airing it. On Wednesday, Tyler tweeted the explanation the network gave him for cancelling 'Reunited.'
"MTV refused [Reunited] because 'it was too heavy' even though it rated #2 on cable TV that night," he wrote. "Would you like to see more episodes?"
Fans pointed out that the network's explanation was odd, given that 'Teen Mom OG' is filled with drama and heavy issues and it continues to air on MTV. Tyler agreed.
"That's exactly what I told the network executives," Tyler tweeted. "'Teen Mom OG' is a 'heavy' franchise & the only one really working for MTV at this time."
It is unknown if additional episodes of 'Reunited' were made but not aired.
Watch the original trailer for 'Reunited' below.
(Photo: MTV)