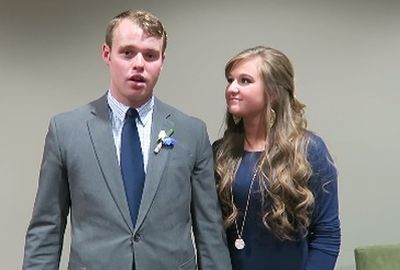 A Duggar kid is getting hitched this fall!
Joseph Duggar, who proposed to his girlfriend Kendra Caldwell at his sister Joy's May wedding (as you do), has announced that he and Kendra will be getting married this October.
That means that Joe and Kendra will have been engaged about five months before they say "I do." By Duggar standards, that's a long time, given that some of his sisters only waited about two months before getting married.
Anyway, Joe and Kendra will be getting hitched in Rogers, Arkansas, and have posted their Amazon wedding registry online, in case you would like to purchase a gift for the couple before their October 7 wedding!
Unlike his sister Jessa and her husband Ben Seewald, who were criticized for registering for pricey items like a $439 mixer and a $429 MacBook Air, Joe and Kendra have chosen some very economical items for their registry…for the most part.
Aside from a $375 blender and a $399 tool kit (which someone has already purchased for the happy couple), nothing on the registry is over $200. The registry includes plenty of tools and auto shop equipment (because nothing says romance like a shiny new steel garage jack!), but the couple has chosen inexpensive home goods, such as a $21 bed comforter and a $19 frying pan set.
Here are some of the strangest things found on Joe and Kendra's wedding registry:
A pair of men's athletic socks (unfortunately, poor Kendra will remain barefoot, as they did not registry for any women's socks.)
$109 men's shoes (again, poor Kendra will go barefoot…)
An electric bug zapper (The happy couple can sit on their front porch and relax while listening to the sweet sounds of mosquitoes being electrocuted!)
A transmission and engine diagnostic scan tool (Swoon!)
To check out Joe and Kendra's full wedding registry, click here!
To read strange facts about the Duggar weddings, click here!
(Photo: TLC)