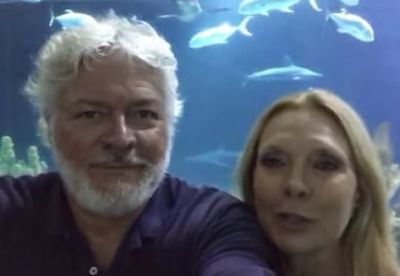 Wedding bells will be ringing for Teen Mom OG star Debra Danielsen this fall!
Deb, who is the mother of Farrah Abraham, announced in a YouTube video posted on Thursday that she plans to marry her fiance (and Farrah foe) Dr. David Mertz on November 5 in Omaha, Nebraska.
The festivities will take place at the Suzanne and Walter Scott Aquarium at the Omaha Zoo.
"This is where we are going to get married, November the fifth, right here with some family, some friends and some fans," Deb says in the video. "We can't wait to tell you more details as the date comes closer. We're really excited."
Last month, Debra told In Touch Weekly that the wedding will be filmed for the upcoming season of 'Teen Mom OG.'
Even though Farrah and Deb's fiance David aren't fond of each other, Debra told the magazine that Farrah is "always, always invited" to the nuptials.
There is no word on if Deb plans to bust out a wedding-themed rap in honor of her special day but fingers crossed!
Watch Debra and David's wedding location announcement video below!
(Photo: YouTube)