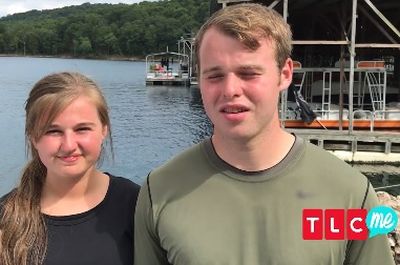 Counting On star Joseph Duggar and his fiance Kendra Caldwell celebrated their joint bachelor/bachelorette parties last weekend with a trip to the local marina. Void of any of the usual things found out these pre-wedding festivities, (there were no scantily clad girls exposing their knees or trips to the Thunder Down Under show for these kids!), the Duggars and the Caldwells had a G-rated time tubing on the lake with their siblings.
While the bachelor/bachelorette party theme was hardly surprising, it is rather odd that the couple is celebrating this pre-wedding event so far away from their October wedding.
In fact, this is exactly what Joe's sister, Joy did right before she got hitched to Austin Forsyth back in May. Joy and Austin had put an October date on their wedding registry, but then ended up getting married months earlier.
We're having déjà vu, Duggar style!
It leads fans to believe that Joe and Kendra's wedding is right around the corner, and not taking place in the fall like their wedding registry stated.
It appears that Joe and Kendra have revised their registry since they first posted it earlier this month. Gone are the men's shoes, automotive repair tools and other strange things that originally appeared on the registry. They have been replaced by more traditional wedding gifts, like kitchenware and home goods. The wedding date is still given as October 7, but that's highly doubtful, considering they have already done all of the pre-wedding celebrating.
Kendra and Joe have only been engaged since May (when he proposed to her at Joy's wedding), but the Duggar clan is known for having very short engagements.
Anyway, in the bachelor/bachelorette video, Kendra and Joe explain that, while they're thrilled to be getting married, what they are really looking forward to is getting some action!
"The thing I look forward to the most about the wedding day is probably the first kiss," Joe says in the video.
"I'd say so too!" Kendra agrees.
Watch the riveting video below:
(Photo: TLC)