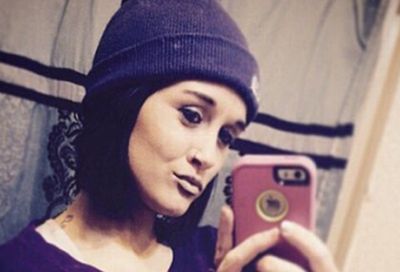 Earlier this month, The Ashley reported that former 16 and Pregnant star Jordan Cashmyer was allegedly working as an escort in the Baltimore, Maryland, area, but that is not the only trouble in the former teen mom's life. Radar Online broke the news on Tuesday that Jordan has been arrested twice in the last few months for drug-related offenses!
Jordan, who has admitted in the past to heavy drug use and several attempts at rehab, was arrested on June 30 for two counts of possession of a drug that was not marijuana, as well as one count of possession of drug paraphernalia, according to court records obtained by The Ashley.
Radar reports that Jordan's boyfriend called the police when he was unable to get in touch with her while she was locked in a hotel room. The court docs, obtained by Radar, state that Jordan's boyfriend told police Jordan has a "past history of using heroin and he was concerned that she may have overdosed inside of the location."
Eventually Jordan allowed police to enter the hotel room.
"Cashmyer was naked and went into the bathroom to put on clothes," the report read. "She appeared to be under the influence of narcotics."
Police searched the hotel room and reportedly found needles, a clear glass pipe with a white powder inside of it, and several substances that proved to be heroin and cocaine.
She was arrested that day, but it wasn't the first time the "16 and Pregnant" Season 5 star went to jail for a drug offense recently. On June 15, Jordan was arrested after a similar incident, where police searched her hotel room and found drugs and drug paraphernalia. Jordan reportedly admitted to using the drugs while at the hotel, and turned them over to the cops.
"[A] black bag contained three clear pipes containing a burnt residue of a white powdered substance," the police report stated. "The burnt residue in the clear pipes [is] consistent with crack cocaine… The clear pipes are used to inhale narcotics."
Several hypodermic syringes and a burnt spoon were also reportedly found. The police report stated that, "the hypodermic syringes are used to inject heroin. The spoon is used to burn/prepare heroin."
Jordan has court date set for September 5 to answer to both charges.
Since she appeared on "16 and Pregnant" in 2014, Jordan has led a troubled life. In addition to the drugs and escorting, she has admitted to at least one suicide attempt. Shortly after her daughter Genevieve was born, Jordan began working as an exotic dancer.
Jordan's ex-boyfriend, Derek Taylor, as well as his mother and Jordan's parents, have raised Genevieve, now three, for most of her life. Jordan does not appear to have much, if any, contact with her daughter.
"PSA: Just because yu birth a child does NOT mean yu are a mother! #Facts," Derek recently posted on his Facebook page. 
A member of Jordan's family recently spoke to Radar about Jordan's current state.
"I can guarantee she is not doing well," the family member said. "She has been living on the streets. She calls her father to let him know she's alive."
Jordan's story eerily mirrors that of her fellow "16 and Pregnant" star Valerie Fairman. Valerie, who appeared on the show's second season, got involved with drugs and prostitution following her stint on MTV. She was often in the news for her arrests. Valerie's life was cut short in December 2016, when she died of a drug overdose. She was only 23 years old.
Jordan's family member is hoping for a different end result for Jordan.
"She is on a destructive path," the family member told Radar. "She's in our prayers that she pulls through in the state that she's in."
(Photo: Twitter)