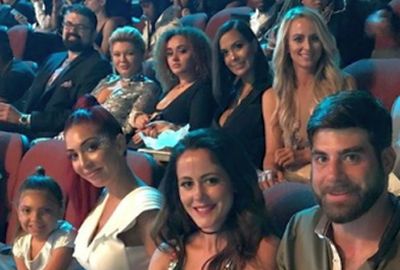 The stars of Teen Mom OG and Teen Mom 2 paraded down the red carpet on Sunday before attending the MTV VMAs in Inglewood, California. The "usual suspects" attended the show this year. (Jenelle Evans and her trusty sidekick David Eason were there, never ones to miss an opportunity to take a vacation. Farrah Abraham was also there, of course.)
However, there were a few surprise additions to this year's 'Teen Mom' portion of the guest list.
Leah Messer attended the show for the first time ever. The 'Teen Mom 2' star rode over to The Forum with show newcomers Briana and Brittany DeJesus. Also attending for the first time was Amber Portwood's new beau, Andrew Glennon, who got handsy with her on the red carpet as he absolutely towered over her. (The Ashley hears he's well over 6'4 and her source tells her "he got along great with everyone and didn't make people uncomfortable like Matt used to.") Amber herself has become a regular at these red carpet events.
Catelynn Lowell attended her second MTV awards show, bringing a friend instead of her husband, Tyler Baltierra.
(He explained on Twitter why he didn't go to the event, tweeting "I didn't want to go. I may be weird, but those award show/red carpet things don't excite me lol besides I feel like I don't belong there. That's the beauty of Cate. She goes with whatever she FEELS great in & nothing is more attractive than confidence. I think she's beautiful.)
'Teen Mom OG' dad Gary Shirley attended the show solo. For whatever reason, Gary was not allowed to bring his wife, Kristina. (Perhaps the rules are different for the show's moms and dads?) He posted a sweet shout-out to his wife on his Facebook page, thanking her for holding things down at home so he could attend.
"Thanks to my wife I'm able to be here to rep the Shirley squad," he wrote. (Kristina was watching Leah, in case you are wondering.)
The main cast members who did not attend are Chelsea Houska and Maci Bookout, who have never gone to any MTV awards show. (To find out why Chelsea always declines the MTV invitations, click here!)
Kail Lowry (who usually attends but stayed home this year to care for her newborn son). None of the other dads from the show attended the festivities. (Raise your hand if you are a tad disappointed that Ryan Edwards didn't show up with his "Food City Floozy" on his arm?)
Now…we must talk fashion. Amber arrived in a long-sleeved, semi-sheer shiny gown that showed her ample bosom. Andrew chose a basic black suit. Jenelle channeled Marsha Brady via her flower-power halter top (which she paired with a black ball gown skirt). David looked ready to boat the swamp in a wrinkled green button-up and jeans.
Catelynn styled her multi-colored hair into some sort of 1960s/ 'Long Island Medium' do and wore a flowy top and some, um, interesting neon pink bell bottoms.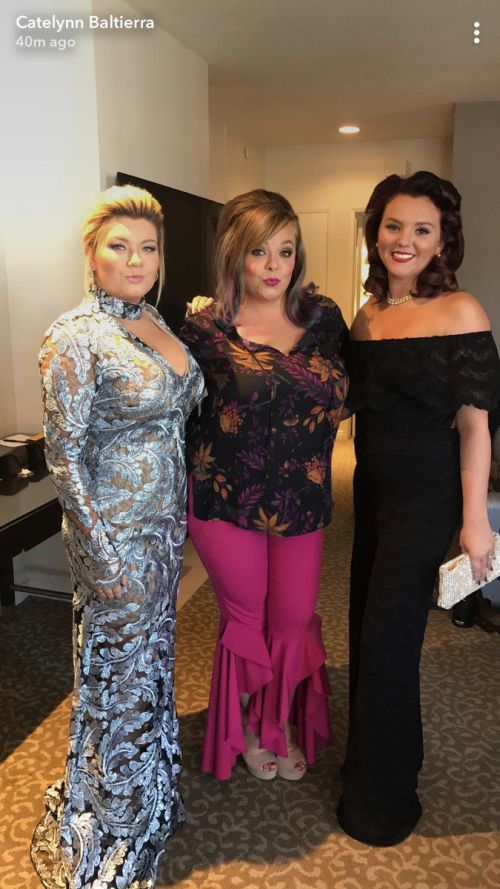 Leah wore a surprisingly revealing gown. (She usually opts to show less skin than many of the other moms from the show.) Her dress was sheer with strategically placed embellishments and feathers on the bottom.
Briana and Brittany both wore sexy black outfits that greatly showed off the handiwork of Dr. Miami. Briana wore what looked like a men's suit coat (as a dress…as you do), while Britt wore a low-cut black catsuit.
As for Farrah (who, as you may remember wore a random Wonder Woman costume to last year's show), the theme for her and daughter Sophia's, um, costumes was space. Farrah looked "Futurama"-esque with her high red ponytail, white outfit and over-the-knee gold boots. Little Sophia wore a shiny silver outfit (complete with Jane Jetson skirt) and spacey makeup and glasses.
Here's a collection of snapshots the cast posted to their social media accounts.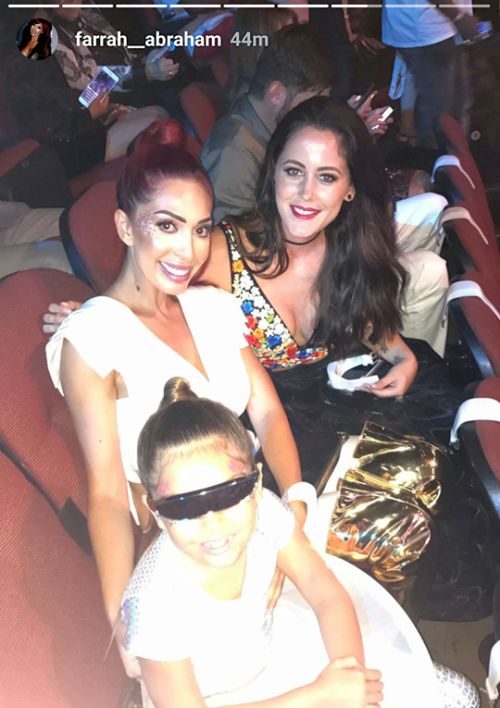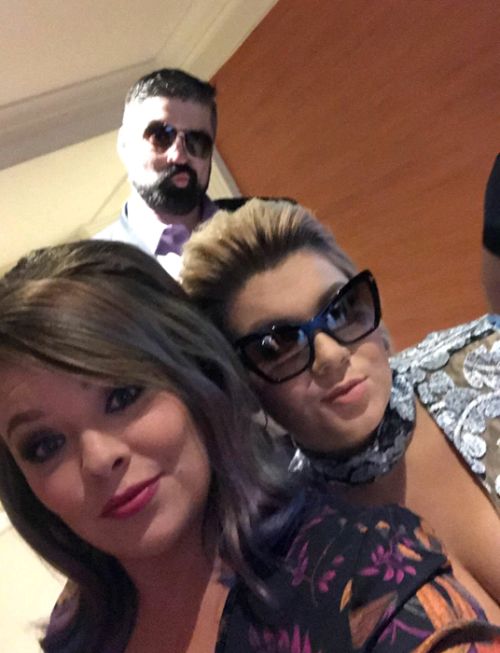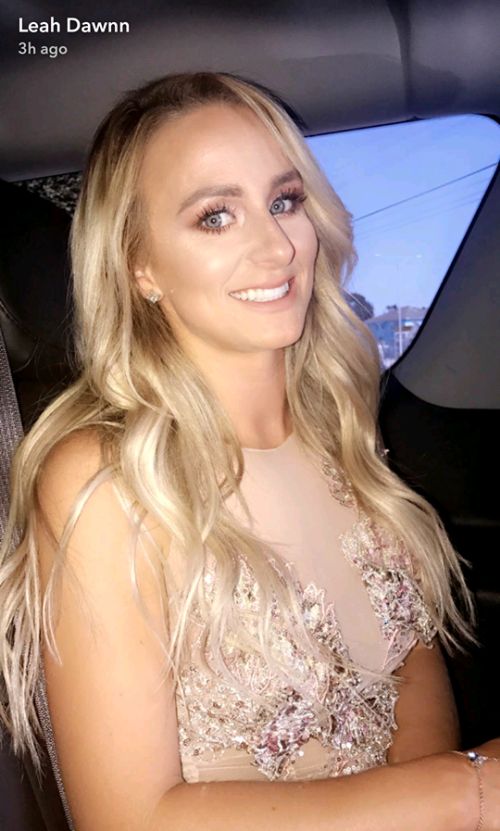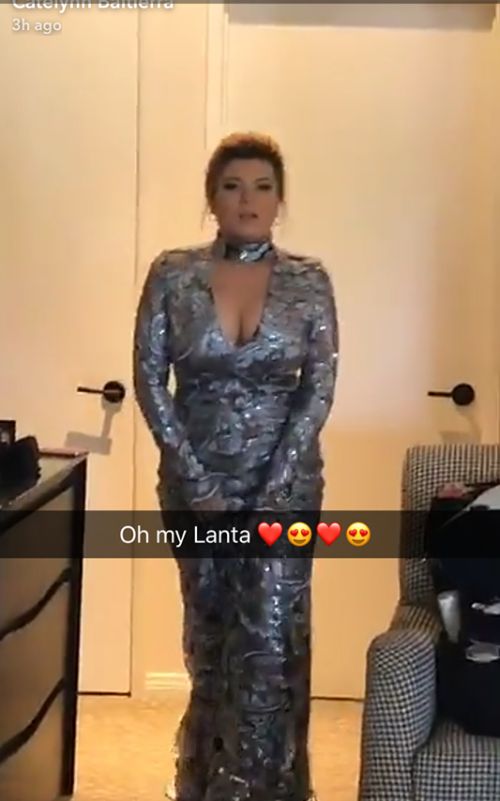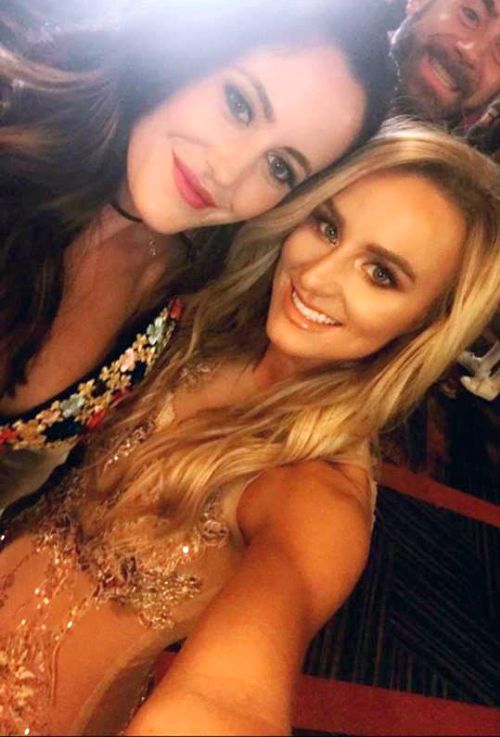 (Photos: Instagram, Twitter, Snapchat)