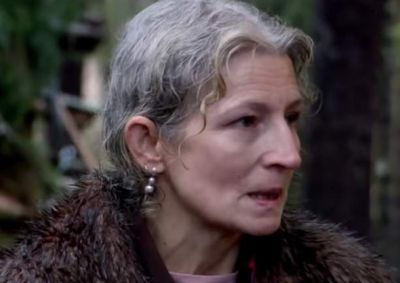 It's been two months since Ami Brown announced that she had been diagnosed with advanced lung cancer, and now the Alaskan Bush People is giving her fans an update on her current state.
In a new interview with People, 53-year-old Ami revealed how the disease has ravaged her body (she's already lost 39 pounds off of her already small frame), and how her husband Billy and their kids are helping her through her treatments.
"I realized early into this that it's very easy to want to give up and just die. And on the pessimist side, it could be my last days," she told the magazine, adding that doctors have stated the survival rate for what she has could be less than 3 percent. "But I have the will to fight."
In his own interview with People, Billy discussed how heartbreaking it is to see his wife in pain.
"She's the strongest person I know, so if she's saying it hurts, it really hurts," Billy said. "She tries to hide it from everybody but four or five times a day she bends over like a baby and cries…She put out seven babies without a grunt. I've always had a lot of respect for Ami, but I've got a lot more now. She makes me feel like a wuss."
Billy revealed that Ami's diagnosis was grim.
"He said, 'It's cancer. And there's no primary but we're gonna call it lung cancer. At least 3B. It's in both lungs, in the middle and sides of the lungs.' We know if it's in the brain, it's over. And if it's in the stomach, that's bad but this cancer can be right where it is and go anywhere. It can go to the brain. It hasn't traveled to any other organs, but that's what they're saying is next. Any time we talk to anybody, it's bad news."
The Brown family has relocated from their "Brown Town" home in rural Alaska to Los Angeles, where Ami is being treated. Billy said that, while it was hard to leave his home, he knew it was best for his wife. Most of the couple's seven kids are in California to support their mother.
"Freedom is having a family so strong and so with you that you can get through anything," he told People. "Freedom is being with your family. I can't lose that. I can't live without her. I can't lose her. I just pray every day that we'll get good news."
His said his kids are struggling to deal with their mother's illness.
"Some of them don't want to admit that she's so bad," Billy said. "They're all trying to get through it as best they can but no one knows what to do. I do what I can."
Ami has allowed her journey to be filmed for 'Alaskan Bush People' (the season finale aired on Wednesday), and in her interview, she explained why she let cameras capture the hardest moments.
"[I wanted to] let people see what we're going through because there are a lot of people that are going to be told one day that they have cancer. And that's scary," she said. "I hope if people watch the show and see what I'm going through and it will take away a lot of their fear."
In July, Ami and Billy's son Matt posted a photo of his parents with two fans. In her interview, Ami stated that she is frequently recognized by other cancer patients and fans who see her in California.
Discovery has made it possible for fans to send well wishes to Ami and the Brown Family. If you'd like to send a message, click here.