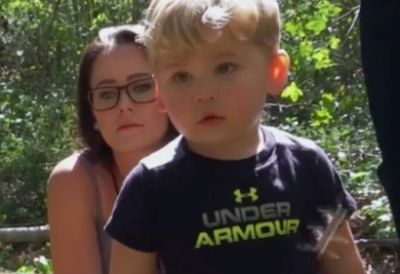 Yesterday, Teen Mom 2 star Jenelle Evans was hit with a one-two punch when Radar Online published a story revealing that Doris Davidson, the grandmother of Jenelle's son Kaiser, had filed for emergency custody of the boy on September 1. (Doris is the mother of Nathan Griffith.) 
Also on Thursday, The Ashley revealed details about a CPS investigation that was opened after Jenelle and her daughter Ensley both tested positive for THC the day of Ensley's birth.
Anyway, Jenelle has yet to respond to anything related to the CPS investigation. However, she did make a statement to E! News on Friday that claimed that her own mother, Barbara Evans, was to blame for Doris filing for emergency custody of Kaiser.
"Our lawyers are talking today," Jenelle said. "Doris made accusations but I can tell you that Barbara has a lot to do with them… Doris threw her own son under the bus by admitting that he has pending felonies and possibly on drugs. Her emergency filing was against me and Nathan both."
In her documents, Doris claimed, among other things, that Jenelle had neglected to follow the orders of Kaiser's doctors in relation to a health issue he was having; that Jenelle locked Kaiser and her older son Jace outside in the yard on a hot day; that Jace once got lost in the woods on "The Land" for two hours; and that Kaiser has repeatedly come to her with" bruising and markings… that are unusual and more than normal."
She also stated that she was worried that Jenelle's fiance, David Eason, hit Kaiser on more than one occasion.
"On April 28, 2017 [Doris] picked [Kaiser] up at day care in Wilmington so he could attend [Nathan]'s fitness competition in Columbia. The first thing [Kaiser] said: 'Nana, David punch me.'.. [Kaiser] continued to repeat the same over and over, and then took his little fist and put it up to his face and repeated it again," Doris revealed in the court docs. "Upon information and belief, David uses inappropriate and excessive discipline and spanks the [Kaiser] very hard, leaving marks."
So where does the emergency custody case stand currently?
The Ashley's sources tell her that Doris dropped the bid for emergency custody yesterday. (Please file this as a report, though, until The Ashley can confirm these details.)
"Jenelle's layer was able to show proof of some texts that had gone between Doris and Jenelle, and basically made the case that Doris only filed for emergency custody out of spite," The Ashley's source tells her.
The hearing was actually supposed to be yesterday, from what The Ashley hears, but "Doris backed off when she realized she wasn't going to get emergency custody after Jenelle's lawyer showed some stuff," the source says.
Although emergency custody is apparently off the table, at least for now, that does not mean that Doris will give up her bid to get full custody (or at least partial custody) of Kaiser.
Nathan has remained silent as his mother battled with Jenelle, but on Friday, he told Real Mr. Housewife that he supported his mom in her bid to get custody of Kaiser.
"When it comes to legal stuff, I can't comment," Nathan said. "The only thing I can say is that I agree with what my mom is trying to do for that amazing child of mine."
Stay tuned– this story is still developing!
(Photo: MTV)