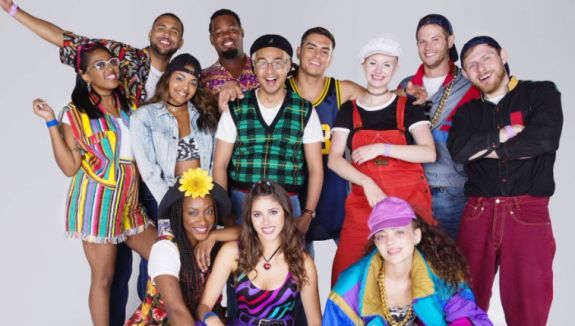 MTV is throwing it back to the 1990s with its new reality show concept, 90s House …and the now-thirty-somethings that came of age during that decade are loving it!
Viacom announced in a press release that the new competition show will give us a peek of what our lives would be like if the world forever stopped in 1995. (Just imagine, Kenan and Kel on your television, gluten at every meal… what a time to be alive!)
The show will feature 12 twenty-somethings living in a house together, The Real World-style. While the contestants are old enough to remember the 1990s, they were likely too young to really understand how great of a decade it truly was.
The house will, of course, be decked out in neon colors and bright shapes (a la The Max from Saved by The Bell). It will even come complete with a game room full of Nintendo, Bop-It, Etch-A-Sketch and Furbies to keep the contestants busy, since they won't have their iPhones to scroll on. There will be no wi-fi in the house.
And if that isn't enticing enough, the cast of judges is every '90s kid's dream group of friends. Mario Lopez from 'Saved By the Bell' is scheduled to appear. (Hey, Slater's currently hosting that horrible "Candy Crush" game show, so this is at least a step up!)
Also on the roster are Tatyana Ali of The Fresh Prince of Bel-Air fame, and NSYNC'er Joey Fatone (who has pretty much never turned down a chance to go on any reality TV show, ever).
The hosts will be singer Christina Milan and Joey's fellow NSYNC bandmate Lance Bass.
We don't know exactly what type of "competition" they will be competing in, but we know it will be sans technology. A tweet from the show's official Twitter account reads, "You might love the 90s, but could you survive in it now? These young people put modern technology aside to try."
The winning contestants will be awarded $90,000, a Mazda Miata, and tickets for two on-board the Ship-Hop "I Love The 90s" cruise.
Let's meet the youngin's, shall we?
Chase is a 24-year-old from Las Vegas who loves boy bands and describes himself as a model and dancer. (How is this kid going to survive without Instagram?)
Devin is a 24-year-old from Washington, D.C. who is a self-proclaimed "smooth talker" and "ladies man." He lists LL Cool J as one of his idols.
Jenielle is 27 and from the Bronx. She describes herself as a "mama's girl" who loves music and hates drama. Sure, Jan.
Lexus is a 23-year-old from Radford, Virginia. She is obsessed with Instagram (or "Insta" as the kids call it). She loves "bitchin' clothes" (um…) and calls herself a southern belle.
Mark is the oldest person in the house at the age of 29. He hails from Astoria, New York, where he works as a tech trainer. He is a self-described "nerd."
Patrick is a 21-year-old from Las Vegas. He is the house "pretty boy" and loves that common combination of Tupac and cartoons.
Prince is 26 and from Atlanta. He describes himself as the "King of Shade" and a "fashion icon." (Insert groan here). He enjoys "Home Alone" and '90s jams.
Sha-Monique is a 24-year-old from Long Island, New York. When asked to describe herself, she chooses a phrase commonly printed on poorly made coffee mugs sold on Etsy: "Fierce. Fun. Fearless." She likes '90s girl groups like Destiny's Child and TLC.
Shannon is 22 and hails from Plymouth, Massachusetts. She is a feminist-rapper-activist who enjoys grunge and Biggie Smalls.
Sierra is 23 and from Akron, Ohio. She claims to have beauty and brains and be a boy magnet. She likes the Spice Girls.
Travana is a 25-year-old from Seattle. She is a mother and self-described "sass queen." She hates snakes, so there are guaranteed to be plenty of the slithery creatures on the show in order to cause her to freak out.
William is 27 and from Long Island, New York. He loves vintage stuff and throwback tees and owns a "90s shop"…whatever that is.
'90s House' premieres on September 26 on MTV. Watch a sneak peek below:
☝️Don't dip without watching this dope teaser of @MTV #90sHouse cast first week chilln in the pad! ? pic.twitter.com/7lA0dSpZ8T

— 90s House (@MTV90sHouse) September 21, 2017
(Photo: MTV)